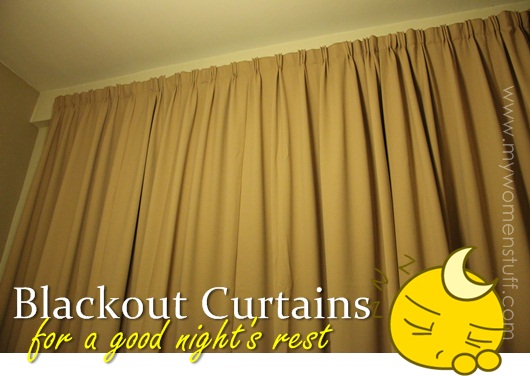 If you do not already have them, let me tell you about the wonders of using blackout curtains. These curtains are usually thick very opaque curtains that have the effect of blocking out light whether from outside in or inside out. They might have originated from the World Wars, I'm not sure of the history.
But let me tell you that these curtains are excellent from a beauty (and practical) point of view 😛
Because these curtains block out light (and correspondingly a lot of heat) they keep the interior of your rooms and house cooler. This is important here where its so hot and the sun is so bright all year round. It would be likely to be less important in a place that does not get a lot of sun. I also find that these heavier curtains help block out more sound too.
A cool, quiet and dark bedroom is perfect for getting a good night's rest. Light and noise can mess with sleeping patterns. I find that ever since I put up my blackout curtains (hand me down from my sister) I have been getting better sleep, and am waking up in a more gradual manner instead of having the sun shine in my eyes. The converse of course, is that you may end up oversleeping 😛
A cooler bedroom is also better for longevity of cosmetics. I've found that the blackout curtains keeps the sun and heat out of my room and also retains the cool air from the air-conditioning for longer. Heat is one of our cosmetics' worst enemies, so a lovely cool interior is good for them.
And finally, blackout curtains are also energy saving. How so? I find I can keep my air-conditioner temperature at a slightly higher setting and my bedroom does not get too hot in the day, so less energy is needed to cool it back down. When the air-conditioner is on, the curtains help the cool air remain within the room, thereby maintaining the room temperature at a more constant rate.
The other downside about using blackout curtains is that if used throughout the house, can make the house look dreary because its so dark in the daytime. I personally find it soothing and I will put up the same curtains in my living room when time permits. But if you don't like a dark house, then keep it to just your bedroom 🙂
I've found some inexpensive pre-made blackout curtains sold at Jusco and even custom made, they are relatively affordable compared to the more elaborate curtain material you may find.
Do you already use blackout curtains in your home or would you consider it? 🙂
Paris B