I'd been trying so hard to figure out if I like the Burberry Light Glow Blush. At RM140 (US$42) a blush its a hefty price to have to pay, especially when thats the same price we pay here for a Chanel Joues Contraste blush (which I happen to love). Burberry had a lot to live up to!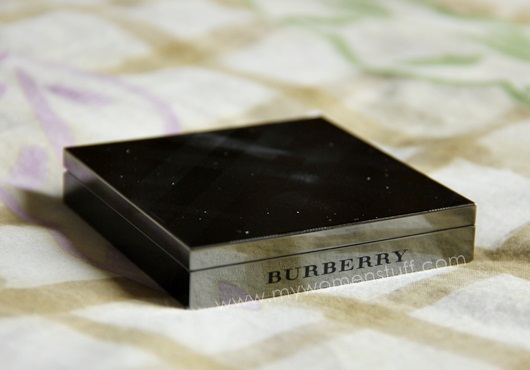 In terms of packaging, I have nothing to fault. The blush compact is slim and sturdy and is very subtle about the brand. The cover is embossed with the signature Burberry check and the name is embossed on the side. Having a shiny metallic surface, the blush is a fingerprint magnet! I have to wipe it down every time I use it. The case closes with a magnet, which allows for it to have very smooth lines. Despite the metallic surface, I like the packaging.
The colour I have is No. 8 Misty which is a very light pink.
I must confess to a slight sinking of the heart when I first saw this colour. I was afraid it would just not show much. Also, this picture actually shows the blush already quite well used. Yet the etching on the surface is still pretty much intact. So yes, the beautifully etched surface will flatten over time, but we're talking a lot of time here.
I've tried using a variety of blush brushes with this blush but I've since learnt that the best are natural hair brushes. The powder blush is quite well packed in this particular colour, and if I use a synthetic hair brush, I have to brush it across a few times for it to pick up colour. With a natural hair brush, I need only roll the brush over once, and it picks up enough colour to apply on the skin. The brush included is pretty decent – not too floppy or scratchy – so I use it when I travel with this blush.
Here is a picture of the Burberry Light Glow Blush swatched once on the back of my hand. It is well pigmented and shows up quite well on the skin.
Also featuring: Hada Labo BB Emulsion Light Beige, TheBalm Shady Lady Vol. 2, Dior First Light Healthy Glow Summer Powder, Dior Addict Ultragloss Empire Pink
I think its a nice enough blush and a neutral enough colour that will suit most if not all skintones. It can be layered for greater intensity without looking powdery and chalky and on light skin, it works with just one sweep of the brush. The pigment in this one is sheer without compromising on colour so you end up with quite a lovely glow instead of colour, as such. Quick and easy!
Pros: Gorgeous compact packaging, Brush included is of quite good quality, Blush has good pigment and gives a light glow to the skin
Cons: Pricey
As for whether this lives up to the Chanel blushes of the same pricetag, I'd say its a bit of a toss up. I started out thinking that I'd prefer the Chanel ones. I was quite convinced of it. But after a few months (yes months!) I've decided that they are not quite the same.
The Burberry blushes are pressed powder while Chanel Joues Contraste is baked. They feel different to the touch and I find Chanel blushes do tend to have shimmer, no matter how minute (which I like) while this particular Burberry Misty one is matte yet imparts a sheer glow to the skin. I also find Chanel JC blushes more pigmented compared to the Burberry Light Glow blushes. Being a blush 'ho I can pretty much justify getting both 😉 If you aren't then I'd suggest that you take a look for yourself to see if you like the range of colours offered and the texture.
Burberry Light Glow blushes are quite a small range for now, in very safe neutral sort of colours. Not terribly exciting, but very very wearable for the most part to give you just that hint of a blushing English Rose 🙂
Have you tried any of the Burberry Light Glow blushes yet? Do you have a colour you'd like to recommend? I've been eyeing Peony so if you have it, tell me what you think… and if I should get it 😛
Paris B
Burberry Light Glow Blush retails at RM140 each at the Burberry Counter at Isetan KLCC. No. 8 Misty was introduced in the Burberry Spring/Summer 2011 collection and is permanent.