I am a huge huge fan of Guerlain lipsticks, but they are pricey, I will be the first to admit. Rouge G retails at RM158 which is OUCH! to the wallet. So a few months ago, when I was told that Guerlain was coming up with a lipstick that would retail at below RM120, I was quite intrigued. RM120 is still a heck lot of money, but its cheaper than a regular Guerlain lippie.
Turned out, its the Guerlain Rouge Automatique that you might have seen around. The Guerlain lipstick that comes in a cap-less packaging. The lipstick that allows you to apply lipstick one handed because all you do to apply lipstick, is the slide down the "switch" and the lipstick slides up the top.
See what I mean? Slide it down, the lipstick slides up. All cool and gimmicky… and unfortunately for me, not very Guerlain. [Update of some historical info: Guerlain is the first brand to come with a one hand lipstick. Guerlain Rouge Automatique was originally launched in 1936 using the same name and almost similar packaging.] So perhaps I'm wrong about it not being very Guerlain, but what I really meant was that it wasn't very Guerlain to me – as I'd come to associate Guerlain with much more luxurious packaging 🙂
Still, let me tell you a bit about the colour and texture of the lipstick (which is DIVINE!) and then whine a bit about packaging 😛
This colour is No. 164 Chamade a rose pink that is very pretty to look at, very pretty on the lips and a colour I will dare say, suit most ladies.
Guerlain Rouge Automatique No. 164 Chamade
Don't you think so too? Its so pretty I'll have a few more photos for you.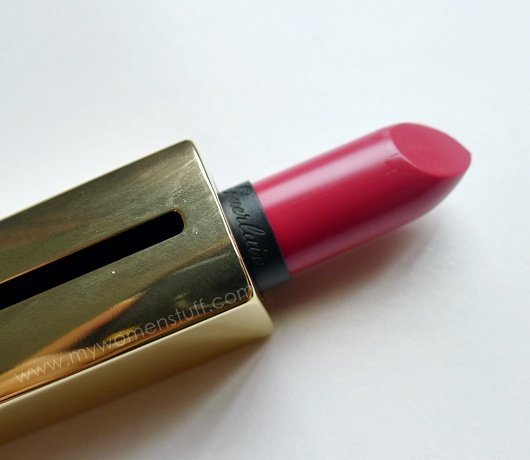 The lipstick isnt very long and when fully extended shows a base engraved with the Guerlain logo. It is little touches like this that truly separates luxury from the ordinary.
Here is a swatch of Chamade on the back of my hand. This is just one swipe and you can tell that it is at once pigmented yet sheer, glossy yet not overdone.
Guerlain Rouge Automatique No. 164 Chamade swatch
The tone when swatched is a little redder than I expected, but it is a beautiful colour. Very elegant yet very everyday. A lovely lip shade that at once adds elegance and brightens up the complexion. It is quite neutral, but does tend a tiny bit towards a warm tone which I find very flattering especially when wearing green smokey eyeshadow.
Also featuring: Bobbi Brown Pink Coral shimmer blush and Napoleon Perdis NP Set Dublin Eye Palette (smokey green)
Now, a word about the packaging. I'm sorry Guerlain, but I'm not a fan. There, I said it.
Here is another angle of the sliding mechanism. The cap/cover, as you can see, slides down the side and the whole mechanism is very smooth. It isn't jerky or hard to use or anything. However, it also does not have the heft that I've come to associate with Guerlain lipsticks. I have been using Guerlain lipsticks from Divinora days to Kiss Kiss and then to Rouge G. The cases got more and more substantial and heavier. Not many people liked that, but I did.
This one feels like a toy in my hands. Secondly, the sides of the case (see picture No. 2 above) is a bit thick so applying the lipstick can be a bit of a bother. I don't like extending my lipstick very long for fear of breakage, but with this, I have to have at least 3/4 of it out, so I can apply it comfortably, without bumping my lower lip against the side of the case when I'm using this on my upper lip. I have this perpetual fear that it'll snap off halfway some day.
Texture wise, this is so creamy and moisturizing! It is like Chanel Rouge Coco Shine and Dior Addict mated – we get the pigment of Dior Addict and the smooth shine and texture of Rouge Coco Shine. The colour is long lasting (at least 4 hours on me through regular coffee and drinks) and is not drying and is quite quite perfect. I'm not crazy about the packaging, but I guess I have no choice but to suck it up, because I'm crazy about the texture!
Pros: Lovely smooth texture with good pigment, Long lasting colour, Smooth shine, Sheer colour yet strong pigment
Cons: Pricey, Packaging is too bulky and gimmicky
Oh and yes, there is a light scent as is present is almost all of Guerlain products, but I will forgive them that because I swear, I will be getting another and I have seen some beautiful reds in this formula so I'm likely to gravitate towards that shade 🙂
Now have you tried this? 🙂 Or perhaps the price tag is still too much of a bummer? I'd call this "My First Guerlain Lipstick" because its a little more affordable than the other ranges in the brand yet offers beautiful quality that will suck you right into the whole Guerlain brand. Dangerous business eh? 😛
Paris B
Guerlain Rouge Automatique lipsticks retail at RM114 at all Guerlain counters.
What is the 30 Days of Lip Swatches project? I will be showcasing and reviewing 30 lipsticks or lip glosses in the coming days. Lip products was chosen by popular vote from the readers. You may find all 30 days of lip swatches or follow it by clicking on the Lips category.
Previously : Day 12 of 30 : Clarins Joli Rouge No. 729 Red Terra