Are you familiar with Aesop? Its the Australian skincare brand that carries products made from plant based ingredients. I might have used something from them many many years ago but I can't remember anymore. I've since remedied that with 2 Aesop products – Aesop Primrose Facial Cleansing Masque and the Parsley Seed Facial Cleansing Oil. Today, you're going to hear about the mask 🙂
What the Aesop Primrose Facial Cleansing Masque is, is a clay mask. Did I just hear a cheer go up from the oily skinned gals? 😀
Clay masks as we know, are great for oily skins because it helps to reduce sebum. In the case of the Primrose Facial Cleansing Mask, it is supposed to also contain anti-oxidant plant extracts and Vitamin E and is for deep cleansing of the skin. What this tells us therefore is that this isn't a mask you can use everyday. At most, perhaps twice a week if you have problem skin, or at best, once a week.
I don't have oily skin, so I use this once a week or once a fortnight. However, a couple of months ago, I ran into problems with my skin. I don't know what I was messing with then, but I had a bad case of congested skin around my chin and cheek area. I nearly despaired, until I remembered this clay mask so I slapped it on twice in a week, and it solved my problem!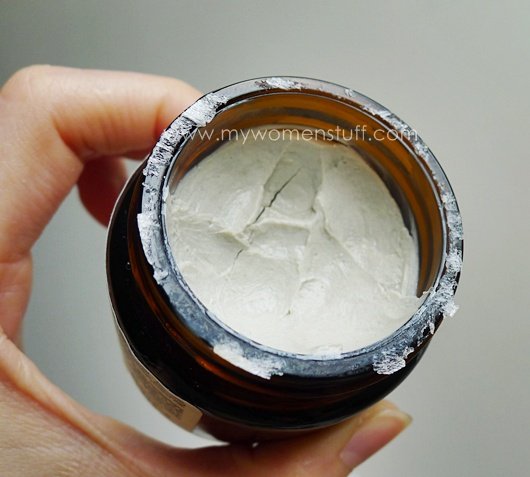 The mask comes in a jar and you are only supposed to apply a thin layer on your skin, as it can feel rather drying. The scent of rose geranium is very strong so if you aren't into that scent, you are hereby warned! I usually leave it on for about 15 minutes by which time, it would have dried, and then I wash off. Washing off is a task in itself. The bits around the hairline are a pain to remove!
So my suggestion to combat this hassle is to do this mask just before you go for your shower so you can wash your hair at the same time, thereby solving this problem LOL! 😀
When it is first applied on my skin, I feel a slight tingly feel but it isn't uncomfortable. After washing off, my face always feels super smooth without redness, and I follow with my regular skincare regime thereafter to combat any dry feeling. I don't get a very tight or dry feeling on my skin after washing though so it feels quite comfortable for me.
Pros: Help clear congested skin, Leaves skin feeling very clean and smooth
Cons: Pricey, Geranium scent is very strong, Not for dry skinned gals
If you are interested, here's the ingredient list
If you aren't sure whether you'd like this one or if it'll suit your skin, I could suggest that you approach their counters and request a sample – I've gotten samples from Aesop before 🙂 If you have very sensitive skin, I might not recommend this for your use. Essential oils, despite being plant based can be quite strong.
I know some of you have already tried or are using this clay mask, based on some comments I received before. If you are, are you still using it and do you like it? 🙂
Paris B
Aesop Primrose Facial Cleansing Masque retails at RM99/60ml or RM135/120ml and is available at all Aesop counters. In Malaysia, Aesop counters are at Bangsar Village II, 1 Utama, Parkson Pavilion, Isetan KLCC, Metrojaya Midvalley and Gurney Plaza Penang.