Hmm… how do I say this? Let's just be quick and simple about it – I like this cream foundation 🙂
This is actually my first time using a cream foundation and my expectations were that it would be oily, creamy and thick. Interestingly, the Max Factor Miracle Touch Liquid Illusion Foundation was none of the above.
This Miracle Touch Liquid Illusion Foundation is a cream foundation that gives the illusion of liquid foundation. Leave aside your notions of thick cakey foundation because this fella is super lightweight! I find that it takes on a slightly powdery feel on my skin, and I really like this one!
This cream foundation comes in a flat round tub. You will be forgiven to think that there is a lot of product but you would be mistaken. Half the pot is the cover which houses the sponge. The product itself isn't quite a lot but the happy news is that you don't need very much either.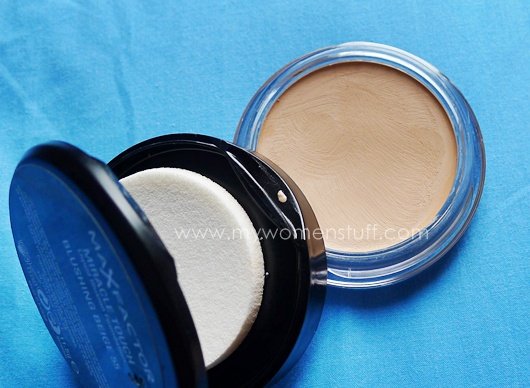 I did some reading online and found that many people complained about the sponge and how they found it easier to use a brush or their fingers. I however, liked the sponge. A brush was too much hassle and fingers left it streaky. The sponge offered a smooth coverage that was just nice and you can take it with you.
As for texture, I'm afraid this foundation is sheer. Now, I like sheer. I live for sheer foundations! But I do understand that some people might prefer something with more coverage, in which case, you will likely not find it in this one. But if you like something that just evens out your skintone then give this one a go. Its nice for that.
I usually apply this all over, and the touch up the areas that need coverage with concealer. That way only the areas that need coverage get an extra layer which allows the rest of the face to look more natural. When I first apply the foundation on my skin, it tends to look like nothing. So the first few times, I'd keep layering. But then I realized that after about 5 minutes, the colour sorts of develops and that's when my skin starts looking smoothened. So try a thin layer first, leave it for about 5 minutes then check back to see if its the coverage you want. If you prefer a little more coverage, you can apply some powder over it. I sometimes apply a light dusting of loose powder or my Guerlain Meteorites powder to set it.
My colour is #55 Blushing Beige, which is the lightest shade available here. Its a neutral shade with slightly pink tones. The next shade up isn't far different but has slightly more yellow tones. I do wonder if #40 Creamy Ivory might be a better match for me but we don't get it here. Still, its sheer enough that I can live with the shade and it feels super light on my skin, lasts all day and is perfectly portable. So yeah, I really like this one!
Pros: Lightweight texture, Not oily or thick on skin, Colour is a good match for me, Sheer, Practical and portable sponge applicator
Cons: Sheer, Contains silicones
The foundation retails for RM72 which I do not think unduly pricey because its really quite nice. It has to be tried to be believed 🙂
I know I didn't quite like the False Lash Effect Mascara and I found that pricey, but I did say that I liked some of the other products in the brand and the rest aren't that pricey at all, all things considered. Plus you get the added benefit of shopping in department store comfort 😉
Do let me know if you've have tried this foundation and if you like or dislike it. I think its a great little not very expensive foundation and would love to know if you feel the same way 🙂
Paris B
Max Factor Miracle Touch Liquid Illusion Foundation retails at RM72 at Max Factor counters. I don't have a full list, but you can find Max Factor counters at Isetan, Parkson, Metrojaya and Pacific Department stores.