Excuse me for one moment as I descend from the frills and frivolities of beauty and cosmetics and fashion to the dull practicalities of life. But I wouldn't descend were I not to tell you of a new find that has lightened a household chore for me. Since we are mostly women reading this, I thought I'd share something practical 🙂
Introducing the 360° Spin Dry mop! 😀
I've seen this one at Cosway and in Isetan. It might also be sold elsewhere. At Isetan it was sold at RM138 for a set including a replacement mop head. At Cosway its RM69.90 if you're a member (RM119 if not), without the replacement mop head which retails at RM19.90 (member price). Membership was RM30 so I signed up because at RM99.90 it was ultimately still cheaper 😛 Yes ladies, I've joined the legions of aunties who shop at Cosway 😛
So whats so great about this very expensive floor mop? A few things.
Its lightweight
Its very light to carry which makes it less taxing on your arms. Might be a good thing for older people. I am however a little concerned about the pole because if I exert too much pressure on it, it does bend and feels a little flimsy. So, I try not to be too rough with this. Its expensive 😛
Its easy to wring dry
My hands are very sensitive to most detergents and although I wear rubber gloves, it takes a lot to wring the water out of the traditional floor mops. I have small hands too and when I was replacing my old threadbare mop, I bought one that was too large so I found it hard to wring and ended up with wet floors all the time. That's dangerous. Also, you have to bend over to wring the mop, so as not to let the water splash everywhere and I'd always end up with an aching back. Not as young as I used to be you know…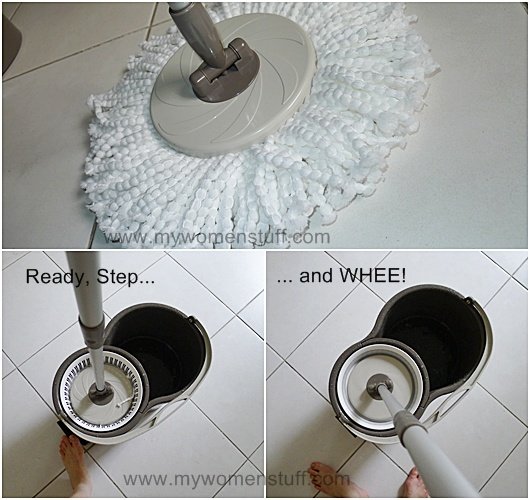 But I had no problems with this one (which is why this lazy bum bought it in the first place 😛 ). Just place the mop in the round white bit of the pail, step on the pedal and watch it spin dry. It operates just as a salad spinner would, and if you step on it about 10 times, the mop comes out nice and dry so you don't drip water everywhere but wet enough to clean your floor. Just don't press down as it spins. Hold the handle and watch it go. Best part is that you can stand upright while watching it spin so no backache! The pail is included 🙂 I think this is actually good for older people (cue: parents!)
Its slim and convenient
The mop head is slim and the microfibre cloth picks up dirt quite easily, and the mop head swivels around easily to get into corners and under furniture. I found I did not have to work so hard at mopping and it actually made the task quicker and easier. Perhaps I'd mop more often these days 😛 Its certainly a boon in the kitchen because kitchen floors can get dirty after cooking and I used to hate the clearing up before this.
Size wise, it has a very compact footprint and once its dry you can store it in your store room. Dismantle it too if you want.
I hate sounding like an infomercial. "Get it now at a special low low price! And it you get it now, we will throw in a replacement mop head for free! Yes FREE! Just call 1-800-SPINDRY for your mop NOW!" *hehe*
If you have domestic help, you probably won't need this one. But if you don't and hate mopping the floor, or are allergic to detergent, or hate wringing out the mop, or get a backache everytime you mop the floor, consider getting this one, or something similar.
The price might drop once copies come out, who knows, but for now, I'm really liking the one I bought. Now I'm a Cosway member, I'll probably get one for my Mom – cost averaging and all that 😀
I'm not promoting Cosway but you might already know someone who is a member and if you do, ask them to get it for you (its cheaper). If you'd rather not subscribe to companies like these you can purchase it at non-member prices, and I've also seen this at the household department of Isetan at Lot 10 🙂
/end infomercial mode
Would you pay that much for a floor mop? Regular floor mops aren't very expensive so many might balk at the price. But I'm happy to pay for convenience and ease of use and also for time saving and the prevention of an aching back 🙂 Or perhaps you already own this? Any thoughts?
And now to inject a bit of beauty to this rather humdrum post.
Here's a beauty tip. Always wear gloves when doing household chores. It protects your hands from harsh chemicals and from coming into direct contact with dirt and bacteria. It also protects your nails and keeps your hands smooth and if you use a hand cream after that, no one would know you've been hard at work cleaning the house 🙂
Just in time for Chinese New Year spring cleaning eh? 😉
Paris B
The 360° Spin and Go mop retails at RM119 at Cosway (RM69.90 for members) and RM138 at Isetan Lot 10. The replacement mop heads retail at RM19.90 (members) at Cosway.