I keep reading about all the snowstorms raging in Europe and over here, we have torrential rains pouring every evening. Its enough to depress anyone! So my mind turns to Spring 🙂
But actually no. I'm not going to show you everything there is about Spring 2011 yet because:-
a) come on! Its still 2010! At least for a few weeks/days more!
b) I like suspense 😛
So to tide you over, here's a sneaky pic sort of picture of the new Guerlain blush for Spring 2011. Sorry chicas, you're going to have to click below for this one 😉 I like suspense remember? 😉
The Guerlain Blush G de Guerlain Serie Noir err… blush.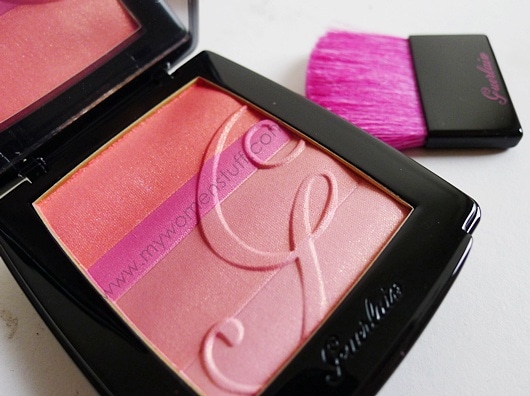 Doesn't that fuchsia brush just kill ya?! 😀 The blush is mainly coral shot through with pink, a colour that should suit most skintones. I'll have better pictures for you closer to or after the New Year 😀
There. Kept you on your toes didn't I? Please feel free to drool but please pick up the bibs I've left out to wipe up after you ok? 😉
Paris B
The Guerlain Blush G de Guerlain is limited edition for Spring 2011. Price and availability to be advised. It will retail at RM202 at Guerlain counters in Malaysia from 20 January 2011.