There! I've done it! I've defiled and deflowered the Dior Minaudière palette to bring swatches because you asked me to!
Well, not quite because you asked me to. I had to find out how those colours looked, because they do look pretty and wearable 😀 Besides, what's a makeup palette if not to be used eh? Do head back to the previous post which shows you the palette in all its photographic glory.
Have we gotten over the beautiful packaging yet? Let me show it to you again.
I'm holding it in this picture so you get the idea of size. I do have quite small hands, I should point out 😛 But its a nice "clutchable" size if you are so inclined to clutch it. Its quite weighty. I don't have scales, but its metal so its rather heavy. You won't really want to carry this one around in your bag everyday… unless you want to whip it out in public for touch ups 😉
As we have noted in the earlier post, the lip colours are covered with a metal cover which is genius. Other brands should take a leaf out of Dior's book for their palettes.
And now for the swatches! 😀
This is the palette in 002 Pink Golds. There is another colour scheme of browns. Personally I prefer Pink Golds 😀 Eyeshadows are typical Dior quality – soft, smooth and blendable. The colours aren't very dark but there is a soft lovely shimmer that isn't over the top. From left to right, my colour descriptions are as below swatched based on the palette layout:-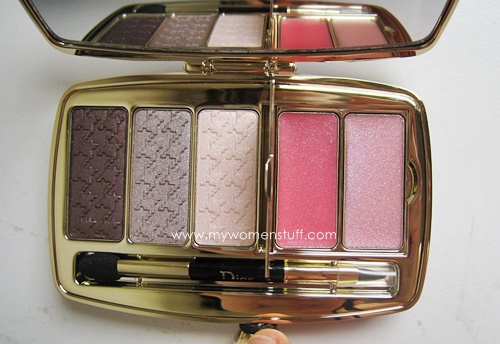 Left to right:-
Dark purple – very deep aubergine with light shimmer
Grey – medium toned grey with light shimmer, soft texture
Light Pink – Very light pink with light shimmer
Pink Lipgloss – very sheer pink with shimmer
Light pink lipgloss – transparent with shimmer
The lip colours are a gloss and thus swatch barely there. Goes with the deeper eye colors though. They are typical Dior lipgloss textures – not runny or "oily" and not drying. I expect the lip colours to finish quickly, so I might experiment with melting in my own colours in the event that happens. Will keep you updated if I do.
I'd say this palette is very demure. It looks demure. The colours are soft and ladylike and its just demure 🙂 I love it 😀 Here's a quick look I did using all the colours in this palette just to show you how it might look.
All colours are used without a base. You can see the eyeshadows are pretty pigmented but "radiant" so its easy to tone it down or amp it up as you will. The lip gloss is very sheer. I am only using the pink one and its just a light pink tint on the lips with shimmer.
If you plan to purchase this palette, make sure you use it. Makeup is only beautiful when used 🙂
Pros: Lipsticks have a cover to prevent cross contamination with powder, Lovely soft colours in eye and lips, Gorgeous packaging
Cons: Limited Edition, Lipglosses are a little too sheer
I think Dior's offering for Holiday 2010 is pure genius. The visual impact of the Minaudière (little clutch purse in French) is stunning and the palette is very wearable. If you find this in your stocking at Christmas, you are one very lucky girl! But if you aren't sure if you will, its time to drop those hints, or just come right out and say you want it… because you know you do 😉
Does this catch your eye… and grab your attention? 😉 Better hurry then, coz its very limited edition!
Paris B
The Dior Minaudiere eyeshadow and lipgloss palette is limited edition for Holiday 2010 and should retail at RM226 (about) or US$80 in the USA at Dior counters.