Remember last week I told you I wanted to show you something very VERY pretty? Well here it is.
Ladies, feast your eyes on the Dior Minaudière Eyeshadow and Lip Gloss Palette – Dior's star product for Holiday 2010.
Its early days yet, and I haven't seen many other Holiday 2010 collections, but I am going to stick my neck out and say that this one from Dior is a winner and a half. Did I say half? I meant a mile.
What is a "Minaudière"? I hear you wonder. Well according to the Merriam Webster dictionary, it is a small decorative case for carrying small articles like cosmetics or jewellery. Its French of course and for a bagaholic like me, cosmetics in a clutch is a perfect combination!
In French tradition, Dior puts cosmetics into their minaudiere – 3 eyeshadows and 2 lipglosses to be precise. There are 2 colour combinations available and mine is 002 – Pink Golds/ Ors Roses. More pics after the cut 😉
If you know me by now, you'd realize I'd diss a palette that has cream and powder items mixed in. Well, Dior thought of that this year. They designed a gold plated flap to cover the cream products so there is no cross contamination! How wonderful is that?!
The lacquered black clutch looks amazing – I almost wish I could reuse it after the cosmetic products are used up because it deserves to be used, not just stuck on your dresser somewhere, looking pretty. I'll try to find a way to get it to work! It closes with what feels like a magnet but which might just be physics at work. There is no clasp per se.
Pink Golds has 3 eyeshadows – Violet, Light Taupe and Light Pink overlaid with a touch of gold – and 2 lip glosses – a pink and a light shimmer gloss. I can't bring you swatches just yet – I don't know if I can bring myself to defile this palette immediately as I do the rest 😛
In the meantime, here are more pictures of the palette – feast your eyes on this beauty! 🙂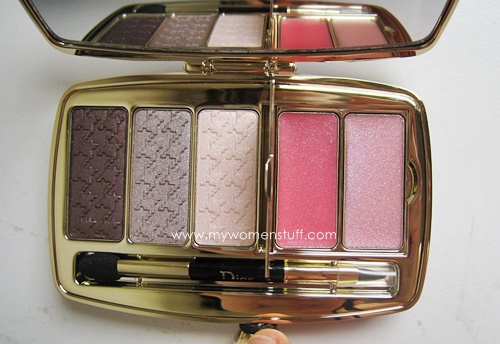 There will be very very limited stock coming into Malaysia so if you'd like to make sure you do not miss out, better make a reservation with your favourite Dior counter. It will retail at RM226 (I think) and you should expect it in late October/November 2010.
Altogether now "Aww… so prettyyy!!!" 😉 Was this "very pretty" piece of news worth the wait? 😉
Paris B
The Dior Minaudiere eyeshadow and lipgloss palette is limited edition for Holiday 2010 and should retail at RM226 (about) or US$80 in the USA