About a week before Syen's wedding day, I went with her for a Hammam spa session where we left with glowing baby smooth skin all over. I'm sure she liked that 😉 A couple of weeks later, I was feeling decidedly rough about the edges so I knew it was time to indulge in yet another body scrub but how to afford the Hammam again?!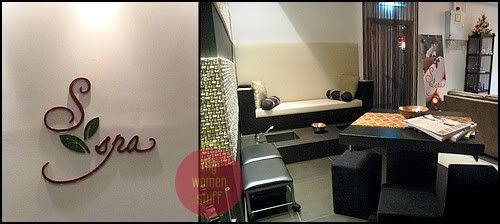 I didn't. I cheated and went with S Spa instead! 😀 S Spa is located in the new busy commercial, office block, restaurant, bar locale of Solaris Mont Kiara. Its in the same block as CIMB Bank i.e. on your left as you enter Solaris Mont Kiara so be sure not to miss it.
I visited with a friend who was celebrating a birthday and we had the Rose Salt Body Scrub and Vichy shower (RM100) and body massage of choice (RM120).
The S Spa is quite new and has a very cozy set up. I liked the waiting couch and the manicure and pedicure area looked comfortable and clean. Lighting was low but not too dim. I detest going to some spas which have lighting so dim that you have to be careful not to trip over yourself.
I highly recommend the Rose Salt Body Scrub. You start your treatment with a 10 minute session in the steam room. Now I know how a steamed chicken feels 😛 You sweat and you can literally feel your pores opening up wide and your skin softening. I'll go into some detail below and if you'd like to try this, S Spa has kindly provided a special promotional voucher for readers so read on!

After your steam session, your therapist then lets you out and hands you a glass of water which I gulped down gratefully. Then, you lie down on the bed where the therapist starts the rose salt scrub. If you feel they are scrubbing too hard, do let them know. Although there was slight discomfort, especially at the tender spots of skin, I let them carry on with their work. They scrub you EVERYWHERE! And that's a good thing 🙂 I liked how they concentrated on the soles of my feet where there was hard skin and even between the toes. I was left with super smooth and soft skin all over and even now, after a week, the effects are still there so I'm quite impressed!
After doing the back and front, they'll turn on the Vichy shower. This is an experience to savour. The 4 shower heads above you will shower down warm water to wash away the salt from your body and it is so relaxing. It feels like you are lying under a warm waterfall if there's such a thing. One point to note – do ensure your head is not too low down the bed or you risk drowning under the water 😛
All too soon, you are done and the therapist takes you back to your room where you can indulge in a rain shower to wash away the rest of the salt or oil – I loved it! I love rain shower heads and I would install one in my little bathroom if I could so you can imagine I spent a happy few minutes in the shower admiring my super soft and smooth skin before drying myself off for the massage.
There are 3 types of massage provided – Deep Tissue for people who are highly stressed and tense, Swedish for loosening up muscles and Aromatherapy for relaxing. There is also a Hawaiian Lomi Lomi massage I have not tried. You inform the therapists in your profile form what sort of pressure you prefer and they constantly check with you if you're alright with the pressure so you don't feel too uncomfortable.
I had the Aromatherapy massage which was relaxing and not too oily. So by the time I left, I was feeling calm, relaxed, clean and smooth all over! I know I'll be back for another salt scrub and maybe next time I'll try the Ginger Salt Scrub 🙂 One difference between this and the Hamman spa is that this one is less intrusive so if you are the modest sort, this might be more to your liking.
You have a choice of 3 different room styles at S Spa – Balinese, Indian and Japanese (couple room). I liked the look of the wooden half tubs in the Japanese room – it would be fun to sit in there and soak! Perhaps next time 🙂
Now for some points that S Spa could improve on as commented by both myself and my friend in our comment forms:-
To provide a hanger for clothes – my room did not have a place to hang my clothes after I changed into spa wear and although my friend's did there was no hanger
To provide a bathrobe or cotton robe for after the scrub – It would be nice to snuggle into a robe after the warm shower and scrub session. It would also make it less embarrassing to walk from the Vichy shower room to the massage room albeit it was just a few steps away.
Perhaps if you go after this, you could let me know if they have indeed taken the comments into consideration 😉
And some touches I especially liked at S Spa :-
There was a hairdryer in the room and a mirror – perfect for those who'd like to groom themselves before exiting so you don't leave with messy hair after your massage or body scrub and shower.
Lovely rain shower in all the massage rooms – pure decadence! Make sure you spend a few minutes indulging in a shower.
The therapists speak English fluently so its easy to communicate.
Gorgeous wall paper! 😛
S Spa is located in Solaris Mont Kiara and the first 50 readers who print out the voucher below and call them (tel: 03-6203 0434) to make an appointment will be entitled to a 30% discount off the services.
As I said, I highly recommend the salt scrub – there are a few different types available – which costs RM100 normally for about 45 minutes but with the voucher it would only be RM70. If you are in need of relaxation, then a 1 hour massage would be RM120 (RM84 after discount) or I reckon you could splurge and have both 😉
Are you into spa treatments? Me? I guess its obvious that I am! 😀
Stay beautiful,
Paris B