A wise man (or woman) once said "Save on what you wash off your skin and splurge on what you leave on". I have abided by that philosophy ever since and thus far I've found it working well for me… and my wallet!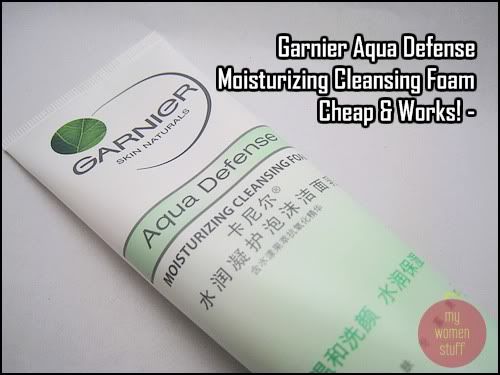 The Garnier Aqua Defense Moisturizing Cleansing Foam is one item I am very happy to save on. Retailing at just RM10.90 for 100ml, I'm happy to report that it works well for me.
The foam comes in a tube and although it says "cleansing foam" I found that it does not lather up quite as much as I expected. The texture is creamy and it lathers up some but not into fat white soap suds.
The scent is similar to that of the Aqua Defense gel essence – light green apples.
I find that when I use it in the shower, my skin does not feel tight. In fact, it feels creamy and slightly moisturizing. This makes me venture the proposal that the Garnier Aqua Defense cleansing foam is more suitable for those with normal to dry skin. If you have oily skin you may not like this because it feels like a light layer on top of your skin after cleansing.

If you like something that leaves you with a squeaky clean feel to the skin, then the Garnier Aqua Defense cleansing foam isn't for you. However, if you want to try an affordable cleansing foam that does NOT leave your skin feeling tight and squeaky clean, give the Garnier one a shot. You only have RM10.90 (or less during sales) to lose and everything to gain! 😀
Personally, I'm liking it and I will repurchase.
Pros: Affordable, cleans well, no tight feel to the skin

Cons: None I can find
Do you subscribe to the theory of "Save on what you wash off?"
Do you? I do, as you can see. I believe that cleansers are all quite similar and easily substituted unless they are for specific purposes like my Body Shop tea tree oil cleanser which I use whenever I want to treat spots on my face. Otherwise, I'm all for drugstore facial washes.
How about you?
Stay beautiful,
Paris B