Life's simple – don't complicate it!
Thats the mantra I live by… or try to live by. But seriously, life IS simple – its people who are complicated :P And in the spirit of keeping it simple, I've been using Clinique's 3 step programme these couple of weeks. Does that make me sound like I'm in rehab?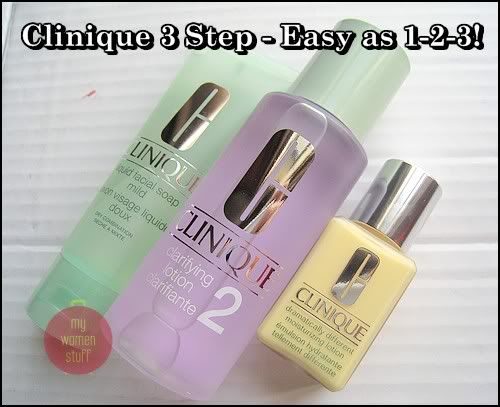 Clinique's 3 step programme has been around forever but this is the first time I'm trying it over a prolonged period! What it is is essentially cleanse, tone and moisturize – 3 essential skincare steps which we may or may not practice but which we should right from our first blush of youth :)
First off, let me say that before using the Clinique 3 step programme, you should get down to a counter and get the sales assistants to match you up to the right products. You might need a stronger or lighter toner or a lighter or heavier moisturizer, but could make do with a normal cleanser. In my case, I was #2 for cleanser and moisturizer but I was advised to get a #1 toner – its milder for my skin. So get thee down to a counter and don't listen to your friend or even to me because our skin types are all different so what works for me or your friend may not work for you!
The products I have are trial sizes and Clinique sells sets of these trial sizes for RM105 so you can try them out before you buy the full sizes – I like that! At least I know if something goes wrong, I did not blow a wad of cash. Have you tried the Clinique 3 Step? Here's my thoughts on it.
Step 1 Cleanse – Clinique Facial Soap #2 Mild – Normal to Dry skin
I was diagnosed with dry combination skin. Yes yes… the aging process has started. But that's no reason to skip cleansing. The Clinique cleanser #2 is a gel cleanser which cleans my skin well without causing it to feel dry. As it is formulated for combination to dry skin, it would have been disastrous had it pulled my skin taut and tight! I use it twice a day – in the morning and evening after makeup remover. Its Ok but did not remove my makeup very well (without a makeup remover beforehand).

Step 2 Tone – Clinique Clarifying Lotion
Ok this isn't really a toning step. In the Clinique regime the Clarifying Lotion is in fact, a mild exfoliator. How to use this is to pour some onto a cotton pad and gently wipe across your skin just ONCE. The clarifying lotion acts in removing the dull skin cells and flaky skin to reveal clearer skin. However, the other effect is that your skin can get a little dry so you NEED to moisturize and yet another drawback is the tingling feel on the skin and the high alcohol content that can sting the eyes.
The secret ingredient is, I believe Salicylic Acid – a good friend of mine LOL… The other secret to not having irritated skin when using step 2 is to ensure you get the right strength and this is where the sales consultants come in. I was advised to get #1 for Very Dry – Dry skin as the formula is milder but they were out so I took #2 but was warned to use it sparingly. I'm glad they warned me or I'd have slapped it on and wondered why I was drying out!
Step 3 Moisturize – Clinique Dramatically Different Moisturizing Lotion
This is Clinique's star product. A product I'm sad to say broke me out many years ago. I reported this to the sales assistant who then taught me something I love her for ever since! The proper amount of moisturizer to use.
You see I'd been doing the 5 dot method – 5 dots on the skin and blend – but I was told that's using too much moisturizer which may be too rich for the skin. So, I was advised to use just a pea sized amount, spread it between my hands and apply to my skin. I'll elaborate on this method in a later post but all I can say is WOW!
I can see why the Clinique Dramatically Different Moisturizing Lotion or affectionately known as DDML is loved by so many. It is a good basic moisturizer, delivering just enough moisture to the skin to keep it comfortable and its perfect after Step 2.
However, it is just that – a moisturizer with nothing more added. So, if you have other concerns e.g. whitening, anti aging etc you might have to use something else. However, if all you want is a basic moisturizer, try this one – you have nothing to lose! The texture of the lotion is a little thick because its for drier skin but for oilier skin there is a gel formula which is much lighter.
I do have one little grouse with the sample/trial size of the DDML – its quite thick so it takes some whacking on my palm before any lotion comes out. I believe the full size version comes in a pump but I can't be sure – I sure do hope so anyway!
Dramatically Different? Quite!
I'm happy to note that my skin was not upset by using the Clinique 3 step programme this time, unlike the last time I tried it. I don't mind the Facial Wash and I like the DDML lotion but I'm not liking the Clarifying Lotion much. I prefer a toner that adds moisture and does not sting my skin and thus far, I'm happy with the other products I use that help keep my skin flake free, including various scrubs, exfoliators and pore refiners. Still, if you'd like to keep it simple and all in the family, then the Clinique 3 Step programme should do just fine.
Are you doing the Clinique 3 Step? What's your favourite product out of the 3? Mine's the Dramatically Different Moisturizing Lotion – its dramatically different! :)
Stay beautiful,
Paris B