I was told by what I thought was a reliable source, that Coffret D'or would not bring in the Summer 2009 collection. I guess they were wrong because Coffret D'or's Summer/Autumn 2009 Collection is here!
Comprising 5 eyeshadow palettes and new lipsticks, this Coffret D'or collection is pretty and a more functional one compared to the previous Spring 2009 Shine collection.
I checked out the CM Eyes eyeshadow palette which I found quite nice. They do swatch shiny and shimmery which I seem to notice is a trend favored by Japanese brands and Coffret D'or in particular. The colours too tend towards being light which some may not like but which I find are more user-friendly. Its harder to make a mistake with light shimmery shades than it is with strong pigmented colours. Here are pictures of the palettes.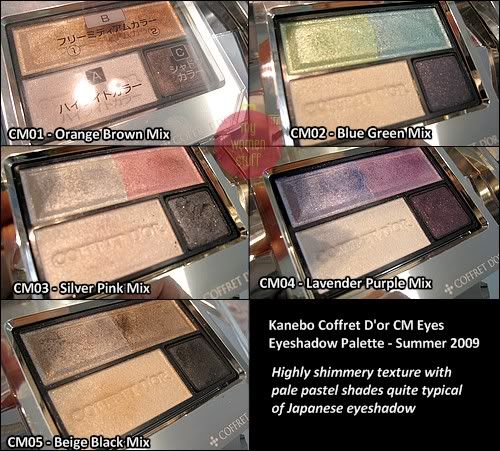 The colours are light and honestly, I feel that Coffret D'or looks to me like they are in a bit of a rut. The colour combinations look very similar in most collections. In fact, compare these with the 3D Lighting eyes and you will see lots of similarities. I'm happy with my 3D Lighting Eyes palettes and I find that the CM Eyes palettes swatch very similarly to the 3D Lighting ones so I will not be making a purchase.
That said, its a good thing they have a similar texture to the first palette because I was not impressed with the previous 2 eyeshadow palettes released by Coffret D'or. The lipsticks are the usual sheer colour that can be expected from Japanese brands. They are very nice but again, not so special I can't wait for a sale before getting them 😉
All that said, I must admit the looks done with this collection make the girls look so fresh-faced and pretty! I guess Coffret D'or is working with a formula they know works.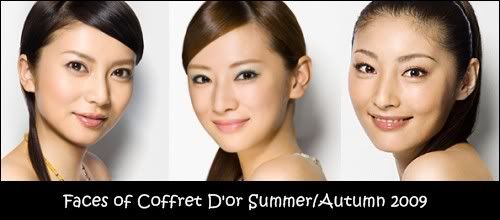 My favourite look is #2 but then that blue-green eyeshadow just screams Paris B right? 😀 Have you seen the new Coffret D'or collection? Have you any thoughts on the eyeshadows or on Coffret D'or eyeshadows in general?
Stay beautiful,
Paris B