I came across the upcoming Kanebo Coffret D'or Spring 2009 collection yesterday and my eyes lit up immediately. It was a collection I had been keeping an eye out for because the Shine Accent eyeshadow palettes looked so pretty online.
Just look at them. Don't they look lovely and shimmery and pastel – just how Spring colours usually are?
Unfortunately, I was quite bummed after I'd played around with them for a while. The texture of the eyeshadows are lovely – typical Coffret D'or – smooth, shimmery and silky. In fact, I might venture to say that they are even silkier than the 3D Lighting Eyes palette that I like. More pictures below.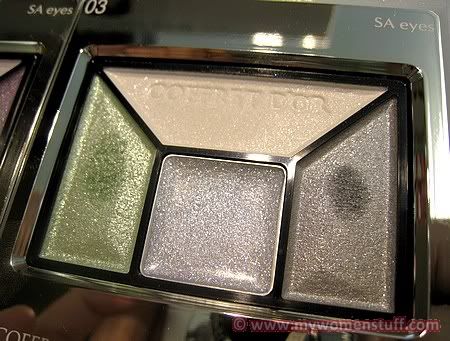 However, the pigment was very sheer. Now, I love Japanese eyeshadows so I'm perfectly fine with sheer colours. Unfortunately, not even I really liked these because I found them too light. They are even more sheer than the 3D Lighting eyes. The colours looked lovely in the pan, but once swatched, didn't show up very much except as shimmer. Also, none of the colours are really dark enough for an accent colour. Then again, the name of the collection is Shine Accent so I suppose the emphasis here is on shine.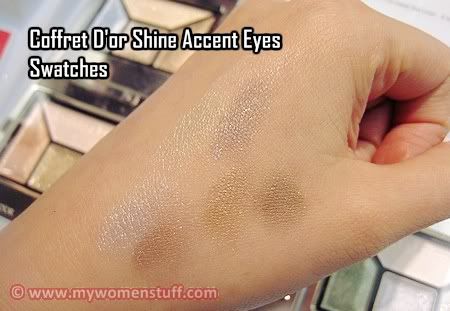 These swatches show roughly the shimmer and colour of the Shine Accent eyeshadow palettes. I lost track halfway which colour was which (and I got bored so I stopped swatching after a while), but you can see the green and grey from SA03 at the top and the blue and brown from SA04 on the bottom left. My skintone is pretty light but even I found it hard to get the colour to show exactly as in the pan – really a pity because they do look gorgeous.
The square in the middle is a cream/gel shimmer. It reminded me of an old T'estimo palette – the cream/gel base has shimmer in it which is pretty but after a while, I quite disliked it.
There is a gel eyeliner in this collection as well as lipsticks, gloss and a blush. I didn't have time to take pics of the other products in the collection but I'll do that the next time I see it and if I remember.
The Coffret D'or Spring 2009 collection is expected to go on sale only at end February/early March 2009. Previous eyeshadow palettes were RM120 each. I wonder if the price will remain the same.
Do you have any thoughts on the Shine Accent eyes collection?
Stay beautiful,
Paris B