This is a guest post by PinkElle of PinkElle Reviews who puts her self-esteem on the line and takes us on a first hand view into the shady world of slimming salons.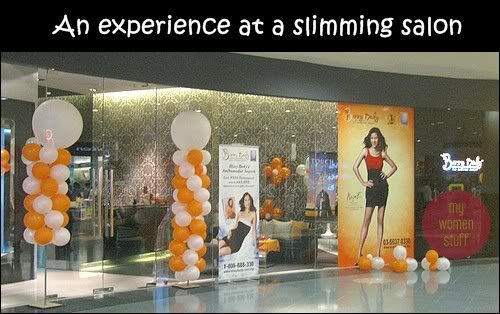 If you ever intend to go for a slimming trial at a slimming salon, be prepared to go with very high self-esteem as the slimming consultants will absolutely rip your esteem apart and leave you feeling obese with cellulite and saggy butts… even if you have the body of a runway model.
That was my experience when I took advantage of a free trial I won at Bizzy Body.
Be prepared for insults at a slimming salon
I was registered at the entrance by a slim beauty consultant (all slimming consultants are thin – I think it is a pre requisite!) who then proceeded to take my height and weight with a high-tech weighing machine that calculates your body fat percentage. I was then led to a small room to be briefed prior to starting the treatment. It was a small dimly lit room that felt like an interrogation cell. Be prepared for this is where the insults start and where your self-esteem and pride are shot down into many pieces by the beauty salon firing squad.
Another consultant came in after a short while and asked a few standard questions about allergies and age. She then took a look at my results and proceeded to exclaim how high my body fat percentage was and how I could stand to lose at least another 3 kgs for my height. I found this quite an interesting observation as doctors have told me I'm underweight before! She also said that normal people have a body fat of 18% to 20% which I later found out is only what athletes have, not normal people. In general, women require a higher body fat percentage compared to men due to their childbearing requirements.
PB Notes: Do be warned that consultants at slimming salons are not medically trained.
Be prepared for criticism of your physique
I was then asked to follow her to a fitting room with harsh lighting where she requested for me to remove my clothes so she could show me my problem areas in the mirror. She proceeded to happily point out cellulite and that my "butt was starting to sag". For the record my butt is perfectly pert and fine thankyewverymuch! 😛 Under that harsh flourescent lighting, anyone will have cellulite!
She then hinted again that there wasn't any point in me doing the free trial if I did not sign up for their package as I will not see any effect after the first time and she did not want me to blame Bizzy Body for not having any results to show. The constant reminders of how much I had to lose and how I could benefit from their "Guaranteed Inches Lost" programme continued! Argh!
According to her, Bizzy Body is the only slimming centre in Malaysia to offer guaranteed inch loss and would actually continue to provide treatments for free if your treatment package does not give you the promised results! I feigned ignorance and asked her if there was any strict diet to follow to which she smiled and said of course. I thought "The Guaranteed Inches Loss" programme is was a bit of a ridiculous claim as any loss in weight or inches can only be achieved by following a proper diet as well and it provides them an avenue to shoot you down further for not following their diet if you do not reach your desired measurements.
Slimming salons are all about hard-sell of packages
She asked about my problem areas and it provided a great opening for her to start sharing their wonderful package "available only today and only for first-time customers" which will give me 10 free spot treatments on top of the existing ones for a rock-bottom price.
I was not keen to sign up and I absolutely did not like how her attitude changed after that. She kept harping on the fact that my body fat percentage was high and even went on to suggest that I do not try the free trial as it will have no benefits whatsoever. When I asked her point-blank as to whether I should even do the trial, she quickly smiled and said it was entirely up to me and she did not want to imply that I could not have the trial even though I did not sign up for the package.
I thought this was a rather silly sales tactic as a good trial and treating your potential customers well might actually persuade them to join whatever programme you are suggesting!
There Was No Separate Female-only Changing Area
I insisted on the trial (I deserved something after all that image bashing!) and was led to a fitting room to change into a loose robe. Their fitting room area resembles a gym locker area with lockers provided for your items and a tiny fitting room in which my cellulite was harshly pointed out. To my shock, a male customer walked into the locker area to calmly wash his face at the sink while I was placing my stuff in the locker. The fitting room is only secured with a thin curtain and with all the recent hype around women safety, I couldn't believe that a slimming centre where women have to be in a state of undress at some point of time does not have a women only changing area! In any event, what was a MAN doing in a slimming salon targeted at WOMEN?!
The "treatment" was by way of machine
I was then led to a small dim room to start the treatment. Small round pads with cold gel which was hooked up to a machine was placed on my "problem areas" for a 30 min treatment. Imagine tiny bursts of vibrations and what felt like small currents of electricity on your body and that was exactly what the treatment was like! That was it! The hardsell and critique took way longer than the actual "treatment"!
My "treatment" ended with a tiny cup of water. Will I sign up with Bizzy Body or any slimming centre?
Definitely no…not if every visit is going to be marked by insults or hard selling by their consultants who are not even medically trained!
Slimming centres should definitely look into better ways to market their services instead of telling a woman outright that she's fat! It's the most taboo word in a woman's dictionary and can really destroy a woman's self-esteem and perception of her own body. It might however be what they want to do so you'd sign up for their "miracle packages" that cost a small fortune!
PinkElle views restaurants, hotels, products and services with a critical eye and blogs at PinkElle Reviews a blog that is chockfull of reviews about mostly anything at all!
So tell me. Have you ever been to a slimming salon? Would you like to share your experiences or have you thought about going to one?
Stay beautiful,
Paris B