I was browsing in Guardian pharmacy during the weekend when a small counter caught my eye. It held some small boxes of sun shades and hats in fluorescent yellow and light baby blue.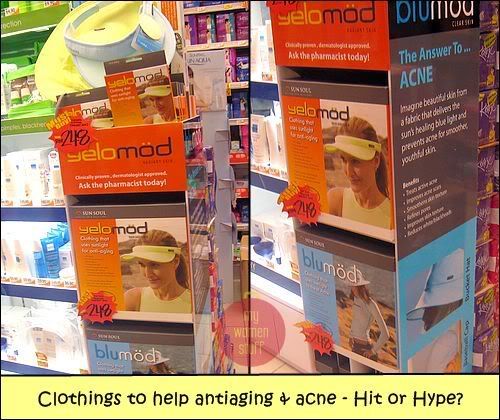 On closer inspection, I saw that the products were called YeloMod for radiant skin or Blumod for clear skin and it was by Sunsoul, a Canadian company.
Yelomod clothing that is anti-aging
The fluorescent yellow Yellowmod is a clothing line that supposedly harnesses the yellow light from the sun to convert "the sun's harmful UV radiation into healthy yellow light".
This they say helps with anti-aging and reduces skin damage and gives radiant skin. I cannot help but feel a little sceptical. Everything we have ever read points towards the sun CAUSING skin damage due to UV rays. Yes, the sun rays help provide us with Vitamin D but you only need very little sun to get your Vitamin D fix for the day.
Blumod clothing to fight acne
The blue coloured clothes and hats in the Blumod clothing line claims to "convert UV light into high intensity blue light" to help treat skin problems, stop breakouts and give you clearer skin. Again, this goes against everything we know – we are advised to stay OUT of the sun if you have an aggravated acne problem. So I can't help feeling a little "Yeah… right!" about all this.
Too much sun can be bad for you
I noticed that the company is from Toronto, Canada. I've never been to Canada so I do not know how much or little sun they get there. I've lived in UK and London for a spell. You get very little sun in the UK. When there is sun, people sprawl out in grassy parks to soak up what little they can get.
I also noticed that the testimonials on the site show people from China, Canada and New Zealand – temperate countries away from the harsh sun of the tropics.
In that sort of weather conditions I can see the logic behind encouraging people to wear these special clothing and go out in the sun to "improve your skin". In the tropics where the sun beats down relentlessly nearly every day, I cannot quite advocate anyone sitting out in the sun for "a minimum of 2 hours a week" to purportedly improve their skin conditions.
The Yelomod line does specifically state that they offer a UPF 50+ (UV Protection Factor) and they advise that you apply sunscreen on areas not protected by the hat. The Blumod line does not state anything similar.
Does Sunsoul Clothing work?
I have no idea. It sounds all scientific and possible in theory but as I said, since I live in the tropics, I will not stick my head out to try this product without first liberally applying sunscreen all over. Using sunscreen will probably decrease or cancel out the efficiency of the clothes though since I'm effectively blocking the sun's rays.
Its pretty expensive too at about RM248 for a sun hat that feels rather flimsy to the touch and which doesn't keep out the sun's rays. Its also RM248 for a shirt that again encourages you to get out and get some sun on your skin.
The clincher for me was that both lines state that the fluorescent therapeutic properties diminish after 30 washes. Hello? That's barely 2 month if you wear it and wash it every other day! So, if you continue wearing it and staying out in the sun, not paying attention to this caveat, you might actually be doing more harm to your skin while thinking you are doing it some good.
I think I'd just stick to wearing a wide brimmed hat to block the sun rays and wearing long sleeved clothes to block harmful rays and slather on the sunscreen. This is how I use my clothes to help skin conditions. I'm not that adventurous to see if specialized clothing can remedy acne problems or promote anti-aging and radiant skin, especially when there is a fixed time limit on its lifespan. I'll stick to the known, thank you.
Again, that's just me. What are your thoughts on this? Would you try it or have you tried these and what do you think? Do you think clothing that claims to help with acne or with anti-aging is a hit or hype?
Stay beautiful,
Paris B