Strolling by the Guerlain counter, I saw the latest lipstick offering from Guerlain. I'm a fan of the Kiss Kiss lipsticks and the Kiss Kiss lipglosses. They are pricey at RM95 and RM82 respectively but they are awesome on the lips. I did not feature the Kiss Kiss lipsticks before? How remiss of me! I'll rectify that soon enough!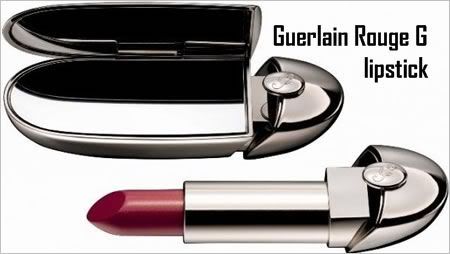 Anyway, I'd read about the luxurious Rouge G de Guerlain lipstick that retails for a whopping US$45 and I had to see what a hype it was.
The case is sleek and quite unusually shaped for a lipstick case having rounded edges instead of the usual angular looks. When the lipstick tube is kept in the case the little knob with the G logo holds down the springloaded cover for the mirror. Slide out the tube and the mirror springs open.
Nifty if you like touching up on the go. However, I'd just seen a similar gadget in the Amuse lipstick case when I met Beetrice over the weekend so I wasn't taken in by it at all. I felt it was a bit tacky for Guerlain to be perfectly honest.

The lipsticks however were awesome. I only picked out 4 swatches to test:-
They slid on smoothly and very pigmented. There is slight shine but minimal shimmer so its perfect for those who prefer a more muted lip yet want to rebel a little. My faves were 63 and 04 both slightly rosy pink tones that suit me perfectly.
Just testing them, I had no quarrels with the texture and pigmentation. It was emollient and just lovely. Everything was perfect and hunky dory but what stopped me from whipping out my credit card was the price.
RM149 (US$41) a tube stopped me right in my tracks. I know that in times of recession women are more likely to buy a lipstick as a pick me up. Its a well known fact. But at RM149 I'm sorry Guerlain, you are playing in a field that is so far from where I stand, I can barely see the ball!
What's the most expensive lipstick you have ever bought? Mine is a Guerlain Kiss Kiss lipstick but it was bought cheaper online so I did not pay RM95 for it. Still, it was pricey!
Stay beautiful,
Paris B