When I first saw the Guerlain Midnight Butterfly collection in person, the one item from the collection that caught my eye was the Guerlain KissKiss lipgloss in Shimmering Pink #802.
I have always been a fan of the Guerlain KissKiss lip products especially the lipglosses and I used to own them in the longer Divinora collection, with the beaten gold cap. It was one of the first high end lipglosses I owned and I liked them for being non-sticky, non-goopy but yet imparting a high shine and gloss factor and colour. It also turns out I'd never reviewed them here hehe…
The Guerlain Midnight Butterfly lipgloss in Shimmering Pink #802 is not a pink to my untrained eye. It is more of a purplish hue, with an iridescence when you catch the light. It comes in a square tube with a brush applicator. I like the brush applicator because it gives better control when applying gloss.
The metallic cap is embossed with the Guerlain name, and there is a butterfly etched on it. Very pretty and girly but it was not quite the reason I bought it. The reason I dug deep into my pockets for it was because of the colour. One look at the colour swatched on my hand and I knew it was for me. And I'm right! 🙂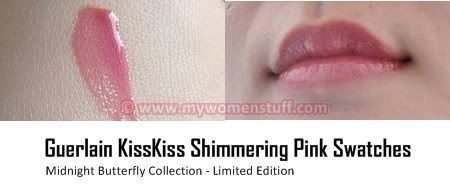 As you can see, the colour is more of a rosey purplish tone not pink – good for me because I cannot wear pink. The texture is thick but it is not sticky nor goopy. It is also surprisingly very longlasting for a lipgloss and is very pigmented too. This is part of the reason I love this line of glosses even if they are bank breaking! There is also a scent but it doesn't bug me as it isn't overly strong.
The lipgloss lasts on my lips way after morning coffee and sometimes, if I'm more careful, there are traces of it even after lunch. It usually barely survives lunch, but nothing much does. The colour does sheer out a little on the lips, but nothing I'm complaining about.
If you are familiar with Guerlain's lipglosses and are thinking that Shimmering Pink #802 looks familiar, yes it does. It bugged me until I dug out my Divinora lipgloss in Rose Peche. Side by side, they look like twins don't they?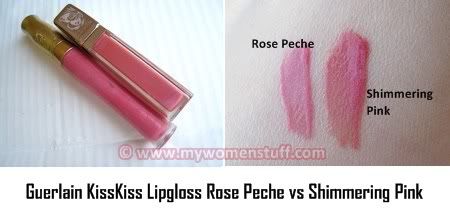 However, Rose Peche is a cooler toned purple while Shimmering Pink #802 is noticeably warmer on the skin with more red tones. Both are colors that suit me which might explain why I immediately gravitated towards this new colour in Guerlain's Midnight Butterfly collection.
The Guerlain KissKiss lipgloss retails for RM82 in Malaysia (US$28 in the USA) and Shimmering Pink #802 is limited edition which means once its gone, its gone for good. Do I regret paying for this one? My answer is no. I love it and that is all matters at the end of the day!
Pros: Non-sticky, Not-goopy, Pigmented, Long lasting

Cons: Expensive

[rating:4.5/5]