I recently received 2 NYX Cosmetics Black Label lipsticks. Black Label. Doesn't that conjure up images of luxury and a feeling it must be expensive? Well, that's the image the NYX Black Label lipsticks are going for – the Elite line from NYX. Still, elite or not, its only US$7 which is a nice price! 🙂
I got Opium and Tribute to Marilyn sight unseen. From online reviews, I'd read that the NYX Black Label lipsticks are very pigmented, and that the colours on the website are quite close to what you will receive. Reviewers have said that Opium is a coral red shade while Tribute to Marilyn is a bright red.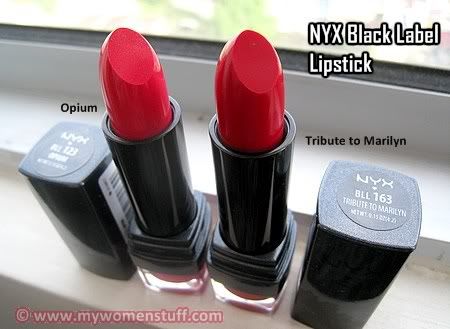 Looking at them in the tube side by side, they both just looked RED to me! Red and Redder was my view. Perfect for the holiday season and maybe even for the coming Chinese New Year! The case is square and the base is transparent with the colour in there so you don't have to open it up every time to check for colour. The cap has black patterns embossed on it, and overall, it looks pretty good. It does feel a little light and plasticky but hey, its US$7!
Being impatient, I proceeded to immediately swipe the colours on the back of my hand to see how they looked. Opium is a warm coral toned red but Tribute to Marilyn surprised me. In the tube, the colour is a bright red. On my hand, Tribute to Marilyn turned berry. HUH? I swatched it twice to be sure and yep, still berry. Not a color I'd usually go for. How very odd! Online, it was not berry even if it was rather cool toned.
True to its image, the NYX Black Label lipstick applied smoothly and very creamy and is not dry. The colour is very strong. The swatch on my hand is just swatched once. So, it is a very pigmented lipstick. In fact, it brought to my mind Estee Lauder Pure Color lipsticks. It had the same creamy feel and pigment (without shimmer) and no fig smell that is the signature of Estee Lauder lipsticks. All that aside, the NYX Black Label lipstick is a close dupe of the Estee Lauder Pure Color lipstick!
Here is another swatch of Opium on my lips. I knew the minute I swatched it that I'd like Opium. It will be my to-go red lipstick because it is pigmented and creamy but isn't slippery. One of the problems with red lipsticks is that it sometimes bleeds and feathers. But the NYX Black Label in Opium did not. It lasted long too, way after lunch and only needed a slight touch up before dinner.
If you are looking for a warm toned red lipstick, I'd highly recommend Opium from NYX Black Label. Problem of course, is that NYX Cosmetics isn't available in Malaysia just yet. It is available in selected Guardian pharmacies in Singapore but I'll need someone in Singapore to confirm availability and price. NYX Cosmetics is quite easily available on Ebay though although shipping may be hefty depending on the seller. I got mine through a shared order from friends. 🙂
At a price of US$7 (approx RM25) a lipstick, I don't have much to complain about. In fact, given a chance, I'd love to get more, maybe in some lighter shades. There are 96 shades to choose from, so you can imagine that having to limit my choice to just 2 initially, was tough! Now, I'd be looking at some of the berry or darker pink shades if I ever get the chance to participate in another order.
Pros: Inexpensive, Pigmented, Creamy, Smooth application

Cons: Not available in Malaysia

[rating:4.5/5]