UPDATE: Bodybar has closed since 2013. This is an archived post as at 2008
I came across a store called BodyBar Natural Skincare while I was at the newly opened Tropicana City Mall recently. What caught my eye initially was the neat, white, pristine layout of the store. I loved the green plant balls they had!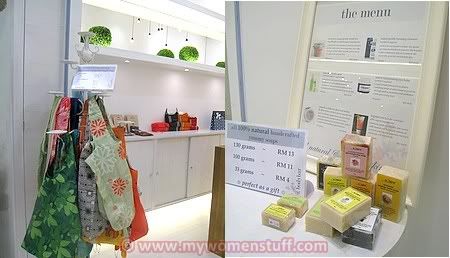 The second thing that caught my eye was the candle holder with loads of Envirosax reusable grocery bags right in front of the store, and the table of assorted Soapy soaps.
Bodybar – Organic and Natural Skincare store – first of its kind
Curiosity sufficiently piqued, I wandered in and found that Bodybar sells exclusively certified organic skincare from a variety of brands. There is a fairly wide range of organic and natural skincare products available and I'd call it a one stop organic skincare store. I might be wrong, but I think they might be the first of their kind in Malaysia – a store dedicated to natural and organic skincare.
Their philosophy and tagline is "Good enough to eat" – the level of chemicals is so low that its possible to eat them… not that its recommended of course 😉 There are products for the face and body from Australian brands Mukti and Remedica Australia, New Zealand brand Just Herbal and French brand Biguine Blo. I was told they will be expanding the range as time goes by since the store is still very new. I did manage to work out a very special promotion for interested readers so make sure you check at the end of this post for details. 🙂
Products are reasonably priced for organic and natural skincare
I'll be the first to admit that my first thought when I see organic skincare is "Expensive!" and so I approached the products with some trepidation. To my surprise however, the skincare and body care products sold at Bodybar are not as expensive as I had expected. Most of the products are priced below RM100 and some are even priced below RM50. That puts it in the affordable range.
Very fair, I thought. I did a quick check of the prices online and found that after conversion from the Australian Dollar, the products I had purchased were not highly marked up at the Bodybar. In fact, in most cases, the products sold at the Bodybar are even cheaper than the RRP in AUD! Not everyday that you see that happen eh?
What's nice about shopping at the Bodybar is that the sales persons are friendly but not pushy and they seem to know what they are talking about, when they were describing the various products on sale to me. I'm not new to organic skincare, but this is the first time I've been able to shop in a proper store with sales persons who know their products, as opposed to wandering into organic food shops.
Products available at Bodybar and some quick thoughts
From a quick overview, I found that Mukti had nice fragrances due to the essential oils used in the products. They smelt very nice but they are also the slightly pricier range. Just Herbal too has a nice fragrance and are natural, but they aren't 100% organic as they contain some chemicals. Remedica Australia products tend towards vanilla and shea butter and are very nice for the body.
My friend, Jo who was with me had purchased the Remedica Anago Facial Cleanser and she waxed lyrical about it, so I had to see what it was all about. The Anago Facial cleanser is purely organic and is a thick blackish paste made in Africa. It is a traditional African recipe and traditionally used for bathing babies. Babies! So, yes, its gentle. The key ingredients are organic shea nut butter, banana leaf, cocoa butter, coconut oil, honey, Tanzanian Baobab, licorice and aloe vera extracts and the natural cleansing agent of soapwort and yucca herb and it contains no chemicals or lye. You are only advised to use a teeny tiny bit to lather up and from the demonstration I was shown, it was very impressive. A tub of 110ml costs only RM48 and it can be used for face or all over. I did not get that the day I was there, but I will the next time.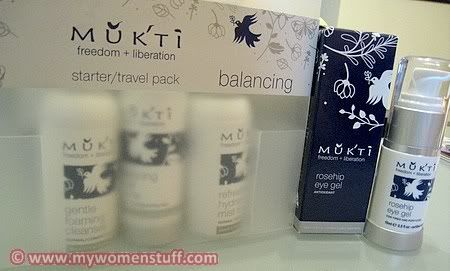 Mukti Organic Skincare Reviews coming up!
What I got was a travel/starter set of Mukti skincare comprising a travel size foaming facial cleanser, full size Balancing facial moisturiser and full size facial spray toner; all for RM168. There aren't many sets left though as they were limited edition. The facial moisturiser usually retails for RM88 and the facial spray toner for RM48.
Having had bad nights recently with the result that I look very much like a panda, with my dark dark eye circles, I also purchased a Mukti Rosehip Oil Eye gel for RM88. I had tested it and liked the light feeling on the skin. Reviews on the Mukti products can be expected in a month's time after I've tested them properly. 🙂
Mukti is an Australian brand that is certified 100% organic. As the Australian government is known for being very strict about their certification practices, I have less doubt about the veracity of the claim. Remedica is another brand that I am keen to try. Jo absolutely swears by the refreshing properties of their facial hydra mist (RM68) and I want to get that next time too! In fact, I had it in my shopping basket but replaced it with the Mukti set when I saw that one.
At present, aside from the skincare products from overseas, Bodybar also sells the local Soapy soaps and the Envirosax grocery bags. They also sell the Roo-shopper bags which are super cute and very useful for when you don't want to bring your bag out at lunch time.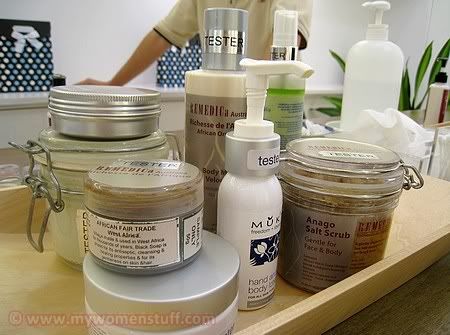 Bodybar makes organic and natural skincare products accessible to Malaysians
I'd never really given much thought to trying organic products before, mainly due to the inaccessibility of affordable organic/natural products here in Malaysia unlike in other parts of the world. Now with the Bodybar here, I'd be happy to give organic skincare products a go! After all, it should be better for our skin, without all the added preservatives and chemicals right?