There isn't much I dislike from Make Up For Ever. Their products are really top notch and they have a great range of colour selection and I'd happily place them way above MAC in terms of quality and service. Prices aren't that far off from MAC either. The only difference is that MAC seems to be more of a cult brand probably due to excellent advertising and marketing.
Preaching aside, my review today is on Make Up For Ever's Sculpting Blush. Make Up For Ever has 2 types of blushes. The normal powder blush which comes in a smaller pan the same size as their eyeshadows, and the sculpting blush which comes in a much larger pan.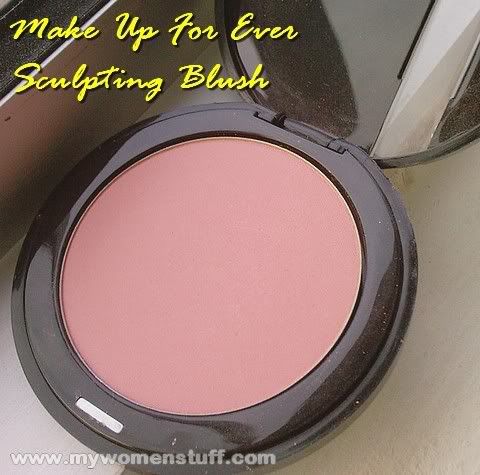 The one I have is #10 – Satin Peach Pink. The colour in the picture is pretty true to the colour of the product. I find it more peach than pink and I absolutely love the colour because this peachy pink colour is the colour that looks best on me!
According to Make Up For Ever's site, the brighter shades of sculpting blush that come in cool and warm shades are meant to brighten the cheeks while the natural shades are meant to sculpt the face. #10 is a perfect shade for my skin as it brightens without loading on too much colour. You can build it up if you want more colour though if you have darker toned skin you might prefer to get a darker shade.
For those who are looking at more Nars Orgasm dupes, you might want to consider this one too. The Sculpting Blush has more peach tones while Nars Orgasm is more pink. Personally, I prefer the MUFE one because it looks better on me and less shimmery!
The texture is satin which imparts very slight shimmer but nothing overboard. You can see that there's hardly any shimmer visible in the product. It lasts all day on my cheeks and I apply it with my Anna Sui cheek brush. But do bear in mind that I don't have oily skin.
The blush comes in a large round pan in the usual Make Up For Ever packaging. There is a transparent slit in the cover to show you the colour of your blush. I have nothing bad to say about this blush at all!
I don't know the price because this was part of a gift set from a friend. I'll have to rely on Jojoba our resident Make Up For Ever maven to pop by and let us know the price of this blush 😉
Pros: Lovely colour, lasts all day, applies smoothly

Cons: None that I can see
[rating:4.5/5]