Last week, I wrote about Guerlain's Summer 2008 collection which featured the signature Guerlain Meteorites in various forms. This is the review on the Summer 2008 Guerlain Meteorites Perles Light Diffusing Perfecting Primer courtesy of Guerlain.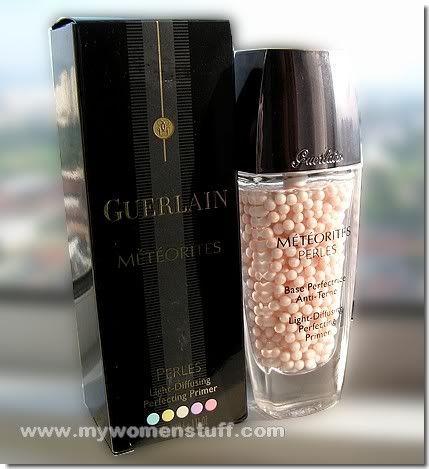 Guerlain seems to have changed the packaging of their products. Previously, Guerlain products came in a cream coloured box with gold and brown accents. The new stuff Guerlain has been putting out now comes in a sleek glossy black box with gold writing. I like it! It looks more up to date and classy, and definitely less stuffy than the old packaging.
The Guerlain Meteorites Perles light diffusing primer comes in a heavy glass bottle with a black shiny metal cover. It looks and feels very luxurious. The size is 100ml which is about that of a bottle of eau de toilette. In fact, the shape of the bottle reminds me a little of Estee Lauder's Beautiful fragrance.
What the Perfecting Primer is, is exactly what it says – a makeup primer for the face. It goes on after your skincare routine and before all the foundation and makeup starts. The idea is to "prime" your face.
The texture is that of a gel. Ha! You wouldn't think so from seeing all the powder balls in the bottle right? But these pearly powder balls are actually suspended in a gel. The primer pumps out through a nozzle. All very sanitary and nice. Here's the official blurb on this primer from Nordstrom:-
For skin that seems lit from within, apply this smoothing liquid to clean, moisturized skin as an essential first step in any makeup routine. The gel formula—the first makeup base with pearls of light—is made of an exclusive color-control base to camouflage blemishes and discoloration, combined with pearlescent extracts to capture and reflect light and blur the appearance of fine lines without adding shine. In one step, this extraordinary formula perfects the complexion, and can be used before makeup or on its own.
So, what do I think of this primer?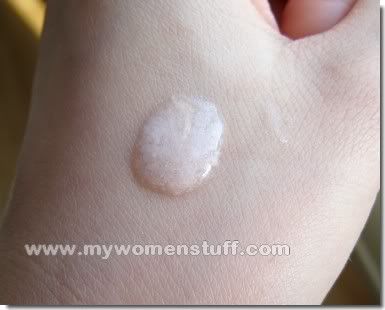 Texture
The primer is a gel. I'm not quite sure what happens to the little pearly balls as the primer finishes but for now, as you pump out the clear gel, it comes out with some of the pinkish pearly powder mixed in it. It looks a little sparkly but once you apply it on the skin you don't notice any sparklies unless you peer really really close.
One pump gets you the amount you see in the picture above. One pump is enough to cover your whole face as it goes on very smoothly. I made the mistake the first time I used it of using too much. This leaves the skin feeling sticky which was not very nice. The second time, I applied a much thinner layer and this time it felt better.
I find that the gel has a cooling feeling on the skin. Its quite nice. There is also a fragrance similar to that found in the Meteorites powder balls. It doesn't last long however, which is good.
Effect
Guerlain says that this perfecting primer "is made of an exclusive color-control base to camouflage blemishes and discoloration, combined with pearlescent extracts to capture and reflect light and blur the appearance of fine lines without adding shine."
When applied on clean moisturised skin, I did not quite notice any immediate effect. Whatever blemishes and discoloration on my skin were still there albeit slightly muted. However, there was a slightly pearlescent effect in that my skin looked like it was glowing. This might be the light reflecting properties. I also do not have many fine lines so I'm unable to test that claim.
As a primer, I think the Guerlain Meteorites Perles works quite well. I tried it with both liquid and powder foundation and I felt that it helped the powder foundation stay on longer. IAt the end of a long day, my powder foundation still looked fresh which is useful when you have been running around under our hot tropical sun. I use mostly powder foundation so I'm happy with this.
With liquid foundation, I did have some shine as the day wore on but it depended on which liquid foundation I used and which loose powder I used to set it. When I used my T.LeClerc loose powder, I had shine but Make Up For Ever Super Matte kept all shine away. So guess which powder's getting the love from me?
I did feel that whatever glow the Guerlain primer gave did not quite show through after foundation is applied. It smoothened the skin and primed it for foundation and the colour makeup, but the glow from the pearls was dampened. I did try it with just concealer, primer and loose powder and the glow from the primer is much more apparent this way as there is no layer of foundation over it. Its not a look I can pull off all the time, but on lazy days, it was perfect for a very natural glowy skin look which was very nice. The primer helped the loose powder stay on too.
What do I think?
If you are looking for a primer to help foundation and makeup stay on longer, I think the Guerlain Meteorites Perles primer does the job just fine. It smoothens the skin and keeps the makeup on. In fact, it helped my makeup look more finished. I did not experience any breakouts with this product which was good.
One bottle costs RM200 (US$62.50) and retails for US$65 in the USA. Its pricey but if you ask me, I think its worth it!
Pros: Keeps makeup on, Gives skin a glow, Light gel formula, Works well with powder foundation

Cons: Expensive
[rating:4/5]