I'm the first to admit that I do not like nail polish on my nails. I keep my fingernails short and I tend to use my nails a lot everyday either scraping off stuff or picking at things that having polish on them would mean ugly chipped polish in a day or two. For toenails, I have a wonderful way of stubbing my toes on nearly anything that can stub my toe on resulting in … yes… chipped polish.
However, last week, I indulged in a manicure and pedicure to keep my soon to be bridal sister company. Not quite knowing where to go, I decided to try Colour Culture the OPI Nail Bar. Colour Culture is a chain of nail bars owned by the OPI nail colour brand and I'd seen their nail bar in Bangsar Village II off and on. However, a quick phone call told me that they closed early – last appointment was 7.30pm so I opted for the one in the Pavilion that closed later.
1.5 hours and RM65 later, this was the result.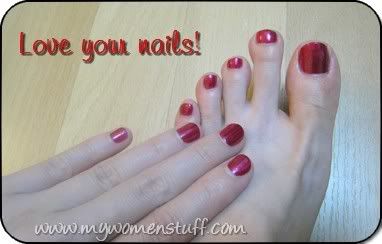 I don't know if red is in for nails anymore, but I love red polish on my nails, the same way I love red lipstick on my lips. So, red it had to be. Unfortunately I wasn't paying enough attention so I have no idea what the name of the polish is! haha…