I'm the first to admit that I do not like nail polish on my nails. I keep my fingernails short and I tend to use my nails a lot everyday either scraping off stuff or picking at things that having polish on them would mean ugly chipped polish in a day or two. For toenails, I have a wonderful way of stubbing my toes on nearly anything that can stub my toe on resulting in … yes… chipped polish.
However, last week, I indulged in a manicure and pedicure to keep my soon to be bridal sister company. Not quite knowing where to go, I decided to try Colour Culture the OPI Nail Bar. Colour Culture is a chain of nail bars owned by the OPI nail colour brand and I'd seen their nail bar in Bangsar Village II off and on. However, a quick phone call told me that they closed early – last appointment was 7.30pm so I opted for the one in the Pavilion that closed later.
1.5 hours and RM65 later, this was the result.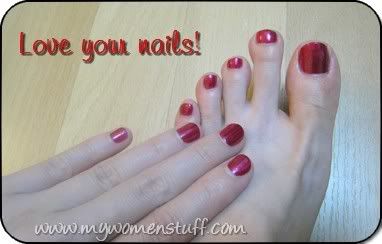 I don't know if red is in for nails anymore, but I love red polish on my nails, the same way I love red lipstick on my lips. So, red it had to be. Unfortunately I wasn't paying enough attention so I have no idea what the name of the polish is! haha…
Colour Culture, being run by OPI stocks only OPI polish and based on what little I know about nail polish, OPI is top of the range. I had made an appointment so by the time I got there, they were expecting me.
The salon is not very large and unlike other nail bars I'd seen, the service area is located at the back of the store. I prefer that. Its more private especially when you are doing a pedicure. The walls are lined with OPI polish and OPI products and the main wall was painted with bright stripes of colour. There is only space for 3 manicures and 3 pedicures so I can imagine it can be a bit crowded if there are lots of people.
There is a menu available where you can choose the service you want but I already knew what I wanted because I'd read the website! There was a 1st time special trial offer of RM65 for a basic manicure and pedicure (usual price RM77) and that was what I wanted.
You are asked to choose your nail colour first, before they lead you to the comfy chair and feet soak. However, as it was not very busy, they brought us the nail mock ups in the comfort of our chairs as we soaked our feet in warm water.
There was a pile of magazines in a little cubby hole next to the comfy leather chairs and there was a good mix of Chinese and English magazines. There was also a TV right in front of you showing some Chinese series. I'm not sure if you can ask them to change the channel to say… Asian Food Channel? 🙂
The girls were not super chatty but I wasn't too fussed about that. They worked quickly on the feet but without too much rush, and did the usual cuticle trimming, moisturising and painting of the toenails. Then, your feet are placed under a nail drier which is a contraption with a fan that blows cold air – brr!
Moving onto the hands, you are first asked to clean your hands with a sanitizer while the manicurist does the same. I was impressed with the hygienic way they handled things. Unfortunately however, I found it quite uncomfortable to have the manicure with the girl sitting next to you, because one hand would always have to be in an awkward position. It would have been nicer to have them right in front of you.
In my previous manicure experience, I was asked to soak my fingers in warm water before they got to work. This time, I was not asked to do so. They just went straight into massaging in some oils into the cuticles and working on it. I'm not sure which is the right way to do it anyway.
After the usual cleaning, shaping, buffing, and painting comes the most boring part. Waiting for the polish to dry. Just like your toenails, your fingernails are placed under the same air drier that blows cold air on your nails to dry them. You are left there for about 15 minutes while the polish dries.
15 minutes! I was literally sitting there watching paint dry while my fingers froze. And it was not fun at all! This was probably one of the longest 1.5 hours of my life.
At the end of it, I was pleased to end up with pretty shiny red nails. More than 4 days later and it still hasn't shown signs of chipping yet. Yes! Money well paid! 🙂
I'm afraid I still don't quite like having polish on my finger nails, but I might make an exception for the toe nails. Polished toe nails make wearing sandals or slippers instantly look good!
I haven't had much experience with nail bars, but I quite enjoyed going to the Colour Culture. I did not think their normal prices over the top. A basic pedicure costs RM45 and a basic manicure costs RM35 (I think). For OPI colours and the pampering experience, I think its a pretty decent price. The next time though, I might go to the one in Bangsar Village II instead. Its easier to find and I prefer going to Bangsar Village II over the Pavilion (parking is cheaper too 😛 )!
Colour Culture has 4 nail bars at present – The Pavilion, Bangsar Village II, Sunway Pyramid and 1 Utama. Go here for their contact numbers and addresses.