I'd been lining my eyes with my Bobbi Brown gel eyeliner for a while and then I was introduced to the concept of tightlining for which the gel liner was not really suitable for in my view. So, I was using the Make Up For Ever Eye Seal with a black shadow for a spell, until I came across Guerlain Terracotta loose kohl.
Since I wrote my review on the loose kohl, I've stopped using it. It was just way too messy for me, and I did not have the time to clean up my eye area every day and mess up the rest of my makeup all the time. So, its in cold storage for now.
When Guerlain sent me the eye pencil kohl, I was a little apprehensive. I'd used pencil eye liners before but there was a tendency for it to smudge and smear. The ones that did not smudge or smear tended to be hard and hurt my eyes while those that were soft would leave me with racoon eyes. So yes I was apprehensive and I took my time to test it out.
The Guerlain Eye-liner & Kohl comes in a long pencil with a metallic cover. The long pencil has a triangular shape to the body which actually makes it more ergonomic as it has less tendency to slip.
I couldn't find the info on it online so here's the blurb from Nordstrom.
Glide on eye color that stays put! Formulated with unusually high pigment content and a creamy gel, these cushiony, silky eye pencils take on unrivaled intensity and depth, and can withstand wind and tide—including extremely hot, humid climates!
Very lofty claims – color that stays put, high pigment, silky eye pencil, withstand extremely hot humid climates… – but does it measure up?
I say, YES!!!!!!!
The last luxury eyeliner pencil I bought was by Giorgio Armani. The pencil was soft and silky and went on smoothly but at the end of every day, I'd be a wreck. I got so fed up I just tossed it aside in my drawer.
This Guerlain eyeliner & kohl pencil is slightly harder but once it loses its factory sharp point, it goes on smoothly and without tugging every single time. On a whim, I tried to use it to tight line under my top lids and guess what? It worked! Usually, I have a problem getting pencil liners to draw a line and stay on, because of the water line, but this Guerlain pencil liner went on smoothly and dark and hardly needed any repeat strokes. I was very impressed.
Here's what my eyes look like with tightlining.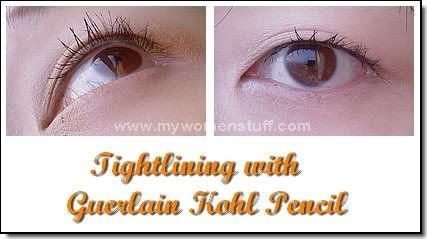 You can't really see it clearly, but on the picture on the left, I lined under my lashes, as close to the lash line as possible. It gives the impression of fuller and more lush lashes because it darkens it at the root. On the right is my eye with tightlining and mascara. I'll write about tightlining in the near future and will try to show some comparison pictures (although its really hard to do!)
I also tested it on my lower water line where many people like to line their eyes (although I don't) and voila! It works there too right on the first try! I have also used it as a traditional liner on top of the lashes and the line is amazingly sharp and it was so easy to use and control.
So far, the Guerlain kohl pencil lives up to its claims of gliding on smoothly and like silk.
What about colour? I got Noir – Black. It is a deep intense black. Not grey, not blue, just deep dark black. My favourite type of colour for lining.
Now for the best part. No smudging. I'm serious. I had this on from early morning, till late night, on a long day trip under the hot sun and when I was caught in the rain. It did not smudge or smear one bit. I live in Malaysia = hot and humid climate and it was perfect! At the end of the day, it had faded a little but it was nothing major. I knew I was testing this and I was afraid of looking like a racoon, so I checked in the mirror often and was very pleasantly surprised to see nothing to wipe away at all during the day.
If you like the smokey eye look, this pencil works too. I tested it by drawing a thick line on my lash line then smudging it slightly before it set. It did smudge well but I'm not really one for the look so I did not test it out further. For a daily eyeliner though, I can safely say that this one is the best pencil eyeliner I've tried.
I can't say enough good things about this wonderful eyeliner pencil so I'm going to stop right here before my gushing about this gets out of hand. 🙂 Needless to say, I've found my holy grail eyeliner pencil and I'm not letting this one go – ever!!
If there is one thing I dislike is that its very long so getting close to the mirror to draw a line may be a problem but I work around that by angling my head. I don't think there's anything I can't get around for this eye liner pencil! 🙂
The Guerlain Eye Liner & Kohl pencil retails at Guerlain counters in Malaysia for RM70 (US$22) . It retails in the USA for US$27. It is long and comes with its own sharpener. I don't think it particularly pricey because there is a lot of product – 2g/0.07oz and can last for ages. There are 4 colours available – ME Black, ME Blue, ME Brown, ME Ivory.
Pros: No smudging, Lasts the whole day, Smooth and silky, dark intense color

Cons: May be pricey to some, Very long
[rating:5/5]!
Update:
The Eyepencil & Kohl is found at all Guerlain counters nationwide.
– Parkson Pavilion
– Parkson KLCC
– Parkson 1 Utama
– Isetan Lot 10
– Isetan Midvalley Gardens
– Metrojaya Midvalley
– Sogo
– Parkson Holiday Plaza JB
– Parkson Gurney Plaza Penang
It is different from the Divinora eyeliner pencil. If you aren't sure, check with the Beauty advisor. If they insist it doesn't exist, its time to let Guerlain HQ know about it! You will want the pencil that is shaped like a triangle.