I was reading the description of Nars Exhibit A blush on Beautyholics Anonymous and I was instantly reminded of Nars Taos which I own. Nars Taos blush is a bright brick red blush that looks really bright and red in the pan but when applied lightly, gives a beautiful flush to the skin.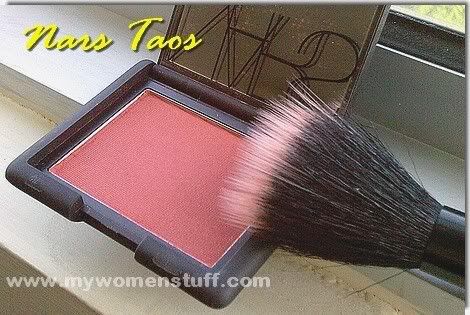 I always have to be very careful when using Taos because one little mistake could lead to a day of clown cheeks. The brush I use is also instrumental in the application of this bright colored blush.
I now use a duo fibre brush to apply, also known as a "skunk brush" due to the white and black bristles. Brushes like these are useful for handling very pigmented colours because they don't pick up a lot of color due to the alternating lengths of the bristles. My brush is from Flirt but there are many out there with one of the most popular being from MAC – MAC 187 brush. I haven't checked it out myself but from pictures it looks fuller and I read that people love it for applying pigmented blushes and for foundations.
Another friend uses a fan brush for pigmented colors but I haven't tried that either. Previously, I was using the Shu Uemura No. 17 pony blush brush but that one needs a very very light touch and careful blending. Using a duo fibre brush allows me to apply pigmented colours in lesser time.
I apply Nars Taos blush very carefully. I
tap the brush lightly
on the surface of the blush and then
lightly tap it on my cheeks
. Only then do I gently swirl the brush to diffuse the color. I always
start with a light color
and then build it up – its easier to build up than to tone down.
If done properly, I get a flush of colour on the cheeks. If not done properly, I end up with red flushed cheeks. If I over do it, I wipe some of it off with a piece of tissue paper and then brush loose powder over my cheeks. It helps to diffuse the color somewhat.
Yes, its a bit of a bother to handle very bright and pigmented blushes like Taos, but I find that the end effects are absolutely worth it. A pigmented blush like Taos is less work for those with darker skin and works better too. But having fair skin simply means a wider range of colors to choose from if you know how to work it.
So, the moral of the story is do not shy away from bright colors, whether on eyes or cheeks or lips. There is always a way to make it work for you – in the case of bright blushes, the right tools and a very light hand is key.
Stay beautiful,