Its Fall or Autumn in the upper hemisphere and with it comes cooler weather. Its also about the time that boots make their appearance in women's fashion. This must explain my hitherto inexplicable urge to find me a pair of women'sboots that come up to the calf or to the knee.
All that said, I have written in previous posts about my desire to find some nice knee or calf length boots here and I did actually find one a while back at Parkson of all places. It was under Lewre and was on sale for about RM250. Don't ask me why I didn't get it then but I didn't so its back to the drawing board.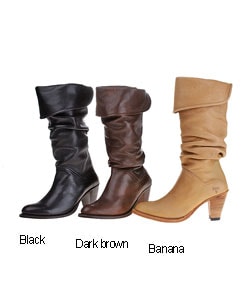 Anyway, I browsed around some online sites for women's shoes and fashion boots and this pair by Frye caught me eye. It's the Frye Dorado Womens Mid-calf Slouch Boot. We don't have the Frye brand here, but a while ago when I was participating in a fashion forum, it was all the rage. At the time it was the Frye cowboy boots which isn't something I could get into. But this one looks so perfect! I saw it on Overstock.com for $269.99 which was the sale price.
In fact, just looking around the shoes and boots section of Overstock.com I've found myself falling in love with multiple pairs of boots available there. The choice is amazing! They cater for every type of boot from ankle high boots to those that go over the knee – sexy!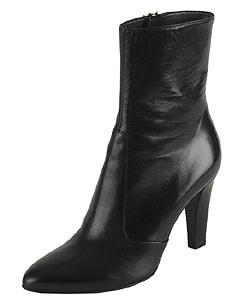 The only boots I possess now and which I do wear regularly (with pants or jeans) are those that are about ankle high. They look a bit like these gorgeous Sergio Rossi boots but are by Clarks and they are so comfy, I can literally run in them. Somehow, I always feel a little bit sexier and walk a little bit taller in my boots. So, imagine if I did have a calf or knee high pair. I'd be strutting my stuff! LOL!