I tried this once, when I was suffering from dry lips. I happened to be in The Natural Source store in Midvalley Megamall and in a fit of desperation, bought this.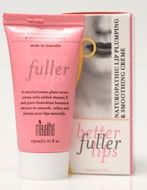 Oh dear! I'm sorry, but I'm sad to say, this was a totally bum product for me.
According to the official website, this is what its supposed to do. In gist:
Firms and plumps your lips naturally and safely by stimulating your lips to produce their own collagen. This helps to re-densify the connective lip tissue, promoting fuller, younger, healthier looking lips.
After the first application, your lips will feel firmer, smoother and be better defined. With continued use, fine lines and wrinkles will be minimised and your lips will appear naturally fuller and healthier.
Hydrates and soothes lips.
Also acts as a lip-fix for lipstick application.
First of all, the texture. This product is a white colour cream. It feels rather waxy and goes on your lips white. So, you look rather ill for a while, until you rub it in. Even then, the waxy and pale look doesn't go away. However, I noticed that it has a pink tint in it that is apparent if you wipe your fingers on a piece of tissue paper after that. Its odd that even though there's a pink tint, it shows up as white on the lips.
Secondly, it does not feel nice. As I have mentioned before, it feels waxy and like a coating over my lips. I don't like that.
Thirdly, it did nothing for my dry lips. It didn't make it drier, but it didn't make it more moisturised either. My lips just stayed as dry and flakey as ever. There was no plumping effect and my lips look the same now as it did before I used it. I even loyally used it twice a day, morning and night to no avail. Every morning, I'd still wake up to dry flakey lips.
Finally, the price. Its an astronomical RM125 for a little 30ml tube. Yes yes… I was suckered. But you don't have to be!
[rating:0/5]