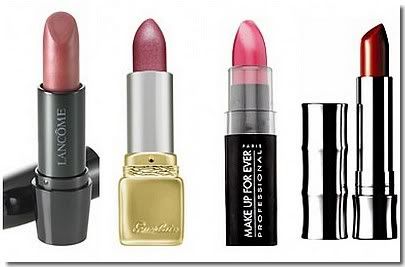 A reader Sabrina left a comment on my previous post about Maybelline Watershine Lipsticks as follows:-
Ooh I would love to give this a try.. But I wouldn't know which shade is the best for me, trying out on my hand is useless since my skin is a lot darker there..

Do you think you could recommend some colours that would work for a typical chinese-malay complexion?
Now, I can't really recommend a colour because its hard to do so without having first seen the person. Other than skin colour, the other factor to consider is always personal preference.
In my case, I'm not afraid of bold colours or bright colours so I do tend towards brighter reds and corals and I even do plums or berries. I however don't go near pinks because they wash me out and make me look pale and in a word, dead. I've had people ask me if I was feeling unwell all because I wore pale pink frosty lipstick. On another girl it would look lovely and fresh and sweet! Go figure!
To choose lipsticks from the dazzling array of colors at the counter, use this tip. Continue Reading ►