This is a guest post by PinkElle of PinkElle Reviews who puts her self-esteem on the line and takes us on a first hand view into the shady world of slimming salons.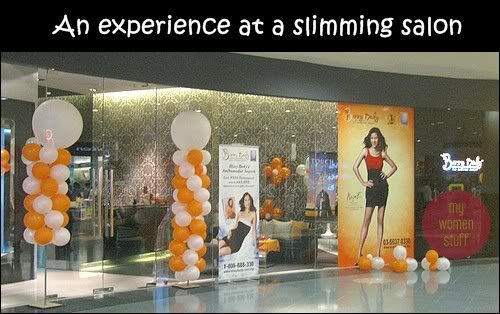 If you ever intend to go for a slimming trial at a slimming salon, be prepared to go with very high self-esteem as the slimming consultants will absolutely rip your esteem apart and leave you feeling obese with cellulite and saggy butts… even if you have the body of a runway model.
That was my experience when I took advantage of a free trial I won at Bizzy Body.
Be prepared for insults at a slimming salon
I was registered at the entrance by a slim beauty consultant (all slimming consultants are thin – I think it is a pre requisite!) who then proceeded to take my height and weight with a high-tech weighing machine that calculates your body fat percentage. I was then led to a small room to be briefed prior to starting the treatment. It was a small dimly lit room that felt like an interrogation cell. Be prepared for this is where the insults start and where your self-esteem and pride are shot down into many pieces by the beauty salon firing squad.
Another consultant came in after a short while and asked a few standard questions about allergies and age. She then took a look at my results and proceeded to exclaim how high my body fat percentage was and how I could stand to lose at least another 3 kgs for my height. I found this quite an interesting observation as doctors have told me I'm underweight before! She also said that normal people have a body fat of 18% to 20% which I later found out is only what athletes have, not normal people. In general, women require a higher body fat percentage compared to men due to their childbearing requirements.
PB Notes: Do be warned that consultants at slimming salons are not medically trained.