Some days and some products deserve a whole long-ass post all to themselves, extolling their virtues (or allowing me to rant, as the case may be). Other days, I (like most of us) just want a quick read as to why some products work, or why they don't.
So, here's some products I've been using over the past few months, that I've really enjoyed using, and that I think are worth trying. They're skincare products that have been around a while, but I don't like rushing into trying and telling people about new skincare I've tried – you never know if it really works in the short term, and it's only after long-term use, that you truly decide if it's a keeper or if it's not worth trying.
But these 4 products are worth giving them a shot, and here's why! 🙂
Sunday Riley Good Genes – with Glycolic Acid
I'm no stranger to Sunday Riley Good Genes serum. I first tried it when the brand first appeared on the scene in 2015, because it came highly raved, and I loved it!
RELATED READING: Read the original review on Sunday Riley Good Genes with Lactic Acid READ MORE
That original version had lactic acid as its key ingredient. Lactic Acid, we're told, is a more gentle chemical acid peel than glycolic acid. A few years later, due to some regulatory thing in the UK, a version of Good Genes was formulated with glycolic acid for sale in the UK. I thought it was a rather odd decision, seeing as to how we had been told that glycolic acid is more harsh.
I kept an eye on it, but didn't buy it back in the day. However, one day, I noticed that a sample of the Good Genes with Glycolic Acid came with the A+ High-Dose Retinoid (which will be a story for another day! 😉 ) so I tried it.
First thing I noticed was the lack of smell. Sunday Riley's Good Gene had developed a reputation for smelling sourish and 'off'. This time, there was little to no smell in my bottle.
As for whether the glycolic acid was more harsh on my skin, I could not tell. My skin is no stranger to acids and I was using it on days when I wasn't using retinol. I can say however, that as an exfoliating serum, it is very nice. I haven't been using these sorts of acids and 'resurfacing' products in my skincare routine in a while, and it was very nice to experience skin that felt soft, and looked more radiant and healthy.
I also have a lot of sun exposure, so it's nice to go back to a skincare product that addresses sun damage and skin dullness. My skin just looks better and I have to say that I'm tempted to get a full-sized bottle once I'm done with this sample 🙂
Interestingly however, the version of Good Genes sold here in Malaysia is the one with Lactic Acid, in which case, if you're curious about it, go back to my original review here, and read what I think of it (hint: try it! Your skin will love it!) 😉
PRICE: RM399 | US$85 30ml or RM572 | US$122 for 50ml

WHERE TO BUY: Sephora Malaysia, Sephora USA
Chanel Le Lift Creme Fine
To be honest, the Chanel Le Lift Creme Fine was a product I'd love to hate, but can't because it is, sadly enough, nice! Le Lift creams come in 3 different textures, and the Creme Fine is the lightest version. I use this in the morning, because it is so light, but for someone with oily or combination skin, it's something you can also use at night.
The Chanel Le Lift Creme Fine is designed to smooth, firm and illuminate skin. It tones and refines skin, so your skin looks smoother and more luminous. The key ingredient is a botanical alfalfa concentrate that they say is as efficient as retinol to smooth and refine the skin.
Personally, when I first started using it a few months ago, it was purely because I had it sitting around, and I wanted to be sure I use up as much of my skincare as I could. I also needed a day cream, and the texture looked about right – a very lightweight emulsion that comes in a jar.
After a month using it, I did realise that my skin was looking nice. This might of course be a result of this cream or my serums, but I know when a product makes a difference, and the Chanel Le Lift Creme Fine did.
I don't look 25 again, but my skin did certainly look better and brighter. I am outside a lot these days, and I haven't been using Vitamin C serums in a while (ran out and never got around to replenishing! LOL ) so I do think some of my skin's improved condition is as a result of using the Chanel Le Lift.
I would like to think that if you're looking into a cream that has this sort of benefits – firming, smoothing, refining – the Chanel Le Lift Creme Fine isn't bad. It doesn't even have too strong of a scent! Yay! 😛
If you have the budget to swing for Sublimage, then of course, the Sublimage creams are sublime! But otherwise, if you're up for a little splurge, the Le Lift creams aren't too bad at all 🙂
PRICE: RM570 | US$165 | £108 for 50ml

WHERE TO BUY: Chanel beauty boutiques and counters, Chanel e-shop, Harrod's, Nordstrom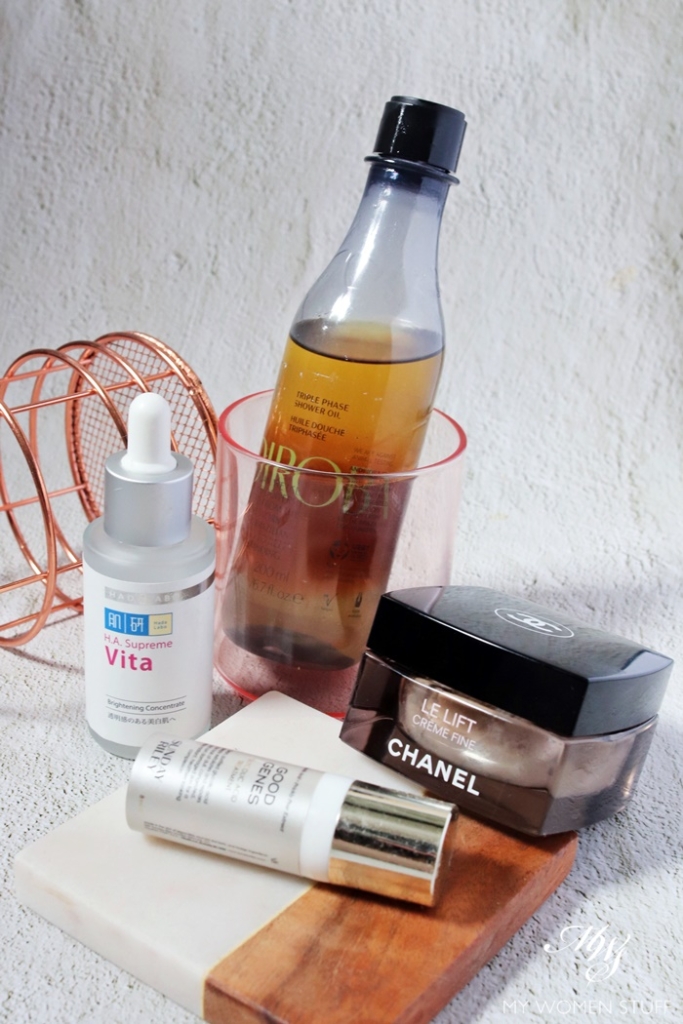 Natura Ekos Andiroba Triple Phase Shower Oil
I'd been wanting to share with you about one of my favourite Natura products, for a long time. But it was always one of those products that I felt funny about dedicating a whole post to. I mean, it's a shower oil! It's really nice! What more could I say? 😀
The Natura Ekos Andiroba Triple Phase Shower Oil is one of the first items I tried from the brand, and loved. I love using shower oils, but there aren't many brands that make them. My favourite is still the one by L'Occitane, and when I first saw the Andiroba Triple Phase Shower Oil, I thought it would be the same.
However, it isn't.
The Natural Ekos Andiroba Triple Phase Shower Oil is more of a leave-in oil that you use while in the shower. The product comes in a bottle in 3 phases, as the ingredients have different density. The key ingredient is Andiroba, an ingredient from the Brazilian Amazon jungle, that is used to soothe and calm tired muscles.
To use, you shake up the bottle to mix the oils, then apply it over your skin, after cleansing. The thing to remember is that this isn't a body wash sort of shower oil. It doesn't clean the skin per se.
What it is, is a way to nourish and moisturise your skin using body oils, if you don't like the oily sensation that you get with a body oil (which I also love, incidentally). So, all you do is apply a layer of the shower oil on your skin, then rinse it off in the shower.
I love the sensation thereafter, because my skin feels so lovely and soft, and feels so nourished! I also love the smell, which is so refreshing and 'shower fresh' but isn't that obnoxious 'scent of the ocean' sort of fresh, if you get my meaning. It just smells so clean, some nights, I use it just to smell nice 😀
The best thing about using this is that if you're the sort who's lazy about using body lotions, or dislike the tackiness that lotions or creams can feel on skin, this shower oil takes care of that. You don't have to apply anything else after that! I love it! It must be tried to be believed 😀
PRICE: RM119 | US$27 for 200ml

WHERE TO BUY: Natura stores or online
Hada Labo HA Supreme Vita Brightening Concentrate
Hada Labo launched the HA Supreme Vita Brightening Concentrate a little while ago. It is a serum that does more than just boost hydration (as most Hada Labo products do). It contains 5% Niacinamide and B Vitamins to brighten skin tone, alongside 4 types of Hyaluronic Acid to replenish and restore skin moisture.
The texture is a clear, lightweight liquid that absorbs very quickly and easily into the skin. I like using it in the mornings, to encourage my skin to hold onto moisture, as I'm usually outside then. It does do a pretty good job at keeping my skin hydrated, which is always something I appreciate in Hada Labo products.
As for whether it brightens skin tone, I think it's a little harder for me to gauge this. If there are results, it isn't so apparent that I can point my finger to this and say "This! This is the serum that gives my skin hydration and brightens it too!" So, in that sense, maybe it didn't live up to its name as a 'brightening concentrate'. But at this price-point, you could really do worse 🙂
I personally use this as a hydrating serum, and it does an impressive job. That said, I have found Hada Labo products to work well for me, ever since the first time I tried them about 10 years ago (!!!) so it's a brand that I trust when it comes to delivering on their promise of maintaining skin moisture and hydration 🙂
PRICE: RM89 for 30ml

WHERE TO BUY: Guardian, Watsons and most major pharmacies, and the Hada Labo store on Shopee & Lazada
So these are 4 products I've enjoyed using lately, that I'm on my way to finish using, because I enjoy them so much. A couple are lighter on the wallet, and a couple make a dent in the wallet, but those are the harder hitting products 😛 That said however, a lot comes down to personal preference when it comes to skincare products, so if you have a different experience or opinion to mine, do feel free to share! 🙂
Have you tried any of the products featured here and have an opinion on them?
I love hearing what others think too! It's not just about me 😀
Paris B