I don't know about you, but I cannot believe that January is almost over, and February, with its twin celebrations of Valentine's Day and Chinese New Year are going to be upon us very soon! How? How did this happen? Where did the time go?!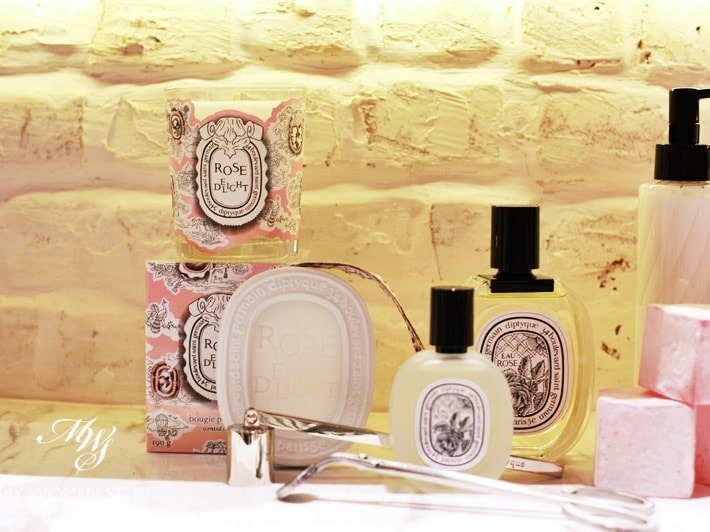 It it then opportune that I share with you a new limited edition offering from perfumers and candle makers – Diptyque Rose Delight. I just attended the press launch a few days ago, and it's already available on shelves, and looks to sell out. These pretty ones always do! LOL! 😀
But I also wanted to share with you something a little more enduring – Tips on caring for your scented candle! Now, if you love scented candles, whether luxury or not, or if you are just starting out in the world of scented candles, then these tips will serve you well in caring for your candle 🙂
Diptyque Rose Delight
The Diptyque Rose Delight scent is inspired by that of the sweet, Turkish Delight. A little known fact about me, is that I actually enjoy eating Turkish Delight! It is unusual, because I don't usually eat sweets, nor do I like anything rose-scented, but for some reason, Turkish Delights delight me 😀
The candle comes in 2 sizes 190g (RM309 | US$68) and 70g (RM189 | US$35). The scent to me, smells rather light on its own. If you have a few candles burning together, the scent is a rather heady one of sweet, fresh roses, with a honeyed fragrance running through. If you were just getting one (and that's most of us) spring for the large one, to get maximum value out of the scent. I think it will work best in a room like the bedroom, and less so in your living room. I'm skipping it, as rose scents don't appeal to me, but I'll have that lovely bowl of Turkish Delight please! LOL 😀
What will be attractive to many also, is the beautiful paper wrapping the candle jar, designed by designer Leslie David, in the style of a Toile de Jouy. This is a type of fabric printed with little complex vignettes comprising people or landscapes. In line with the oriental nature of the scent, the scenes depicted on the Toile de Jouy design of Rose Delight draw inspiration with peacocks, swaying coconut trees and a building that looks just like the Taj Mahal – well in keeping with the theme of love! 😀
Accompanying the Rose Delight candle is a Scented Oval (RM249 | US$50) that you can hang in your wardrobe to delicately scent your clothes, keeping them smelling lovely instead of musty. People also pack these into their suitcases when they travel, so your clothes smell nice when you arrive at your destination. A friend gifted me with one of these Scented Ovals a while ago, which I hang in my cupboard. I think I'll pack it into my suitcase the next time I travel! 😀
Another touch of luxury, which you can find exclusively at the Diptyque boutique (Pavilion KL) is Rose Delight Scented Paper (RM569 | US$70) you can use to line your drawers. It is imprinted with the same print, on blush pink paper, and scented liberally with the scent of Rose Delight. Use it for your lingerie drawer for that added touch of luxury.
Buy it here: Diptyque Boutique at Pavilion KL, Ken's Apothecary stores or online, Diptyque online, Net-a-Porter, SpaceNK, Nordstrom
If you're planning to get flowers for Valentine's Day for your significant other, don't. Get them a rose-scented candle instead. It'll cost you about the same amount of money that you'd spend on real flowers (that die!), it'll last at least a year or more, and you get to enjoy the beautiful scent too! 😀
Tips for caring for your scented candle
Now, if you have gone to check out the Rose Delight collection, fallen in love with the candle and brought it home, and then thought "Erm… now what? How do I care for this beautiful candle? Should I burn it?" Most of us will be loathe, as Malaysians say "So, sayang!" or loosely translated into "What a pity!" But you see, scented candles are supposed to be burnt!
Let me share with you a few tips for caring for your scented candle – not just Diptyque, but any one you own.
Always burn your candle until the top layer of wax is liquid. This helps avoid "tunnelling", or that condition where your candle burns only down the middle of the candle, leaving the sides unmelted. It is a waste and it is unsightly. So, always ensure that the top layer is fully melted each time you burn your candles. Depending on the type of candle, this can take between 1-2 hours. Soy candles melt more quickly, but Diptyque candles take longer I find. If you don't have the time, then don't burn your candle or it will likely tunnel in future.
Re-center the wick after burning. In the process of burning, your candle wick might move due to wind or air movement. When you have snuffed out your flame, re-center the wick, so the next time you burn, the candle will be centered and burn more evenly. This too will help prevent the candle from tunnelling and burning unevenly.
Trim your candle wick to 3-5mm before burning. To prevent the flame from becoming too big, which can cause unsightly sooty deposits on the sides of your glass, always trim your candle wick to between 3-5mm from the wax surface, before burning. Diptyque makes a candle-wick trimmer which you can see in the top-most photo. It looks like a pair of scissors. But you can also trim it with a pair of long scissors as I do, or as a reader suggested to me, a nail clipper! 😀
Cover your candle to preserve the scent for longer. Diptyque sells a candle lid as well, but some brands actually come with a cover or lid for the candle when you are not burning it. Use it. It will help preserve and retain the scent for longer. If you leave your candles exposed for too long, the scent can dissipate over time. I recycle lids from candles I've finished, or keep them back in the box instead of displaying them. You can also use a pretty coaster as your lid! That's what I do too!
Snuff your candle to avoid smokey smells. If you don't want to spoil the pleasure of the candle scent, use a candle snuffer to snuff out the candle, instead of blowing it out. Diptyque sells one, which is really fancy, that you can see in the top most photo. However, I have another suggestion which was taught to me by another candle-maker. Take a piece of thin bent wire, then when you want to stop burning your candle, use the wire to gently bend the wick into the molten wax. This snuffs out the flame, without any smokey smells. Then, pull the wick back out and re-center the wick for another day.
I hope you found these candle care tips helpful! 🙂 Now, how many do you practice? 😀
Will you be checking out the Diptyque Rose Delight candle? Do you enjoy eating Turkish Delight?
No, I wasn't keen on Turkish Delight thanks to the Chronicles of Narnia 😛 However, it isn't easy to get good ones locally that aren't so sweet and cloying that it makes your toes and hair curl. Ideas? 😀
Paris B