Last week, I shared on Instagram a picture and some brief thoughts on the brand new Trilogy No. 15 Limited Edition Beauty Oil, and there was such an overwhelming reception with so many questions, I had to get a blog post out pronto! LOL!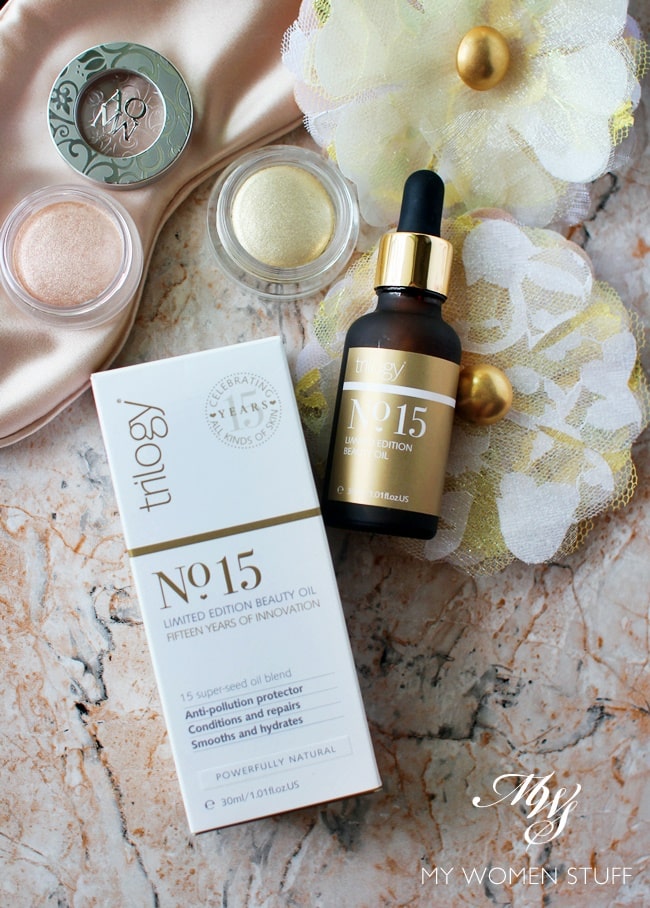 To celebrate 15 years of skincare innovation, Australian brand Trilogy, had created and released a special, No. 15 limited edition beauty oil. There's no real name, so I'm not sure if I should call it No. 15 or the Limited Edition Beauty Oil, so I'll call it both 😛
I was sent a bottle by local distributor, TNS Skinlab a few weeks ago, and it being an oil, I quickly put it into my skincare rotation. Send me an oil, any facial oil, and I'll find space for it. I love my facial oils, if you did not already know! 😀
I'm glad TNS Skinlab took a chance on me, because I don't think I'd have discovered this on my own. I haven't had much luck with Trilogy skincare over the years, and their Rosehip oil actually used to break me out. So, it's one of those brands I don't pay a lot of attention to.
But you know what? I'm going to tell you right here, right now. Don't miss your chance to try this Trilogy No. 15 Limited Edition Beauty Oil, because it is a wonderful wonderful oil, and I love it to bits! 😀
If you ask me where it ranks in my list of facial oils, I'd tell you that it is firmly under the list of Facial Oils I love. I chose not to include it in the list when I wrote it, because it's a brand new but limited edition product (the whole product is limited edition, not just the packaging).
The packaging is typical of that for a facial oil, but the shiny golden label on the dark brown bottle ups it a notch to luxury level. It will not look remiss on any fancy dresser, or on any skincare junkie's table. Aesthetically, it is stunning.
What the Trilogy No. 15 Limited Edition Beauty Oil is, is a blend of 15 different seed oils – Baobab Seed Oil (I love baobab oil!), Macadamia Seed Oil, Apricot Kernal Oil, Grape Seed Oil, Rosehip Seed Oil, Blackcurrant Seed Oil, Sweet Cherry Seed Oil, Goji Berry fruit extract, Karanja Seed Oil, Kukui Seed Oil, Mango Seed Oil, Mustard Seed Oil, Papaya Seed Oil, Passion Flower Seed Oil, and Pistachio Seed Oil. I've said this many times before, and I'll say it again. I prefer using blended oils to straight single oils. The texture feels lighter, and my skin takes to blended oils better.
And this is why I enjoy using the Trilogy No. 15 Limited Edition Beauty Oil – the texture is light, yet with the weight and texture of oil that I enjoy. There is a nice slip when applied to the skin, without the drying feel of a dry oil (I do not favour dry oil textures).
The oils used serve a few primary functions – hydration, repair, anti-pollution and act as antioxidants. The latter 3 are hard to see if they work. But I will attest to the hydration. I've used this on its own as an oil mask, and I've used it in the day under makeup, as well as in the evenings combined with other skincare. It has passed all tests with flying colours!
Used in the day (2 drops massaged into damp skin and then layered with a moisturiser), I find that it makes my skin feel and look more supple if I'm not wearing makeup. When I wear makeup, I have to wait a while, but my makeup does not slip, and if anything, my base makeup actually looks better! I rarely use facial oils in the day, as they have a tendency to oil up or make my makeup go a little nuts, but this one absorbs so well into the skin that it doesn't.
Used at night, I use it either under moisturiser (2-3 drops) or on its own as an overnight mask (5-6 drops). I find the texture fairly light, so I need up to 6 drops for my skin to feel truly nourished through the night. But the next morning, I find my skin plump, hydrated and looking healthy. I hesitate to use the word "glow" but it does look good, calm and rested. I haven't been so enamoured by a facial oil in quite a while!
I am very happy with this oil, and I would hope that Trilogy makes it permanent one day because I do want to keep it as a staple. Oils will go rancid which is why they're hard to stock up and keep back-ups of. I do plan to pick up one more bottle to keep on standby, but I don't think I can keep more than that, for fear of it going bad.
If you're new to facial oils, this one's a good one to start with. The texture is so light and feels so comfortable on your skin, that you will wonder why you were so afraid to try oils for your skin! If you have oily or combination skin, just 2 drops massaged into damp skin will help your skin and maybe even rebalance your skin, while helping hydrate any dehydrated parts of your skin. If you have drier skin, up it to 2-3 drops in the day and a few more in the evening, to nourish your skin and keep it hydrated. You can even use this on your body if you're feeling lush. I tried, because it said on the box you can, and it does make my arms and legs feel so nice! That said, I am big on using body oils, so I am comfortable with how it feels. I would love to use it that way, but I think I'd reserve it for my face.
But you will have to hurry, because it is a limited edition product, and that really bums me. I was told on Instagram, after I posted about this, that it had gone out of stock, but it has been and I'm assured, will be restocked as frequently as possible, until the year end (hopefully!). Well, I hope so! I'd hate to miss out on my back up! 😛
IN A NUTSHELL

The Trilogy No. 15 Limited Edition Beauty Oil is a new but limited edition product released to commemorate Trilogy's 15 years in the skincare business. It is a blend of 15 different seed oils, and has a very lovely lightweight oil texture. I find it absorbs readily and easily when massaged into dampened skin and feels very comfortable. For me, it keeps my skin hydrated, and plumped and very comfortable. My skintone looks even, and my skin just feels and looks happy. I like using it as an overnight treatment, and also in the day. I do hope Trilogy makes this a permanent item because it deserves to be!

PROS: Affordable, Lightweight oil texture, Absorbs easily into skin, Feels comfortable on skin without feeling greasy, Helps skin remain more hydrated and plumped and looks more even

CONS: Limited edition product

WHO WILL LIKE THIS: Anyone who enjoys using blended facial oils, Anyone who is new to using facial oils

PRICE: RM108 | AU$35.95 | US$44 for 30ml (Note: There may be discounts at your local stores, my prices are the retail prices)

WHERE TO BUY: TNS Skinlab stores and online (MY – there is a 30% discount on all oils up till end September 2017 that brings this below RM100! Steal!), Chemist Warehouse (AU) or wherever Trilogy is sold
I've given you the ingredients list above, but here it is again: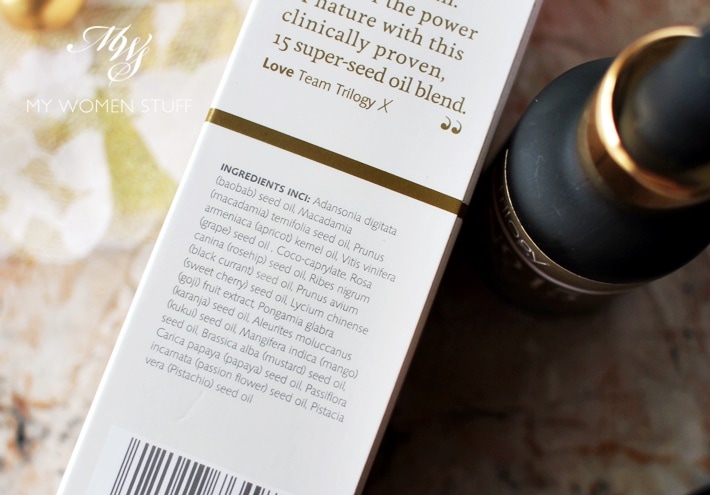 How does this Trilogy No. 15 Beauty Oil compare to Pai Rosehip Bioregenerate Oil?
This was asked of me, as most of you are aware that I love the Pai Rosehip Bioregenerate Oil and have given it Holy Grail status. Well, I'd say they're different. Pai's is a rosehip oil. It is blended, with different parts of the rosehip, but its primary oil is Rosehip seed and fruit oil. This Trilogy No. 15 Beauty Oil is a blended oil from different seed oils.
The texture of Pai's oil is heavier and the colour and scent may trouble some. This Trilogy No. 15 Beauty Oil is lighter with a barely discernible scent, and a clear golden colour that is easily acceptable.
While the Trilogy No. 15 Beauty Oil makes my skin feel hydrated and plumped, the Pai Rosehip Bioregenerate Oil transforms. I can SEE my skin looking better the next morning after using Pai, and it soothes and heals my skin. It is still my Holy Grail. This one comes 2nd for now. I love this one, but Pai's is on a different level, from personal experience 🙂
Does this Trilogy No. 15 Limited Edition Beauty Oil interest you?
When I saw Baobab oil headlining that list of oil blends, I immediately knew this would work for me. I love Baobab oil. It really hydrates my skin like no other oil! Keeping my fingers crossed this is made permanent so I can make it permanent in my routine! 😀
Paris B