Cream cleansers. I can't get enough of them! In fact, I'm now wondering why it took me so long to get around to loving them. It might be because the ones I'd tried many years ago were awful and oily and yucky.
But as with everything, cream cleansers have improved so much in recent years that there are so many options available now that I've tried and love. I'll have a round up of some of my favourites very soon, but before that I had to tell you about this affordable find! I know, you perk up when I use the word "affordable" don't you? LOL!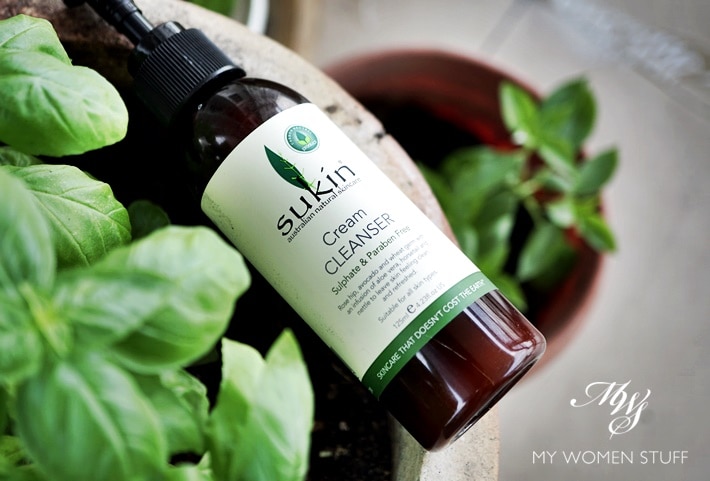 The product in question is the Sukin Cream Cleanser. I honestly cannot remember who it was who told me I should try this but it's one of you readers (who I swear, enable my buys as much as you claim I enable your buys! LOL! 😀 ). I used to use the Sukin foaming face wash almost a decade ago when I had a tighter budget, but I hadn't used anything from Sukin in many many years. This was my first foray back into the brand, in a bid to find an affordable cream cleanser.
And wow, did I find one or what?! I love this, and it's so affordable too! (by my standards 😛 )
Sukin is a brand of natural skincare from Australia, and is sold at the pharmacy, which makes it easy to find. I wouldn't say they are necessarily cheap, but they are certainly affordable, especially for natural skincare. They've been around in our local cosmetics scene for quite a number of years (at least since I started blogging 10 years ago) but remain fairly low key with little promotion. I'm never quite sure why.
Being one of the green brands out there, Sukin was one of the earliest brands I came across to make claims of not containing a lot of what is perceived to be harmful ingredients. It's nice to have options available in the pharmacy because from experience, many products that make similar claims have a higher price point.
But coming back to the cream cleanser. What I look for in a cream cleaner is simple – feels comfortable on skin without being too oily, rinses off easily and leaves my skin feeling clean and comfortable without stripping it. And you know what? The Sukin Cream Cleanser ticks all the boxes! I picked mine up on a bit of a whim one day at Vitacare pharmacy – it was on sale and I was curious.
The cleanser comes in a pump, and I use about 1 pump which is about sufficient. The cream cleanser pumps out a slightly thick cream, but it is quite light textured and easy to apply all over the skin.
I use this one in my morning cleanse, but I would also use this as a second cleanse in the evening should it so warrant. I've read that it can be used as a makeup remover/first cleanse, but I tested it once, and didn't find it as effective at removing makeup. I'd stick to using it as a second cleanse instead, because it leaves the skin feeling so soft and comfortable thereafter.
I like that this cleanser rinses off easily without needing the use of a face cloth or sponge or whathaveyou. In the mornings, I don't have the time nor energy to faff about with things like this. I just want to get my cleanser on, rinse it off and be done. And this does the job. It rinses off easily without leaving a residue and even a friend who usually hates using cream cleanser told me this was nice, not drying and left the skin feeling soft. I knew I was onto a winner here!
There is a slight citrus scent, but is otherwise fairly pleasant on the nose. Not too scented, and not too smelly 😀
If you're new to cream cleansers (they are far less drying than foaming cleansers) then this one is a good one to start with. It's fairly easy to find, is friendly on the wallet and does a good job for a basic skin cleanse without drying out the skin. Can't ask for more, really!
IN A NUTSHELL

The Sukin Cream Cleanser is a basic cream cleanser, that feels light on skin, cleanses skin well without drying it out, and rinses off easily with just water and hands. For green beauty fans, this is a natural product that does not contain many of the commonly perceived harmful ingredients. It is also affordable and easily found in the pharmacies. All round winner, really!

PROS: Affordable, Rinses off easily, Gentle on skin, Leaves skin feeling clean and soft, Pump dispenses the right amount of product each time

CONS: Should come in larger bottles but sometimes comes in value buy twin packs

WHO WILL LIKE THIS: Anyone who likes using cream cleanser, Anyone who wants to try a cream cleanser, Anyone who is into green beauty products

PRICE: Approx RM40 | AU$9.99 for 125ml but look out for sales and twin packs

AVAILABILITY: Guardian, Caring, Vitacare pharmacies in Malaysia, Priceline in Australia and on various websites
For those interested, here is the ingredient list so you know if there's anything that won't work with your skin.
Although the directions do say you can remove with a warm cloth, I find it just as easy to use just plain water. No need for that extra step, and makes it a great morning face wash 😀
Have you tried this Sukin Cream Cleanser or are you using anything from Sukin that you like?
I find the brand to be quite basic, having tried the face mist and shampoo before this. But I've recently seen a new range with a deep green label, that seems to have more active ingredients in it, and that interests me, so I might pick up one or two to have a go in future. Who knows when though! LOL! 😀
Paris B