I've been mentioning my recent holiday long enough, with talk on Twitter early in the year about an adventure I was going to take. It turned out to be quite an adventure indeed, for which I'm very pleased about. There's much to be said for going on little adventures in your life.
No, I did not really go to Afghanistan, as I've teased you. I value my life a little too much for that sort of adventure! But I did go into Central Asia.
My adventure holiday this year was right up to what is known as the 'Roof of the World' – Tibet!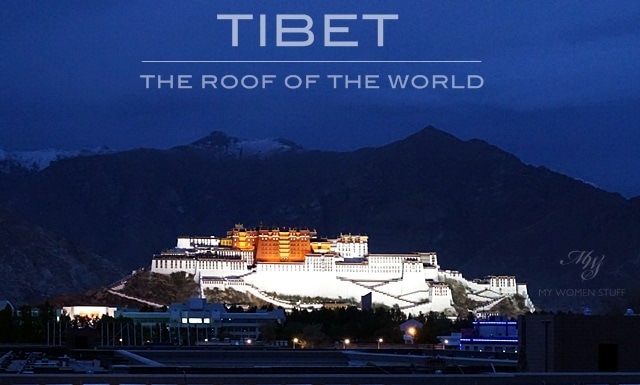 View of the Potala Palace by night as viewed from the hotel room
I wasn't sure where to start my travel tale this time, as unlike previous adventures, I'd opted for the easy way out and gone on a group tour for this trip. The last time I went on a group tour was over 10 years ago, and I think I was ready to kill people by the 2nd day LOL But this time, I survived (and so did everyone else – whew!) so I'll be able to share some tips on surviving group tours if anyone's interested LOL! 😀
Today however, I'll just share some highlights of my recent trip, since I know that Tibet isn't a place many people plan to visit, nor intend to visit in their lifetime. But it was for me. You could say that it was something I had to do (it wasn't a religious pilgrimage) because I love the mystical, and Tibet has always been so shrouded in mystery and mystic that I just had to go and touch the clouds, as it were.
I have shared quite a lot of pictures, so do be warned that this is quite picture and word heavy. But it's allowed me to re-live my holiday and the wonder of nature and I hope you'll enjoy it and perhaps, it might just spark your wanderlust 🙂
Coping with high elevation and thin air
Before I went to Tibet, the highest I'd ever been was to a couple of local highland hill resorts. I'm not a climber or hiker so mountain and hill climbing wasn't my forte. While I wasn't expected to climb any mountains or hills, I learned not long before my holiday that trips to Tibet aren't exactly a walk in the park.
To start, you have to be in relatively good health. Tibet sits on a plateau that rises up to 6000m above sea level. It is close to the Himalayas and we know the worlds' highest mountains are in that region. So, I was warned that just travelling into Tibet could cause altitude sickness. Was I confused? Yes. I'd heard of mountaineers experiencing altitude sickness, but me? I don't climb mountains! I barely climb stairs!
Yet, it's a very real concern, as I saw with my own eyes. When I got into Chengdu, my parents and I went to a local pharmacy and purchased some herbal supplements meant to combat/prevent altitude sickness known as Rodiola Sacre Root or "Hong Jin Tian" in Mandarin. I believe it's a root of a plant.
This is a generic brand we purchased as there are different grades at different prices
In the alternative, if you'd rather not take Chinese medication, the western medication Diamox (Acetazolamide) can serve a similar purpose. I took the former, my uncle took the latter and we were fine. The tip however, is to ensure you take the medication at least 3 days before journeying to a higher altitude. A tour member who did not take any preventative medicine suffered all the 5 days that we were in Tibet, from altitude sickness. This includes constant headaches, nausea and vomiting, lack of strength and being dazed and confused. Her colour was poor and we were very worried for her health because she wouldn't see a doctor. It was not until she returned to sea level that her colour and spirits returned. Has to be seen to be believed.
The other thing to be noted is the thin air at this sort of elevation. I read that the oxygen levels are at 30% below what you'd get at sea level and what this means is that you can find it hard to breathe, and everything you do makes you gasp for air. You have to slow down. Walk slower, talk slower (or not at all) and take slow, regular breaths. Some people may even need oxygen, in which case, you can buy cans of pressurised oxygen but most of us were fine. You just get out of breath a lot more quickly, and woe betide you if you run. I did, by mistake, up a flight of stairs and I swear, I almost passed out!
The Qinghai-Tibet Railway
My trip started from Kuala Lumpur (naturally) on to Chengdu, China and then onto Xining in China where the real adventure starts. We were taking the Qinghai-Tibet railway journey into Lhasa; a journey that takes anywhere from 22-26 hours. I'd read that taking the train into Lhasa is one way for the body to acclimatize, as you climb from Xining, which is about 2000m above sea level into Lhasa that sits at about 3600m above sea level.
The thing is, this isn't a luxury train. It's not even a very comfortable train, truth be told. There are different classes of seats, and I was told that ours, the 4 berth sleeper cabins were the most luxurious of the lot.
Unexpected OOTD: Everything Uniqlo lol! Uniqlo Ines de Fressange blouson jacket over Bra Top, Uniqlo striped flared skirt, Uniqlo leggings and Geox sneakers
As you can see, it isn't saying very much. Now, I can't tell you very much about how to purchase the tickets (mine cost about RMB780 based on my stub) or where you can purchase them as I was on tour and it was all sorted out for us. Truth be told, after knowing the mess and nightmare the accompanied the booking and purchase of the berths, I honestly am glad it was left to the tour company to sort out. Let's just say that China isn't a very flexible nor friendly country.
There were 4 fairly comfortable berths in the narrow cabin, with a little table. I was travelling with family and friends so it was easy for us to split ourselves up and share the confined space. But if you're not, it can be awkward. There are 2 toilets in each carriage – 1 squatting and 1 sitting, with a vacuum flush like that in an airplane. At one end, there is a bank of sinks for your daily ablution and there are also large containers with constant supply of hot water. You'll need this hot water for your instant noodles (Oh, Malaysians, we love our Maggi ok!) which you'd have to eat on board. You could also eat in the dining car or purchase food from the vendors as they come by, but I took a peep and unless you are used to eating food in China, I'd stick to the instant noodles. Trust me on this one!
This was a highlight for me, because I'd never taken such a long train journey before, and I'd read so much about the beautiful scenery that accompanies you on your journey. It did not disappoint. The large picture windows are perfect for you to sit by to watch the majestic mountains go by, fields of sheep and yak and beautiful, wild country.
I haven't been to many mountainous regions in the world so I was in awe. This is the closest I've seen mountains covered with snow, stretching out as far as the eye can see. Central Asia, where I was heading into is ringed with mountain ranges formed by the crashing of the Indian sub-continent into Asia and seeing it rise right before my eyes was mind-blowing. Quite often, I didn't know where to look, wanting to take everything in at once!
The trouble however, started the next morning. At some point in the journey, the railway hits a high of approximately 5000m at Tanggula Station, the world's highest railway station. It was early morning at this point and I believe it was around this time that the motion sickness due to the rocking motion of the train, and the altitude affected most passengers. I remember waking up with a sharp headache, but I took a couple of Panadol, went back to sleep and woke up in the early morning feeling a bit better.
Not everyone was as lucky. I woke up to find the happy, gleeful faces of the evening before, looking drawn and pale as people queued for the toilets and sinks to throw up. Most felt and looked better after a while, but a majority looked drawn for most of the day, until we pulled into Lhasa station. Our journey took 22 hours, a little shorter than expected.
Did we leave Lhasa the same way? No, we flew out. We're not gluttons for punishment 😛
Visiting Potala Palace
The Potala Palace was said to be built by Tibetan King Songtsän Gampo for his chinese bride, Princess Wencheng and has been the chief residence of the Dalai Lama until 1959. It is now a museum and world heritage site. There are still monks in residence, tending to the prayers and the palace, which houses priceless works of Thangka art, carvings, statues and tombs of previous Dalai Lamas covered with gold and precious stones.
First though, you have to get up there. And boy, is it a climb!
I found it ironic that despite the thin air and tough conditions, many monasteries in Lhasa are built on hills and mountains, inaccessible by any form of vehicular transport. So you have to physically drag yourself up the hill/mountain, panting and gasping as you go. It's bad enough climbing hills and mountains at the best of times. Cut oxygen supply by 30% and try it and see! Oh joy 😛
View from halfway up to Potala Palace
But the view, oh the view!
Every corner you turn brings another feast to delight the eyes. The mountains stretch as far as the eye can see. Nearer mountains are brown in Spring-Summer when I was there. Further, higher mountains were still capped with snow and will remain that way.
The fat fluffy clouds float in a bright blue sky. Because we're so high, the sky is almost always a clear, bright blue, and clouds float so close, it feels like you can reach out and pick them out like cotton candy. But be warned, that the bright sun that shines, unfiltered by clouds, mean a very high UV exposure so sunscreen is a must!
After panting and gasping my way up the stone steps (yes, I'm unfit as well) we were eventually led into the cool confines of the palace and through the various rooms that were open to visitors. Photography is forbidden once you enter the palace, as is with most of the temples as well. My information had to be gleaned from the internet as my guide spoke Mandarin and I don't, but I understood enough as I went along to be amazed.
Barkhor Street and Jokhang Temple
Jokhang Temple at Barkhor Street is where the pilgrims and staunch practitioners of Tibetan Buddhism come to pray.
The square in front of the temple is filled daily with pilgrims performing prostrations and their prayers. For those of us unused to these sort of physical demonstrations of devotions, it is very interesting. We're told that some of these people may have come from afar, walking all the way to get to Lhasa and to Jokhang Temple, one of the holiest seats of the religion.
Other pilgrims may be seen circumabulating Jokhang Temple, around Barkhor Street, chanting and spinning their prayer wheels. I think it takes a great sense of devotion and belief and when you're standing there, right in the middle of the square, watching these pilgrims go about their devotions, the strength of belief is almost tangible.
Barkhor Street is also lined with shops selling traditional Tibetan handicraft and souvenirs – woven scarves, carpets, prayer or meditation materials etc. There isn't a lot to buy in Tibet unless you like these sorts of traditional handicrafts, or prayer material.
Seeing a Tibetan Mastiff
One of the things I'd always wanted to see up close, is a Tibetan mastiff. And since I was in Tibet, I suppose it's a no-brainer that I'd have to see one there! 😀
And I did! 😀 The bugger is huge.
Ok, huge doesn't begin to describe him. He was monstrously gigantic! I'd never seen a dog this big in my entire life! These dogs look more like bears than dogs, and they are just as fierce, we're told. There were a few bounding about in their cages, barking… and let's just say that I wouldn't want to face one of these in the middle of the night. When up on their hind legs, each dog, even the young ones were taller than I am!
Here's another that was larger than the more domesticated one trotted out for display. We weren't allowed near the other dogs for fear of provoking an unwanted response in them. We saw a litter of puppies, and at 1 month old, these pups were the size of a spaniel! So yes, they grow up to be huge giants of dogs.
Yamdrok Lake
One of the towns we were due to visit on my trip was Rikaze or Shigatse, a town located near the foot of the Himalayas. Unfortunately, while I was in Lhasa, the 2nd devastating Nepal earthquake struck and the roads to Rikaze were closed. While they were reopened a day or two later, we chose not to go, for personal safety. I didn't want to have to tell you about an adventure that turned out to be even more adventurous than I expected!
But there was a place I wanted to see and that was Yamdrok Lake, a freshwater lake and one of the three sacred lakes in Tibet. It is also located at about 4900m above sea level.
But sacred lake aside, the winding journey up to the lake offered wide open vistas of mountains, valleys, and views I'd never seen before in my life. The lake too did not disappoint.
Viewed from up high, the long lake is the deepest, brightest turquoise blue I'd ever seen. The scene is awe-inspiring, with the range of snowcapped mountains at back looking almost as if they were photoshopped. I swear that's what I said when I saw them "They look photoshopped!"
The thin, cool air has a very sharp, crisp edge to it, and the bright sun makes edges and details stand out in sharp relief. It is almost as if a fog lifts from your eyes, so you see everything in a brighter, clearer, crisper light. Now that I'm back in the low-land, it's as if I view everything through a filter. The air in Tibet really brings #nofilter to life!
Monk debates at Sera Monastery
Ever seen monks debating? I hadn't. I didn't know it was a thing. But I soon learned that it was one of the things to see while in Lhasa. And this was at Sera Monastery, about an hour out of Lhasa.
Like everywhere else in Tibet, the monastery is surrounded by rocky mountains, with soaring heights just behind each building, almost as if you could walk right up to the top of the mountain. From where the bus parked, it was another 20 minute walk (slowly, thin air, remember?) up a gentle gradient, to what is known as the "Debating Courtyard".
Monks debating at Sera Monastery
It is here at certain times of the day that the monks gather in groups to debate the scriptures and Buddhist texts. But what's so interesting you ask?
It's the way the debates are carried out. As you can see, the standing monk will speak and state his views, clapping his hands loudly for emphasis at each point he makes. The ones sitting can challenge or discuss his views, but for the most part, the standing monk has the floor. It was quite entertaining. Some were more into their topics than others, with one or two looking like they were about to pop a blood vessel, so engrossed were they in their arguments! I had no idea what they were saying, naturally, but it was fascinating all the same.
That said, I'm not sure how I'd feel if I were studying in the courtyard, doing group study and suddenly have a bunch of tourists gawping, gawking and taking pictures of me. I'd find it highly distracting! 😀
Live Action Musical – Princess Wencheng
I'd probably not have seen this if not for the aborted trip to Rikaze, as it was not on the original itinerary but as they say, sometimes, the unexpected can leave the most lasting impressions. This is true of Princess Wencheng, the musical.
The live musical is staged in the open, a distance outside of Lhasa town, with a glorious mountain as its backdrop. Telling the story of Princess Wencheng of China's marriage to King Songtsän Gampo of Tibet in 640ad who is credited for being one of the people to bring Buddhism to Tibet. The musical tells the story of her 3 year 3 month journey from China to Lhasa.
The massive stage, inspiring props, live action animals (sheep, horses, yak!), chariots, and the numbers of performers, coupled with the state of the art lighting and audio-visual proprs made this quite a feast for the eyes. It was a very cold night as we sat out in the open, underneath the stars that looked close enough to pluck out of the sky, but I sat entranced, throughout the 1.5 hour performance that starts at about 9.30pm when it gets dark.
It must be dark to appreciate the full effect of the performance, the stage lighting and the clever use of the landscape and mountain as the backdrop to the story. I had no idea what was being sung of course, in both Mandarin and Tibetan, but there are large screens set up on both sides of the stage with subtitles in Tibetan, English and Mandarin, so no one gets lost along the way. It was quite a musical extravaganza and one I thoroughly enjoyed. Even if my fingers nearly froze off.
One of the many monasteries I had to climb up miles of stone steps to visit – I gave up on this one
These were just some of the highlights of my holiday, and I hope you've enjoyed reading about it. I'd wanted to visit Tibet but it wasn't something I had thought about in detail. It was a chance comment by my uncle and interest expressed by my parents that had me tagging along. Ostensibly, it was also to keep an eye on the fogies, but it was a place mystical enough to lure me to spend 10 days in China and 5 days in the thin, oxygen-deprived air of Lhasa.
I'm glad I went with my gut and went. It was an experience and one I'd not soon forget. Besides, how many of us have been to the roof of the world eh? 🙂
p/s If you have any questions or are planning to go in the near future and want to know more, feel free to ask and I'll be sure to share what I know – there's too much otherwise and this has already hit the 3000 word limit LOL! 😀
Paris B