I must confess to having a soft spot for essential oils and aromatherapy, no mater how much of a mumbo-jumbo they can be at times. As far as I'm concerned, if it smells good to me and makes me feel comfortable and happy, it works! I'm quite sure many of you feel that way.
I also confess to a secret pleasure in having a bath. A proper luxurious bath, scented with calming essential oils and sprinkled with bath salts to soften the water, and no one to disturb. Just precious me-time. What wouldn't I give to have a tub at home! If I did, I could luxuriate with these Aroma Salts from Amphora Aromatics more often than I currently do.
I was sent these 2 tubs of Aroma Salts by NattaCosme, an online beauty shopping site that stocks this brand, amongst other more well-known cosmetics brands and products.
I found these intriguing despite not having a bathtub at home, because according to the blurb on the cover, these can also be used as room fresheners. Just open the cover of the tub, and allow the scent from the essential oil infused dead sea salts to waft through the room.
I was having a lot of trouble sleeping at this time and I thought something that said Goodnight Sleeptight would do the trick. With lavender and chamomile infusing the bath salts, what could go wrong? Nothing, I'd warrant.
Unfortunately, it was wrong for me. The smell of Goodnight Sleeptight is a very sharp smell that wasn't very pleasant, nor very relaxing. It even made me feel a little nauseous so I got back up in the middle of the night to shut the tub and stick it in a corner of my cupboard. But there was a saving grace! (Thankfully!)
Toss some into hot bath water and it is absolutely wonderful! I don't know what really happens, but the smell that wafts up from the steaming tub is wonderful, losing that sharp metallic edge, and rounding down to a softer, very comforting scent.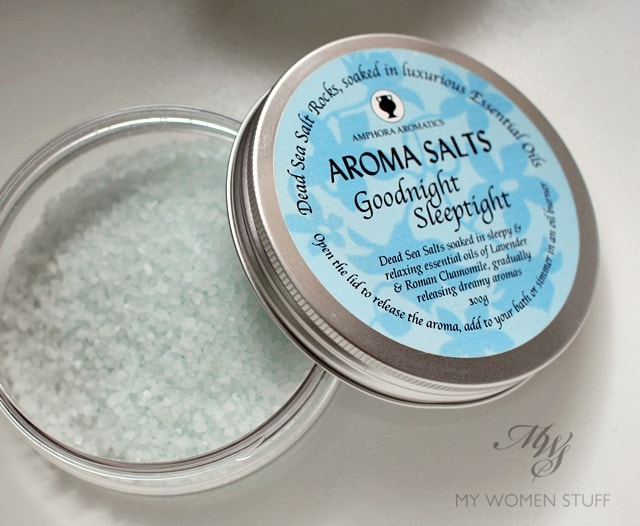 I recently took this with me to a hotel with a bathtub and spent a wonderful time soaking in tub, buffeted by the warmth of the water and the lovely smell of the Goodnight Sleeptight Aroma Salts. It was a good way to relax and unwind after a long day, and a nice way to prep yourself for bed.
Dead Sea Salts are well known for their curative properties and a good soak in a tub with bath salts added, helps you relax and is even supposed to be good for the skin. Bath salts also helps soften hard water and makes it more beneficial for our skin and you may notice that when you step out of a bath infused with bath salts, your skin feels smoother and softer.
I did notice this with these Aroma Salts. However, I was a little perturbed that there was no instruction on how much product I should use. I later learned that 1-2 handfuls would be sufficient but I erm… used a little more than needed LOL! I poured about 1/3 of the tub into the bath which might explain why I found it so relaxing haha! 😀
The other scent I have is Room Fresh which is the same dead sea salts soaked with Bergamot and Grapefruit. This too can serve as a room freshener and if I sniff closely, has a sharp fresh scent of bergamot and citrus. A little sharp, just like the lavender one.
Again, putting this in a tub of hot bath water softens the scent and releases the warmer smell of bergamot. It smelled like tea! When I drink tea, I take Earl Grey and that one is heavily flavoured with bergamot. Relaxing yet refreshing, and leaves the bathroom smelling wonderful!
I don't have a tub at home yet, so my use of these as bath salts are now pretty much restricted to hotels. However, realising how lovely they smell in hot water, I'm going to put some into water in an oil burner and use it to freshen up my rooms. I think that would work! 🙂
In a nutshell

Amphora Aromatics Aroma Salts are essential oil infused dead sea salts for use as a room freshener (just open the lid), bath salts (add 1-2 handfuls into a hot bath) or a room fragrance (add a little into water in an oil burner). The 2 scents I have smell very sharp on their own, so I did not like to use them as is. In a tub of hot bath water, it is glorious. The scent is soft and comforting and the salts seem to make the water feel so much softer. It made for a wonderful, relaxing me-time and if you have a tub (or know you'll have access to a bathtub e.g. hotels) you'll love this.

Pros: In bath water the smell is soft and comforting and fills the bathroom, Bath water feels softer and skin feels softer and smoother after use

Cons: A little pricey, As a room freshener used as is I found the scent a little too sharp for my senses

Who will like this: Anyone who enjoys a lovely relaxing essential oil scented hot bath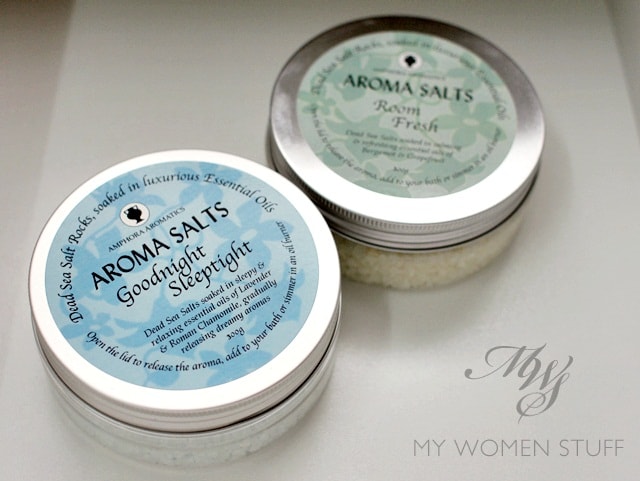 I wish I had a tub 😛
Do you enjoy taking long baths? Have you used bath salts and do you find any benefits using them?
I do enjoy the occasional bath, although the thought of owning a bath tub daunts me. The cleaning would be horrifying 😛 Still, who knows. Perhaps I might warm up to the idea after all 😉
Paris B
Amphora Aromatics Aroma Salts come in 5 different scents Price: RM39 (RRP RM59)/300g Availability: NattaCosme