I remember St. Ives – hands up if you don't 😉
In fact, its quite silly to say "I remember" because they're still around but I just stopped paying attention to them. I used to be a great fan of their medicated face scrub. It was the first time I'd learnt about salicylic acid and the wonders it did for my skin, helping clear up spots while keeping skin smooth. I never really used their body stuff though. Or maybe I did but it didn't stick around in my memory.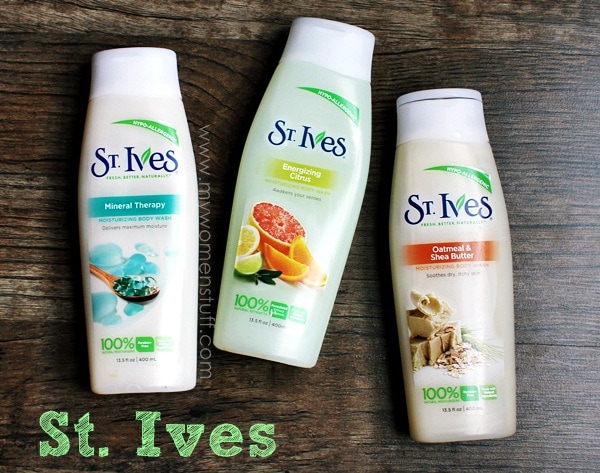 Recently, it was brought to my attention that St. Ives has launched some new products in the past year, amongst which we find a bunch of new body washes. Hurrah! I love body washes! I go through them quite easily so I always have a good stock of them around.
The 3 new ones are Mineral Therapy, Energizing Citrus and Oatmeal & Shea Butter. Have you noticed them in stores or used them before?
These new St. Ives body washes are now paraben free and claim to be 100% made from natural ingredients. The former is commendable as there are people who are concerned about parabens or who are allergic to them, but I'm not too sure about the latter. I'm not all that well versed in this subject anyway so I'll let others tackle it. I just tell you what the label says 🙂
The 3 new scents interestingly also come in 3 slightly different textures although they are all body washes. I'll break it down for you.
Energizing Citrus – This one has a lovely scent of grapefruit and lime that importantly, does not smell like dish detergent! Very important. It smells lovely and refreshing and has a nice effect of perking up the senses in the morning or at the end of a long tiring day. The texture of the body wash is slightly light and gel like and a little translucent. I like this one a lot but my complaint will be that the scent does not last. After my shower, my bathroom has a lovely zesty fragrance of peeled grapefruit but once I step out, I can't smell it on myself anymore. It would be nice if it lasts longer.
Mineral Therapy – The texture of this one is an opaque cream with a slight sheen to it. It smells a little metallic and not very strong. It cleans the skin but I wasn't too taken by the texture or the scent so this is not one I will purchase.
Oatmeal & Shea Butter – The texture is also creamy with a thick lush feel when applied on skin. Rather like applying body lotion, except its a body wash. The smell is typically shea butter and makes me think of vanilla chocolate for some reason. The scent is warm, rich and creamy and very relaxing if you like that sort of scent. It also seems to make my skin feel less dry after showering. Its a more lush shower experience.
For the sake of experimenting, I passed this out to 2 other people to try it and let me know what they though and their thoughts were in tandem with mine. Everyone loved the Energizing Citrus one for a good wake-me-up scent and the Oatmeal and Shea Butter one for a warm relaxing end-of-day shower. But each of us was flummoxed by the Mineral one which we just couldn't identify with. It was alright for a body wash, just not memorable.
In a nutshell

The 3 new St. Ives body washes are nice to have in the shower. They wash out clean without drying out the skin and the Oatmeal & Shea Butter one in fact, seems to make the skin feel more comfortable and softer. Energizing Citrus has a lovely zesty scent and a nice light gel texture while the other 2 have a more creamy texture. I didn't know these new ones existed but now that I do and since I do like them, I will probably repurchase Energizing Citrus and Oatmeal & Shea Butter. I can't make my mind up about Mineral Therapy. It just wasn't memorable enough.

Pros: Cleans skin without drying, No parabens, Scent in all 3 body washes is not too strong and not cloying or too sweet

Cons: It would be nice if the Energizing Citrus scent lingered longer

Who will like this: Anyone who enjoys using scented body washes, Anyone who wants something paraben free
Here is the ingredient list for each of the 3 new St. Ives body washes
Have you seen these new St. Ives body washes? Have you tried any of them or are you a St. Ives fan and have more stuff to recommend?
Because the prices are quite wallet friendly, I'd suggest picking up Energizing Citrus for the morning and Oatmeal & Shea Butter for the evening.
Paris B
St. Ives Body Washes come in 3 variants Price: RM17.90/400ml (watch for discounts where they can go for just RM12.88!) Availability: Most major pharmacies