When I dine out, especially at cafes and bistros, I have a habit of dissecting my meal and thinking of just how I can recreate it at home. Recently, I had lunch where on the menu as appetizer, was a roasted slice of pumpkin served with a salad. It was delicious!
Naturally, I had to figure out how I could recreate it at home. It looked simple enough and I balk at paying RM18 for a thin slice of pumpkin and some raw vegetables 😛 So, from memory, I assembled my version of the salad and I thoroughly enjoyed it. Sure, its a little different but it was delicious all the same.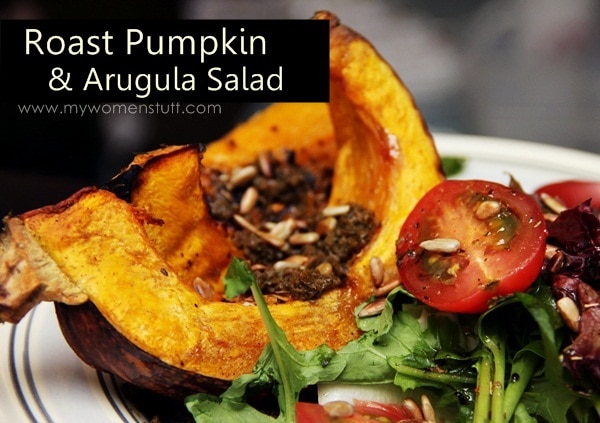 Serve it as an appetizer or as a main meal. and because I'm nice like that, I'm sharing my recipe here 😉
Roast Pumpkin & Arugula (Rocket) Salad

You need:

1 pumpkin slice (leave the skin on to hold the shape)
Arugula (Rocket) leaves
Lettuce Leaves and any leaves you want in your salad
Cherry Tomatoes
Olive Oil
Balsamic Vinegar
Pesto sauce
Pine nuts or sunflower seeds lightly toasted
Salt, Pepper and Mixed Herbs to taste

How to:

Pre-heat your oven to 200° for about 15 minutes
Toss the pumpkin slices with some olive oil, sea salt, pepper and mixed herbs
Lightly cover pumpkin slices with foil and place in oven at 200° for about 30 minutes. Check about halfway through to see if they are cooked. In the last few minutes, remove the foil and let the edges brown.
Meanwhile, mix some olive oil with balsamic vinegar, salt and pepper for salad dressing. Or use a premade french or italian dressing if you prefer.
Dress your salad and assemble on plate. Serve with roasted pumpkin and a spoonful of pesto sauce and sprinkle over with the pine nuts or sunflower seeds.
Because this is not a cooking or a food blog, here are some beauty benefits of this dish:-
Pumpkins are rich in beta-carotene which is an antioxidant. Its good for health and you know what that means. A healthy body means good skin.
Pumpkin is very filling. So if you are trying to go on a low carb diet, I think this is a nice substitute. I didn't realize it myself until I tried to eat 2 slices in one sitting. Surprisingly filling! The sweetness of the flesh is also a nice substitute for those who have a sweet tooth. Little wonder they use pumpkin in desserts too.
Lots of greens make for a healthy gut. Lots of greens mean lots of fibre and that keeps your gut healthy. A healthy gut can also potentially mean lesser breakouts and better skin.
Arugula (Rocket) leaves are very rich in vitamins. I love Rocket and I love liberal amounts of this spicy herb in my salad. Its now much easier and cheaper to get it locally so I'm very happy.
Olive Oil is good for the heart. Olive oil is well documented as being good for overall health. I don't use it in general cooking but its nice for salads and it was infinitely healthier than using butter in this recipe! Actually I would have used butter but I didn't have any but olive oil is good enough.
Above all, its pretty delicious, if I don't say so myself. I used to hate eating pumpkin. It stemmed from some sort of phobia as a kid (being served it too often) but now, I'm starting to enjoy it again in small quantities.
The pesto dressing is optional but adds a lovely flavour when paired with the roasted pumpkin. I eat the pumpkin skin and all, because its all so crispy and aromatic! The sunflower seeds or pine nuts too are optional but they are delicious to add a bit of crunch to the dish. It is fresh, easy to prepare and quick.
Do you like eating pumpkin? Would you try making this? I had a delicious crabmeat nicoise salad recently too. I might try to replicate that at home soon 🙂
Paris "Martha" B
Scrumptious Saturday: One day in a week where I indulge in my other love – food and cooking.