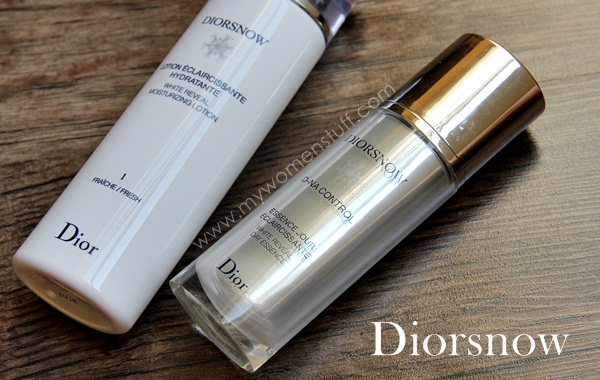 This morning, I talked about the Diorsnow White Reveal Wipe-Off Gel and I thought I'd quickly follow up with the other 2 Diorsnow products to round up the reviews and assuage some of your curiousity about these products 🙂
The other 2 Diorsnow products I have which are infused with Icelandic Glacial Water are the D-NA Control White Reveal Day Essence and White Reveal Moisturizing Lotion Fresh. Both are upgrades from existing products and if the names don't already tell all, serve a whitening/brightening function. Asia loves things like these, apparently 😛 So, here's what I think about these 2 items. One I find a little "meh" while the other was a surprise hit.
Diorsnow White Reveal Moisturizing Lotion – Fresh (RM170)
This is what would be conventionally known as "toner" although in the Diorsnow line, they have gone the way of Japanese skincare and this is a "lotion". The product comes in a 200ml tall bottle and the clear plastic lucite screw cap is surprisingly heavy. I love it even if it means that as your lotion finishes, your bottle can over-balance. All plastic, so no problems about smashing to smithereens but something to think about.
To use this moisturizing lotion, you are advised to saturate a cotton pad and sweep all over your face. I like to saturate a cotton pad and then pat it all over my face. It seems to cool it down while helping it stay hydrated. You could also pour some into your hands and pat it on that way but I found I prefer the cotton pad method. Its very liquid and there is a light scent. It comes in 2 variants – I Fresh and II Rich with the former targeted at normal/combination skin and the latter at drier skin. Another method you could use this is to soak cotton pads and use it as an impromptu face mask. Or soak one of those paper sheet masks. I thought it was alright but it wasn't as hydrating as I hoped. Still, by Western brand standards, I'd say this is a good attempt at a hydrating lotion but they could do better. I'm sticking with the Japanese for moisturizing lotions.
Here's the ingredient list for those interested.
Diorsnow DNA Control White Reveal Day Essence (RM435)
The Day Essence was an existing product that has been upgraded with the Icelandic Glacial Water. I honestly wasn't sure why there was one for day and one for night. I'd tried the Night Concentrate before this and I must say I wasn't quite sold on it. Might explain why I never brought you a review even though I did use it. Found it alright but didn't do much for me. Naturally, to be honest, I wasn't expecting much for the Day Essence either.
I have to say however that its when I have the lowest expectations for anything that it surprises me the most. The White Reveal Day Essence promises that skin will look brighter and more radiant. With the inclusion of the Icelandic Glacial Water, absorption is supposed to be better and it is supposed to be more moisturizing than its predecessor.
I'm going to say outright that when I put myself on a whitening regiment a while back, I wasn't all that impressed with this product. For some reason, my skin sort of stagnated and I didn't see any benefits at all. But I've taken myself off a whitening regiment for the past month or two and am now primarily using hydrating products with hydrating lotions and moisturizers and in between, I slotted this Day Essence. This was when I noticed that while my skintone can't get any lighter, it did manage to help it look more luminous and brighter.
I attribute it to a combination of factors – hydration products keeping my skin plumped, regular exfoliation helping products absorb better, and the use of only 1 concentrated whitening product instead of a combination of a few. In this case, I personally feel that less is more. However, I will note that I'm at optimum level as far as skin lightening is concerned so that isn't my concern anymore.
When my sudden breakout of acne left some marks on my skin recently, I decided to try this to see if the red marks will lighten. It did. It works less quickly than the Clinique Even Better clinical serum but it could be because I use that twice a day while I only use this Diorsnow one in the day. Still, it does work, my skin does look more even and the marks are fading. I quite like the fact that it takes a while for results to be noticed. Unless its a hydrating product, I prefer that whitening products don't work right off the bat. I get quite worried when they do. So a shadow of the marks are still there but the worst is over.
I also like that the product feels light on my skin, absorbs well and importantly, does not have a silicone feel. Many of these spot corrector things have a slightly thick slippery feel. This one doesn't and contrary to the "snow" in the name, doesn't have a cooling feel either. I think its more "snow" as in white than "snow" as in cool 🙂
Here's the ingredient list.
In a nutshell

These two products in the Diorsnow range are quite self-explanatory. The Diorsnow White Reveal Moisturizing Lotion comes in 2 variants and is a hydrating lotion. You use it after cleansing and before your serum. You can also use this as an impromptu face mask. However, I personally don't feel any long lasting effects from using this Moisturizing Lotion so whilst its quite nice, I probably will not repurchase.

The Diorsnow D-NA Control White Reveal Day Essence was a surprise sleeper hit for me. I was not too impressed when using the Night serum before and even when I used the Day Essence as part of a whole whitening skincare regime, it didn't wow me. However, when I use the White Reveal Day Essence together with a hydrating skincare regime, it seems to come into its own. I find it helpful to fade acne or pimple marks although it doesn't do much for existing pigmentation, it doesn't make it worse. It takes a while to work but I prefer that for products that are whitening/brightening. My skin also seems to look more luminous which was a nice surprise. I could consider a repurchase for this one but a 50ml bottle used just 1 pump once a day can last you quite a while.

Pros: Nice packaging, The Moisturizing Lotion is quite hydrating and can be used as a mask, The White Reveal Day Essence is light in texture with no silicone feel and seems to work well even on its own especially when paired with hydrating products, Both products are not drying

Cons: Both products are relatively pricey

Who will like this: Those who like using whitening/brightening skincare products, Those who are patient to see results as the Day Essence does not work all that quickly
I am quite happy with my skincare regiment now actually. As I have stated above, after a spell of getting on the whitening bandwagon, I've gone back on one that's hydrating because my skin likes it better. I also believe that well hydrated skin will look better overall so there will be less need for troubleshooting products. The inclusion of the brightening serum seems to be a nice booster. It sort of throws out my earlier theory that one should use a whole whitening skincare regiment to see results. Clearly, I was wrong… or this product is that good LOL!
Have you tried anything from the Diorsnow skincare range or any one of the Diorsnow products above? I know there are some of you who are big fans of these products 😀 I realize its pricey but then its something from a luxury brand so its not likely to cost RM50 right? Especially when it sort of works 😉
Paris B
Diorsnow White Reveal Moisturizing Lotion Price: RM170/200ml Diorsnow D-NA Control White Reveal Day Essence Price: RM435/50ml Availability: Dior counters