I don't talk much about concealers do I? Its not because I don't use them (Heaven knows, I'd look like the walking dead without concealer!) but its because I'm super picky about my concealers. I'm so picky, I don't stray very far, nor do I experiment very much. Ths one that works best for me is the Make Up For Ever Full Cover, for blemishes, and Dior Skinflash for illuminating the under eye (use #2 for the under eye. #1 is way too pink!). I will be renewing my review on the MUFE one soon because I've got some new thoughts on it after more than 5 years being loyal to that.
But today, I wanted to tell you about this dinky little wonder that I've been using for a few months, and never told you about. I've got to remedy this now 🙂 Its the Shu Uemura Point Cealer – a very dinky little pen-like contraption that I like because it not only works well to cover up blemishes, it also works for the under eye area! A 2-in-1 concealer. Perfect-o! I'll show you the proof in the pictures below 😉
This concealer comes in a little pen-like packaging that is very small. I've overlooked it countless number of times when in a hurry, because it is wont to be hidden under other bulkier cosmetics. But since I know its there, and that I really want to use it, I make sure I place it in a more prominent place.
It just fits in the palm of my hand and in fact, is easily hidden – although I'm not sure why you'd want to do that.
The applicator is a shower head sponge applicator and I can just about hear your groans at this point. Yes, yes. It isn't the most hygienic applicator system in the world and the germophobes among you will be cringing at this point when I show you my used applicator. I'm sorry, I never had the chance to take its picture in its pristine white condition 😛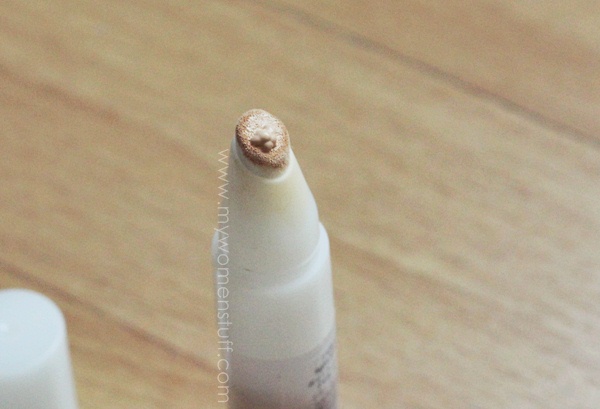 You twist the bottom of the pen, and the mechanism pushes out the product at the top. This bit is about all you will need for both eyes, if you are just doing the under eye, or for blemishes and the under eye for half your face. The reason is because, the texture is quite creamy, yet the coverage is high so a little does go a long way.
My shade is Light Beige, which is possibly the lightest there is. It can go on the skin looking a bit pale, but once you spread things out, its fine. I also noticed that although it conceals well, it does not have that heavy cakey feel of a full coverage concealer/cream product. It isn't dry and in fact, feels quite emollient and it stays on my skin quite well all day. Granted, I always set my makeup with powder, but still. Its more impressive than most I have tried and failed to make the cut.
I know what you're thinking at this point – show us the money! Or maybe "Show us what it looks like! How do we know it does what you say?" Well, here we go. Before and after Shu Uemura Point Cealer.
I just twist up enough product for it to ooze out of the shower head applicator as you see above, then I dab it on my skin as you see in Picture #2. Then, I use my fingers to lightly pat to blend and voila! Picture #3 🙂
Granted, the coverage is not 100%. I never said it was 😛 I just said it was good coverage and for me, this is good enough because it evens out the complexion which is what I want. Setting it with a bit of powder helps with the coverage if you wish even higher coverage. Or you can layer on more. It isn't cakey as I've noted, so if you do layer on the product, it still doesn't cake. Well, not unless you pile on a truck load but then you'd be better off choosing a different concealer 😀
In a nutshell

A very travel friendly and portable pen concealer that I like for its liquid texture yet high coverage. The creamy texture is enough to mask blemishes and works just as well for the under eye area, which is useful when you don't want to faff about with 2 different concealers. Just one does the trick! It is very small though for the price and the sponge applicator head can be deemed unhygienic but the thing about me and concealer is that if something works, it just does. So those are mere inconsequentials 🙂

Pros: Small and compact packaging makes this travel friendly, High coverage to cover blemishes yet light enough to use on the under eye area, Lasts all day on my skin, Creamy and not thick or cakey

Cons: Sponge applicator is a bit unhygienic, Small size makes this pricey
I actually have the Shu Uemura Pro Gel Cealer too that comes in a pot but that one is really tricky to work with. Once I have worked out what I think about it, I'll share my thoughts. In the meantime, I'm sticking to this one, because it does the job very well, and is so portable and easy to use. It fits into the smallest cosmetic bag and does the job of 2.
A small wonder indeed! 😀
Have you tried the Shu Uemura Point Cealer? Have any thoughts on it? Or do you have a favourite concealer that does the job of 2 (cover blemishes and under eye circles) that you think I might like too? Oh and I have no idea why its called a Point Cealer and not a Point Concealer. Why did they eat up the word "con" I'd like to know that too – answers on a postcard please… 😛
Paris B
Shu Uemura Point Cealer concealer Price: RM85/2.8ml Availability: Shu Uemura counters