Perhaps I'm wrong, but have we seen any other makeup – film director collaborations before this? I don't think there is one. Well, until the Shu Uemura x Wong Kar Wai collection for Christmas 2011 🙂
In a bit of a twist, Shu Uemura chose to collaborate with Hong Kong film director Wong Kar Wai instead of conventional figures like artists or fashion designers. The one movie that really jumped out at me whenever I hear Wong Kar Wai is In the Mood for Love. Does anyone remember that? When it came out in 2000, Maggie Cheung and her gorgeous gorgeous cheongsams were the talk of the town! She and the movie singlehandedly jump started a renewed interest in cheongsams. Do watch it if you can, if not for the story, for the film direction and the beautiful costumes of period Shanghai 🙂
So with that sort of whimsical film background, what can you expect from the Shu Uemura x Wong Kar Wai collection?
Well, strong colours for one. With eyeshadow palettes dramatically named "Drowning in Flame" (purples) and "Burning in Water" (blues) and dramatic red lipsticks and lashes, this collection is dramatic – just like a Wong Kar Wai movie 🙂 I could tell you about the whole collection but there are LOADS of info on the internet already. You could just check out Xin's report if you like. I initially was interested in the blue palette "Burning in Water" but when I found out that the red colour is a cream blush and not a lipstick, my interest faded very quickly. I also found the shadows a little powdery. I was also interested in the red lipstick. Deep red with golden flecks in it. But it felt gritty when applied and I dislike lipsticks that feel that way, no matter how pretty they may be.
So when I ended up with the Shu Uemura x Wong Kar Wai Flashing Gold Mini Brush Set in my lucky draw bag, I was rather pleased. I could always do with more brushes! Yay!
It was also very opportune that I noticed that this brush set isn't talked about very much from this collection. I wanted to know why and I naturally, wanted to know if it was in fact any good at all. I own a holiday brush set from the Shu Uemura x Mika Ninagawa collection from a couple of years back and that was quite good. Besides its a Shu Uemura brush set – lets see how far wrong … or right it can be 🙂
First off, packaging. Lets just say in short – I hate it. It comes in a stiff-ish clamshell zip around case in this strange smooth fabric feel imprinted with what is a stylized gold image on it. I just dislike how the case feels in general. It feels cheap. I may not have liked the look of the Mika Ninagawa pouches, but those felt sturdy.
The pouch isn't very big as you can see and it can easily fit the 4 brushes included and a few more plus perhaps an eyeshadow palette, blush and maybe even a lipstick, provided they are kept flat. I'd say it works in a pinch but I'm not in love with it. I can also forsee it getting grubby quickly and I dislike the way it gathers around the sides as you can see above. It just looks cheap and poorly made. Honestly feel Shu could have done better.
But this is ultimately about the brushes. Coming in a case is a good thing, but ultimately we just want to know how the brushes fare and if they are any good and if you should pay RM190 for this kit.
Well, let me say that the brushes aren't bad.
You get 4 brushes in the kit for face and eyes. The Cheek brush is rather large as is the eyeshadow brush. There is a flat synthetic brush that looks a bit like the Shu #10 brush but is synthetic and another skinny brush that can work for eyeliner.
The brushes aren't very big – they are travel sized and this is a mini brush set after all – but it isn't so small as to be unusable either.
See what I mean? The cheek brush on the right is a nice size for applying blush. This time, Shu Uemura did not number their brushes nor did they match their brushes to their existing full size range. I think that is a wise move. The quality of brushes in brush sets never quite match up to the full sized ones but this kit is a decent one.
The brush on the left can be used for eyeliner and if I might say so, I don't think it firm enough. It works but just. If you are travelling, you won't mind but if you are doing makeup at home, you may prefer something stiffer.
The 2nd brush from left is the synthetic brush that is flat like the Shu #10 brush. You can use it to apply cream shadow or concealer or generally any cream products because synthetic brushes are good for that. You can also use it for eyeshadow of course but it may apply it a bit more sheer. It is soft on the skin but firm and works well. I could even use this as a lip brush if I like. That's versatile.
The 3rd brush from left is another eyeshadow brush of mixed natural and synthetic bristles. It isn't very flat but it isn't fluffy either. It works well to pick up powder shadows and applies shadows easily and also makes it easy to blend out colour. I tried this with a Shu Uemura shadow palette and it works well. The colours were picked up easily and deposited easily on my skin without looking too sheer.
All in all, I'd say this is a small travel brush kit but each brush does a decent enough job that I'd say its worth buying IF you need a travel brush set or a starter brush kit. Barring the cheek brush which can feel a wee bit scratchy, the other brushes are fine. I must say though that the cheek brush will not scratch your skin to ribbons but it does not feel quite as soft as some other full size brushes I have but then I'm spoilt. I have the Lunasol Cheek Brush which is squirrel hair and feels like baby's breath on my skin so I'm not really the best person to compare these.
The other nice thing is that all 4 brushes are marked Made in Japan and I do think the Japanese have it down pat when it comes to makeup brushes. They make the best ones.
And here are the brushes and case for size comparison to my Blackberry Bold. Not terribly large, but not tiny and most certainly very useable brushes in terms of size and quality.
In a nutshell
A small set of travel brushes that are a good size – not too large, not too small – and quite well made. The cheek brush shedded a little on first wash but has been fine thereafter. It is also a little scratchy but still better than many other travel brushes out there. The rest of the brushes are eye brushes which do a decent enough job when you do not have your full size brushes on hand. The natural hair brushes pick up and deposit colour well and feel soft against the skin. The synthetic brush can be used for cream products and even concealer and lipstick. The case feels and looks cheap but if you transplant the brushes out of the case, or can overlook that, I think for the price, this is a good buy for a travel brush set or a starter brush kit.
Pros: Decent quality brushes for travel or as a starter brush kit, Brushes are generally well made and not too scratchy, The eyeshadow brushes pick up and deposit colour well, Fair price for a fair face brush kit
Cons: Case feels and looks cheap, Cheek brush is a bit scratchy, Eyeliner brush is a little bit soft but will work in a pinch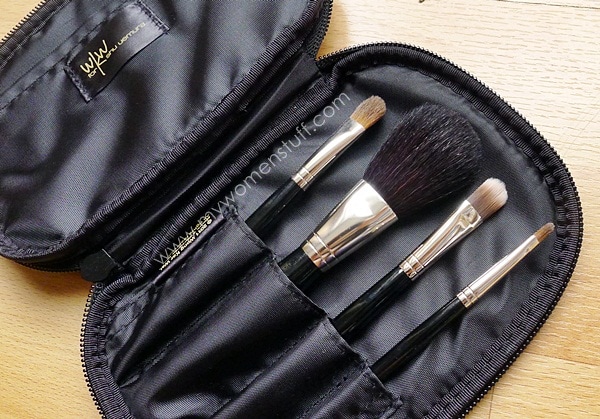 I do carry travel brush kits when I travel. They never work as well as the full sized versions that I use at home, but they are compact and they do the job. Besides, I don't want to lose my precious pricey brushes 🙂 I have had quite a few travel kits and many of them have so many brushes that I never know what to do with them so I appreciate that there are just 4 in this kit to do your cheeks and eyes which for me is most important. As I have learnt that I prefer natural hair brushes over synthetic hair, I appreciate this brush set more now than I might have a few years ago.
I have not seen MAC's brush sets from this year but from past years I can safely say I'd pass on that and get this one for what is likely to be a cheaper or equal price. I own a MAC holiday travel set from many years ago and yes. Pass on it.
Have you checked out the Shu Uemura Wong Kar Wai Flashing Gold Mini Brush Set? What did you think of the case or the brushes? Do you travel with a travel sized brush kit or do you prefer to carry your full sized brushes with you?
Paris B
Shu Uemura x Wong Kar Wai Christmas 2011 Collection is available at all Shu Uemura counters and boutiques nationwide. The Flashing Gold Mini Brush Set retails at RM190 each.