Back in the day when I had every single Canmake Eyeshadow Trio ever made in my collection, I used to hear raves of this item called the Lash Essence which was a base, primer, lash conditioner… what have you… from Canmake. But I'd never really heard of anyone raving over their mascara. Bit strange, I thought. Surely the mascara would be as good?
Recently, I had the chance to give the Canmake Gokubuto mascara a go. I do not know what Gokubuto means, but from the description and the images, I take it that this is a volume mascara, designed to give lashes volume and curl. Fascinating. Few Japanese mascara have disappointed me so it was interesting how this one would fare.
The Gokubuto mascara comes in a solid fat pink tube and only comes in one colour – Super Black. Nice. Despite the variety of colours available out there, I never stray from a black mascara.
Another reason I twigged that this might be a volumizing and curling mascara is the wand. These wavy wands usually make their appearance in a tube of volumizing and curling mascara. Tells you too how in tune I am to these things 😛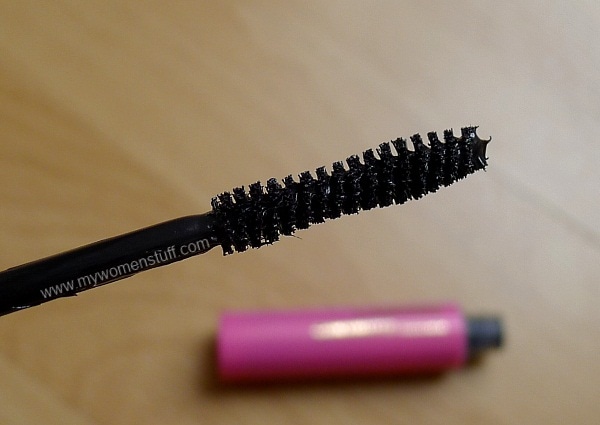 The formula is as promised. Does not smudge, is waterproof, easy to remove and applies quite easily. That wave bit has shorter bristles and coats lashes quite well.
I however did not like the formula. It make my lashes look fatter, yes. But for some reason, my poor weak lashes found this formula too heavy. So once I apply this on my nicely curled lashes, they immediately lose their curl and droop. I kid you not. The effect is immediate. It also does not look terribly special.
Canmake Gokubuto Mascara Left: Without Right: With
I do like how it defines each one of my lashes, and if I am super careful, and just very gently swipe on the mascara on my lashes, I get a nice effect and they do not droop as much. But if I get excited and just bam this on the lashes in any old manner, there goes all my effort to curl them. I even tried waving it about before applying to no avail.
Its lovely how it does not smudge and even if you get it on your skin, it removes very easily without smearing all over. Just a bit of a pity that my lashes can't handle this formula.
In a nutshell
A nice dark black mascara formula that does make lashes look fuller and thicker. It washes out easily and does not smudge throughout the day. Unfortunately it weighs down my lashes and causes it to lose its curl
Pros: Nice dark black, Lashes look fuller with it on, Washes out easily, Does not smudge
Cons: Weighs down my lashes, Pricey for its category
One niggly problem. This mascara retails at 600 Yen in Japan. Or thereabouts. It retails at RM53.90 here. I can forgive most the problems I face with this if it was half the price. At this price however, I'm afraid I will have to tell you to look elsewhere.
I'm not sure if any of you have tried this one, but if you have, do share how you like it or if you have a tip to make it work for you?
Paris B
Canmake Gokubuto Volume and Curl mascara retails at RM53.90 at Sasa outlets