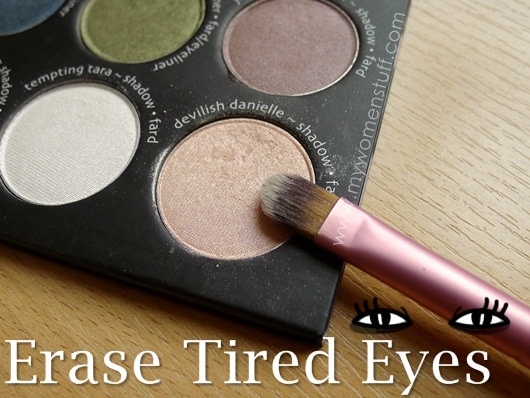 Any working girl would be able to identify with this one 🙂
Waking up early in the morning, putting on your concealer to hide your dark circles from a late night before, or perhaps just a bad night, and putting on your eyeshadow and then wondering why you still look tired, because your eyes look red-rimmed. Here's a quick tip to help you out of that quandary 🙂
I learnt this one from Toru-san, RMK Makeup Artist and I've been using it everyday since I learnt it because it just works!
What you need is a light shimmery (not sparkly) cream, peach or gold eyeshadow. A nice soft colour will do. I usually use Devilish Danielle in TheBalm Shady Lady Vol 2 palette. Its a soft peach.
Use a brush and line your lower eye lids with it including your waterline. You might notice how the lower waterline or rim might look red and that makes your eyes look tired. Using a light yellow toned shade of eyeshadow will diffuse this redness and the shimmer acts as an illuminator.
I hope the photos give you an idea of what I mean. They aren't the best example because the effect is really best seen in person and if you use a subtle colour, is actually very subtle. If you use a gold then, it might be more prominent, depending on the texture and colour you choose.
However, the effect is almost instant! Even if you line your lower lid thereafter with black pencil, it will not look as tired because the redness is covered. Helps when you have to put a bright perky face forward even if you just don't feel or look bright and perky 😉
Try it and let me know how it works for you 🙂
Paris B