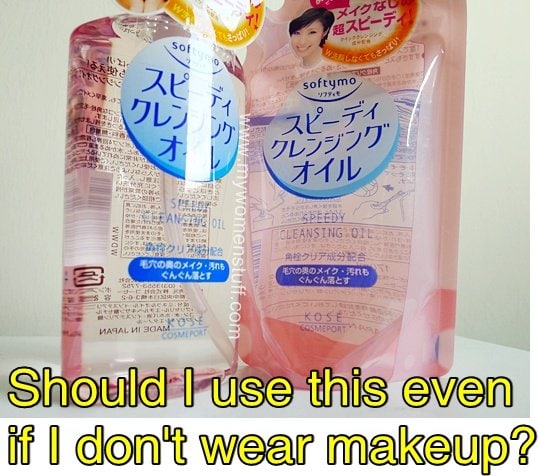 I received a few emails on this subject so I thought it would be an interesting topic for discussion 🙂
Most of us are familiar with the concept of using cleansing oils to remove makeup. Personally, I like using cleansing oils for this purpose because its convenient (eyes and face in one) and seems to leave my skin cleaner than other makeup removers. But then I do follow up with a cleanser thereafter.
But what if you don't wear makeup, or don't wear a lot of makeup? Do you still need to use cleansing oils or can you?
When I first started getting into skincare, I was told that you can and should use cleansing oils even if you do not use makeup (this was when I was using Japanese skincare). The rationale is the same as that for makeup removal.
Cleansing oils clean out your pores and help unclog dirt from pores better. Also, the concept of oil dissolving and removing oils works the same way as our skin does get oilier throughout the day.
On a personal note, if I don't wear makeup, I rarely use a cleansing oil before a regular cleanser. Not because I don't believe in it, but because I'm just a little bit lazier 😛
However, I must say that when I do use a cleansing oil, I do notice a difference in my skin. It looks and feels cleaner and I believe that the cleansing oil helps to remove remnants of sunscreen on the skin too.
When I massage the oil on my skin, I usually feel these gravelly bits under my fingertips, and if I have areas of skin with clogged pores, I do find that using a cleansing oil helps with that.
I know of some people who don't use makeup but who use cleansing oils regularly because they use sunscreen and they believe that cleansing oils help remove sunscreen at the end of the day. I know GUYS who use cleansing oil because they say it helps their skin stay cleaner and clearer. It hasn't harmed their skin so I suppose it doesn't hurt 🙂 Also, in Japanese skincare (where double cleansing is common) they recommend the use of cleansing oils as the 1st step of cleansing. The use of a cleansing oil as a makeup remover appears to be secondary.
What do you think? Do you think cleansing oils are necessary even if you don't wear makeup? Or do you think its just a waste of money and time?
Paris B