If there is a title for "World's biggest sceptic" I'd be right up there with Scully. Remember The X-Files? No? Too young then, you won't need this serum 😛
As a kid I was called "Moon-face" in school. Kids are horrible cruel creatures. But I've always had a round face. If my genetics are anything to go by (just look at your parents) I'm going to end up still with a broad round face, but with jowls.
So as I started trying out the Clarins Shaping Facial Lift Serum, I targeted those dreaded jowls I was developing. Gravity is cruel.
Now the ad talks about creating a V shape for your face. Yes its ideal but I'm going to tell you to be realistic and understand your face structure. If your structure is not predisposed to a V shape, no cream in the world can give you that. Plastic surgery might though. So in my case, I have a roundish face but squarish jawline. My sole target was to reduce the pockets around my jawline as it makes my face look "heavy".
Well, knock me down with a feather! This face sculpting serum helps! Some pictures follow below.
I was told that this serum is an Asia only product. It has been around for a while, but this is a new formula. According to Clarins, Asians are genetically prone to having more fat pockets on our face. It keeps us looking young for longer but it can also make us look puffy and "heavy" if we aren't careful, and as we age. With our poor diets, stress, pollution and poor circulation, we find ourselves retaining more water. If you've ever woken up in the morning wondering why your face looks puffy, apparently, this is why.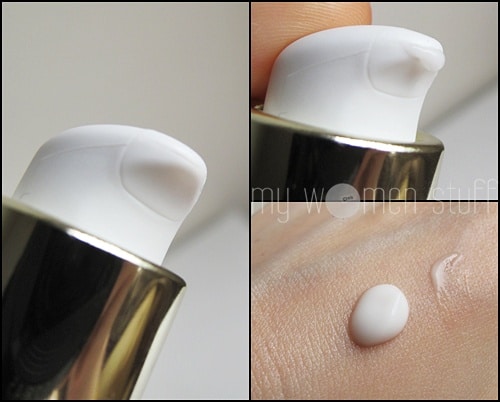 The Clarins serum aims to address this and this serum helps expedite the drainage of toxins through our lymphatic system. I'm not familiar with the science behind it so I'll just tell you if it works. The instructions are to use 4 pumps. I used it for a week then decreased to 3 pumps. Makes it last a little longer 😛
Smooth the serum between your hands (there's a light scent) and spread on your face starting from the center outwards. I usually take it down to my neck too.
The serum absorbs quite quickly without a sticky feel to the skin. There is a special facial pressure technique shown in the video below which takes about 2 minutes. But, you don't need to use this technique. The serum does the job itself. Using the technique is supposed to help expedite the process.
Briefly, the technique is as follows:-
Rest forehead in palms for 10 seconds
Place base of palms over the eye area and hold for 10 seconds
Move hands to the cheeks, cupping the cheeks and hold for 10 seconds
Move hands to jaw and cup jaw and hold for 10 seconds
Move hands to side of face, covering ears with thumb behind earlobe and hold for 10 seconds
Interlace thumbs and place on neck and hold for few seconds
I'm a little lazy so while I used the serum every night, I was a little lax in the day. I also did the facial massage every other evening. Yet I started seeing results after 2 weeks. Imagine if I'd been a little more diligent 😛
I first noticed one day that my face looked less "round" and the jowls around my jawline were less pronounced. My jawline looked a little more defined too. Having to take pictures of yourself for FOTD pictures does make you a little more observant.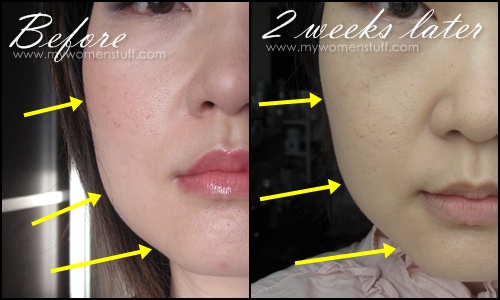 The difference was hard to show in photos because its not all THAT noticeable. But if you look at the "Before" you will see that the line of my face is pretty smooth – not much definition.
In the "2 Weeks Later" picture, a hint of cheekbones start to emerge and so does a hint of a chin. The jowl bit is marginally less pronounced. It was mostly brought to a head when someone I'd not seen in a while mentioned that my face looked smaller than they remembered. With my new short hair, that was quite a compliment. Rude observation but compliment nonetheless 😛
If you are going "I don't see any difference!" well I did tell you its hard to show in photos because its not drastic 😛 It certainly did not turn my "moon face" into a "kuaci" (melon seed) face.
Its now about a month since I started using this serum. The skin on my face feels firmer and less slack around the jawline and I don't get a puffy face in the mornings. My jawline is also a little more defined. Its all very minimal and subtle and whatever "facial slimming" seems to have stopped. I'm realistic so I'm not expecting to lose it all. Genetics is too strong for a mere serum to overcome.
Pros: Skin on face feels firmer, jawline looks more defined

Cons: Pricey product but if it works for you that's great!
Directions are to use this as follows:
Cleansing -> Toner/Lotion -> Face Sculpting Lift Serum -> regular skincare moisturizer etc
Let's be honest. We don't all need this. But if you have been trying to find something for this very purpose, you could very well give this one a shot 🙂 Might you?
Paris B
The Clarins Shaping Facial Lift Serum retails at RM225/50ml at all Clarins counters.