A while ago, I had reader Jess test some products from the Skinz Infinite Youth Recall skincare line. This is her story about how it fared for her.
As I reach my mid-twenties, I realised that my skin is not what it was and this fact is further established when I saw first signs of ageing one morning while putting on makeup: I have fine lines!
Though the indentations are not prominent and can be concealed behind wonders of makeup, I was feeling a little agitated and like all women, freaked out. So, one can imagine how delighted I was when I was given a chance to try out Skin Infinite's new anti-ageing line, which is sold in major pharmacies and easily recognisable with lovely Charmaine Sheh as the cover girl.
Skin Infinite promises brighter, smoother skin in 4 weeks and lines being diminished as well as even up the skin tone.
Do they deliver?
The first thing I did when I saw these babies-open 'em up and took a whiff. No complains here and I particularly love the somewhat floral scent that the cleanser has.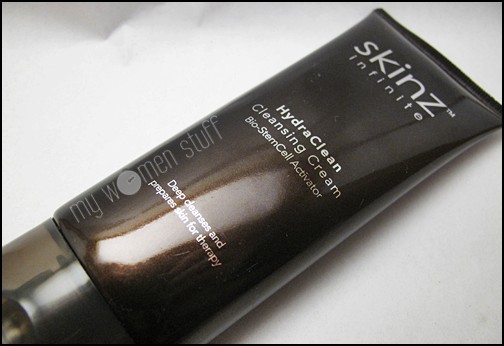 HydraClean Cleansing Cream
I think I fell in love with the product at first whiff! Love the scent, love that it lathers easily and I love the fact that it cleanses SO WELL. Once I had to rush for an outing after work and with no time for cleansing oil, I lather this baby up and started cleansing away. I expected mascara to stay put as it was waterproof and resigned to the fact that I have to double cleanse. But when I looked into the mirror, all traces of mascara are gone! I wiped on some toner onto my face and what do you know, no trace of makeup on the cotton! I was truly impressed.
It left my skin fresh, clean and maybe, just maybe, a little glow to my face.
It retails for RM 17.90 (thumbs up), will be cheaper when sales are around.
Youth Recall Day Moisturizer SPF20 PA++
Ok, this product is a love-hate thing for me. See, I love that it is a mattifying moisturiser, no strong plasticky smell that is often common in moisturisers and it absorbs fast. But I also hate the fact that the despite it being a mattifiying moisturiser, my face shines like a light bulb upon application and it doesn't help in oil control.
While the packaging looks sleek, it is (for me) not so practical to tug around during travels. It is extremely bulky and imbalance with the lid being so heavy. The content is also packed to the brim so there is a certain amount of wastage of cream.
But the last straw came in Day 7 (I think)- I broke out like crazy. I have never ever broke out like this before, even in my adolescent years. I stopped using the moisturiser altogether after that incident. Took me few days to clear up my skin and it has left me with few pimple scars. Not a pretty sight at all.
I have since gave it to my sister, who has dry skin and she too, broke out like mad. Needless to say, she didn't talk to me for a week. 😛
Retails for RM 45.90
Youth Recall Serum
The texture and the feel of this serum reminded me of Estee Lauder's Idealist somewhat. It also has a matte finish to it and really helps in oil control. I find myself using lesser blotting sheets and touch-ups are less frequent than before. Throughout the 4 weeks of usage, I did not find myself looking more radiant and remember the laugh lines that I was freaked out about?
Well, though I know that improvements are not to be seen in such short amount of time, I was hoping to see some improvement, no matter how minuscle it is. I am sad to announce that the laugh lines are still there, with no changes to the indentations whatsoever. I'll give this baby a little while longer to work its magic on me.
Though the packaging is a little on the petite side, I reckon you can use it for around 3 months or so with daily usage. I religiously apply five drops of the serum twice daily and I am still left with loads to go.
Serum retails for RM 59.90
For those of you who would like to give it a spin, the range is pretty affordable and like I've said, easily available in major pharmacies and leading supermarkets anywhere. As for me, I would definitely repurchase the cleanser once it's run out. Serum is a what-and-see thing while I would pay a million bucks just to stay away from the moisturiser.
Pros: Love that it doesn't smell plasticky, affordable.

Cons: Moisturiser broke me out like there's no tomorrow
But that's just me. So if you've tried it out, let us know how was it for you? Let's trade stories ladies!
Jess blogs at Passions of Life where she shares her life's passions. I'd noticed her from her frequent comments here on my blog and I picked her to run a review because I liked her sense of humour 😉