Happy Saturday ladies!
To all Mums reading this, I wish you a very Happy Mother's Day! I might be on my way up to Cameron Highlands with my Mum as we speak but I might not 😛 Plans are a little fluid. Don't forget the L'oreal Luxury sale that's on today (1 day only and NOT for you if you are crowd phobic) but if you are a little shopped out, why not pause for a moment and see what May has in store for us.
Biotherm UV Supra D-Tox SPF50 PA+++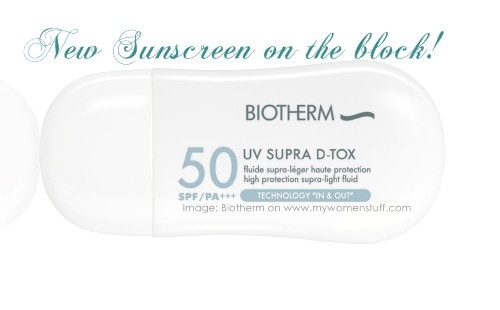 Another new sunscreen! This time from Biotherm. Sunscreen with Mexoryl XL and SX to filter out sun and Titanium Dioxide to block harmful rays and pure thermal plankton to detoxify and soothe skin from within. Sounds promising eh? I haven't seen this one yet but if you have, or have used it, share! 😀
Retail price : RM130/30ml
Ralph Lauren Summer Romance fragrance
I still remember when Romance was first launched by Ralph Lauren fragrances. I sniffed it while picking up my Dad's staple of Classic Polo and I really wanted it! But I later worked out that the scent was a little lighter than I liked. Still, Summer Romance sounds promising with a top note of passionfruit and grapefruit – 2 of my favourite scents. I will be certainly sniffing at this next time I walk by a counter.
Retail price: RM269/4.2oz
Dior Svelte Firming Creme and Toning Oil
I never thought of Dior as having body care products before. Shows me what I've been overlooking! The Dior Svelte Firming and Moisturizing Cream works to nourish and tighten the skin. The new Dior Svelte Body Beautifying and Toning Oil tones and eases tired legs. Legs? Intriguing. I've recently been using oil on my body and I find it helps moisturize my skin far better than any lotion.
Retail Price: Both products retail at RM160 each which isn't crazy expensive all things considered!
Carefree Daisy Bag by Scha Alyahya
There's this cute pink tote bag from Carefree that is limited edition and available only by winning it. 800 pieces only so if you want a piece of the action, go to the Carefree site to find out more.
So, what have you got planned for your Mum tomorrow? Or maybe its today? Dinner? A movie? A girl's day out? Whatever you do or plan to do, have lots of fun and have a great weekend! 😀
Paris B