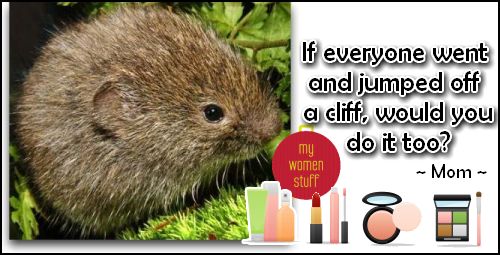 Since its the holiday season and all, I don't think many people are online so instead of talking about products, I'm going to investigate this term "lemming" that I used to know as a noun and which is now a verb.
I used to know of "lemmings" as small rodent type creatures that popular myth had us believe would every so often run off a cliff and plunge to their deaths.
When I started reading makeup forums online, "lemmings" became the euphemism for "wants". I never quite understood why the term "lemming" is used unless someone has an explanation for it 🙂
Could "lemming" have stemmed from the fact that the hype whipped up by the wants and online egging on made everyone follow the other in a huge mass group until you fell over the cliff i.e. bought the item you were "lemming"?
Or could it have stemmed from the term that had people following the popular opinion unquestioningly with unhappy consequences e.g. wanting something so badly because everyone else likes it and then finding it does not work for you.
Either way, it appears that "lemmings" are here to stay.
So, what are you lemming this year end? 🙂
Paris B