I'm a little perturbed because we haven't even seen most of the Christmas collections for 2009 yet and already we are being inundated with Spring 2010 makeup collections from the various brand houses.
Not that I'm complaining because Spring 2010 is looking like a pretty girlie garden! 🙂
I'm not going to spoil things – there are loads of pictures online already from the different brands but what I'll show you instead are what I think are going to be the stars of Spring 2010 – Blushes!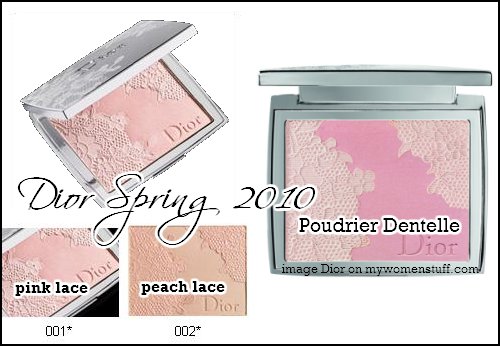 Dior Spring 2010 collection sees the Dior Poudrier Dentelle blush or face highlighter (not sure which) in Pink Lace and Peach Lace. Dior is taking on a vintage lace look for Spring 2010 and the rest of the collection is also embossed with a pretty lace pattern.
Doesn't it look amazing? I'm thinking the Pink Lace colour might suit me better (and it looks prettier than Peach Lace) but we'll see when the real deal arrives on our shores yes? I'll be sure to update as and when I get images/news of its release.
Guerlain Spring 2010 Cherry Blossom blush seems to be inspired by flowers.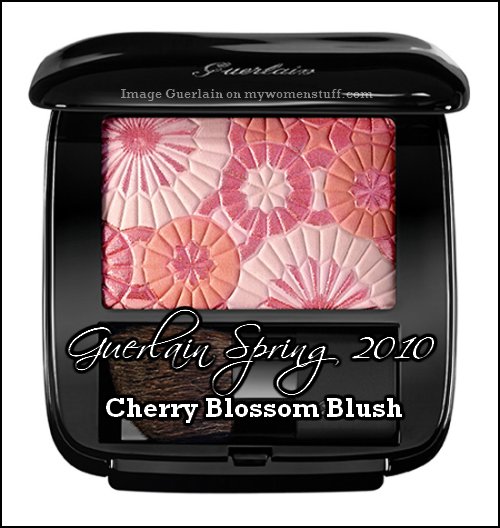 Actually, I thought it looked like paper umbrellas 😛 Again, out of the whole collection, its the Cherry Blossom Blush that had my heart going pit-a-pat. Its looking simply amazing! The last and only blushes I had from Guerlain are the Radiant blushes. Its time to remedy that! 😀
YSL too has a lovely face palette and so does Lancome. It'll be interesting to see how other brands interpret Spring eh? 🙂
Go on then, gawk at the prettiness of Spring 2010 blushes! 😀 I am! Now the big question is, which should I get?! And which would YOU get? 🙂
Stay beautiful,
Paris B