I was passing by a Bobbi Brown booth at MidValley last week when I noticed that the new Ivy League collection was already out here. Surprised me – we don't always get new collections so quickly. I also got a sample of the new Bobbi Brown cleansing oil which I share some thoughts on below.
I was very keen to try out the new Metallic Eyeshadow colour in Bash – a deep emerald green. All 3 new eyeshadows are in the green family – my sorta colour!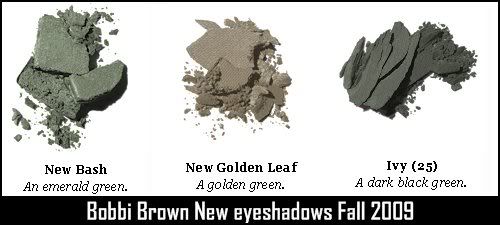 Unfortunately I was quite disappointed. The texture of Bash the eyeshadow was hard to the touch and it took 3 layers before I got the intensity of colour I expected. If you're patient and layer and layer, you'll get a gorgeous deep emerald green with golden shimmer.
But if you're into instant gratification you'd be as disappointed as I was. Ditto the rest of the eye colours – layer 3-4 times and you'll get the intensity of colour you'd expect from the colour in the pan. Otherwise, its quite sheer. Might work over a base if you'd like to hasten the effect or use a sponge applicator and PAT it on, not swipe it on. Each eyeshadow is RM70.
The Lip Crayons have been made permanent. They felt nice going on which was a surprise as I don't usually like lip pencils. This is a lipstick in pencil form and it does glide on quite nicely. Colours are safely neutral which is classic Bobbi Brown.
Needless to say, I walked away without getting anything once again. I think Bobbi Brown just isn't quite for me… though I keep going back to look time and again.
Bobbi Brown Cleansing Oil – quick review
Oh but I did get a tiny sample of the new Bobbi Brown Cleansing Oil to try. I was told the little bottle was enough for 3 uses. However, I was also told that I should use between 3-5 pumps of oil for proper cleansing. Hmm… the bottle contained at most 2 pumps so that's a bit of contradiction there.
Anyway, the Bobbi Brown cleansing oil is mineral oil free and has a very light viscous texture with a light pleasant scent. It cleans my skin well and my skin felt quite nice. I stretched the use from the sample bottle to 2 uses but that was it. No instant breakouts so perhaps it works.
A 200ml bottle retails for RM140 which I think is rather pricey. If I use cleansing oil, I'll be sticking to my I Nuovi Splash Away Cleansing Oil – it feels the same, smells nicer and does the same job of cleansing without breakouts just as well. Its also cheaper at RM72/150ml. You mean I never reviewed it? Ah… time to remedy that eh? Now let me go look for my nearly empty bottle 😛
Stay beautiful,
Paris B